In Need of Fun and Sun: Rocky Point Beach Time
Beach time is the best way I have found to recharge my batteries.
I live in Arizona, a completely land-locked state in the southwestern United States and the closest beach to me is four hours away. Puerto Peñasco, or Rocky Point, is an easy drive to the Mexican Pacific coast and a perfect long-weekend getaway.
It's still funny to me that I live in Arizona, as I lived my whole life before moving here no more than two hours away from the water. Mostly I lived within 30 minutes to an hour away. I didn't go often but it was there when I needed it.
Even the sound of the ocean waves crashing on the shore soothes me, but sometimes I need the real thing to really soothe my spirit. I have now been on three girls' weekends to Rocky Point with my ocean, margaritas, and great Mexican food.
Heaven.
This post may contain affiliate links, which means I'll receive a commission if you purchase through my links, at no extra cost to you. Please read full disclosure for more information.
Things to do in Rocky Point
Beach time isn't all about laying out in the sun to work on your tan. Or in my case, my freckles. Beach time is about enjoying the wonderful things that the ocean offers. There are so many things to do regardless of whether you want to be active or not.
One of my favorite things about my now-annual trips to Rocky Point is the camaraderie. I enjoy the group of women I travel with. We rent the same house every year on the beach owned by someone that one in our group has known for many years.
We do lots of things including walking the beach, games, puzzles, reading.. whatever. It's nice to be with a group of people who enjoy each other, and our solo time as well. So, if you want to go off to be by yourself, it's all good! This is part of my amazing Rocky Point beach time that I love so much.
Here are some of the fun things we do, specific to this beach.
Explore the Tide Pools
Oh, the amazing creatures that you can find in the tidepools by the water! We saw sea cucumbers, crabs, shrimp, octopus, and many more. Last year we saw a lot of sand dollars, but for some reason, we didn't see many in the last two years.
This year it was all about coral. The tidepools lit up in colors: oranges, reds, yellows, greens, greys, browns, lavender, and black. It was pretty stunning to see.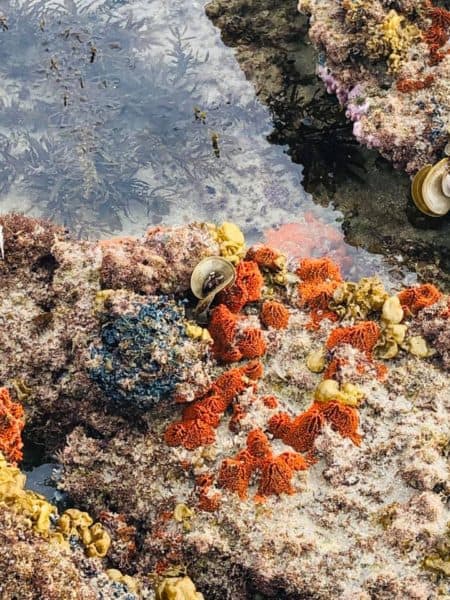 The tide pools are a treasure trove of sea life and worth taking your time, walking along the water to check them out. Be sure to turn over some of the rocks to see what is hiding underneath.
I'm not sure there is much that is more relaxing than walking on the waterline listening to the sound of the waves, with a cool breeze on your face while you're exploring the tide pools. Beach time in Rocky Point is all about exploration.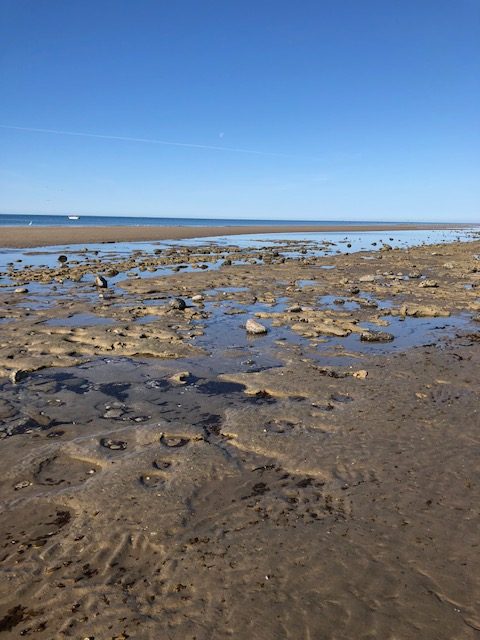 Keep an eye out to the water, as you can often see dolphins swimming near the shoreline and birds fishing. You can watch large pelicans soar into the water to catch fish and it's pretty amazing to see.
Walk the Beach to the Estuary
If you stay in the houses in Las Conchas right by the ocean, you can walk down to the estuary. It's a beautiful strip of beach where you can find lots of different flora and fauna and of course, lots of different kinds of birds.
It's especially beautiful to go for sunrise if you can get up that early. Perhaps one less margarita!
Pick Up Freshly Caught Fish
On the main street right by the water, you can find a lot of shops selling fish just off the boats. Shrimp and clams are big sellers here, and there are many other kinds of seafood and fish.
Be prepared to bargain, and don't accept the first offer you receive. I got three pounds of jumbo shrimp for $20 USD, and they shelled and de-veined them. They will also pack them in ice for you.
Enjoy Your Friends
I have gone to Rocky Point three times so far. I'm not sure why it took me so long to get there, but it's now going to be at least an annual experience, if not twice a year.
A group of us drive down and enjoy ourselves thoroughly playing card games and board games, walking the beach, and talking while eating great food either brought or purchased locally and of course, drinking margaritas. Seriously, what more could you want?
Every year, the group changes a bit. There is a core five-to-six of us that go down and the remainder shifts. Usually, it's between six and 8 women. This year, it was 11 of us.
Pack up some friends and head on down to Rocky Point. It's a great way to connect with your friends as well as to connect with nature.
And what's lovely about being here renting a house on the beach is that you can do what you want. If you want time with the group, it's easy to do! If you want some "me time," head on down the beach for a walk.
Depending on the time of day, you can explore the tidepools, go for a swim, or simply walk on the hot sand and enjoy the views.
Get a Massage
What could be more relaxing and decadent than getting a massage right by the water? If you are staying right on the beach, they come right to you! If you're with a group, you can negotiate the price for an hour down to $35 USD.
You'll find a lot of people selling massages, and so far, we really haven't gone wrong. Most of them are good and professional.
They wrap a sheet around you then you lay down on their table, and your worries just flow away. Sitting under the sun during a massage with the ocean waves right there is such a relaxing and incredibly relaxing experience.
Go Shopping in the Old Port and Malecón
The downtown area in Rocky Point is a great place to walk around to do some shopping. You can pick up touristy souvenirs like magnets, tees, blankets, and hats.
You can get everything from vanilla to inexpensive tequila, glassware, and hand-painted Mexican pottery. There are also some higher-end artist shops to explore, as well as a number of restaurants, bars, and food carts.
You can also shop right on the beach. Lots of vendors come through selling "something that you don't need" (as they sometimes say it) including jewelry, blankets, hats, sunglasses, mangoes, and an assortment of other things.
If there's something specific you want, I'm sure someone would be willing to bring it to you. Don't hesitate to negotiate and mention if you would like something similar in a different color. They are happy to try to accommodate if they can.
Take in a Sunrise and Sunset
Rocky Point has some spectacular sunrises and sunsets over the water. Walking the beach during the day is fun, but at night, the colors are magnificent.
Rescue a Dog or Two
There is no shortage of loose dogs in Mexico, sadly. If you love animals but don't want to make a permanent commitment, you have a great option with Barb's Dog Rescue.
Barb allows travelers to the area to spring a dog or two during their trip and provides what you need including food, bowls, collar, and leash.
If you decide you have fallen in love and cannot bear to let your furry friend go, Barb and her team make it easy for you to take them back to the United States as well.
She provides the paperwork that is required to cross the border, including their health certificate and shot record (including rabies). Here are two of the newest American citizens, Dorothy and Ozzie.
You can also transport dogs without taking them for your time in Rocky Point. We did that this year and brought them to a rescue in Phoenix that will help them find homes.
They loved their beach time as well and were a lot of fun.
Other Things to do in Rocky Point
There are other things to do but I'll admit it, when I have visited Rocky Point, I'm there to recharge my batteries.
Tips and Tricks
Though Rocky Point is a high tourist area, it is still in a foreign country with a different currency and different customs. Here are some helpful suggestions:
Pay in Mexican Pesos if you can. Most of the stores in Rocky Point accept United States Dollars (USD), but you can sometimes get a better rate paying in Mexican Pesos.
Bargain, bargain, bargain. It's a bargaining culture in Mexico, so be prepared to negotiate. Come in low and be willing to negotiate up, or offer your best and last price and stick to your guns.
Be willing to walk. You will see similar things at other shops, so keep in mind what you were offered when you see what you really want. If several shops don't meet the price you ask for, you might have to raise what you will pay a little if you want it.
Speak in Spanish. If you are able to, you can often negotiate a better rate using the local tongue than if you speak in English.
Make a group purchase. If you and your friends want to make purchases, group it all together and then negotiate. You can often get more of a discount with a larger volume purchase than you can with one item.
Learn to say, "no, gracias." It's a poor area, and people will try to sell you things. Often. Be polite but firm when you say no, thank you.
Rocky Point Rentals
There are lots of options for where to stay in Rocky Point including house rentals, condo rentals, and hotels. Booking.com is generally one of the sources I use for hotel reservations. Many places do require a minimum 2-night stay during the busy seasons.
I enjoy staying in the Las Conchas area. It's right by the water, has a large number of houses to choose from, and is in a safe area not far from the city center. Beach time is, literally, seconds away.
As with most other beach areas, staying right on the ocean is at a premium. The houses in Las Conchas tend to be a little older but are generally in good condition. If you have a large group, renting one can be quite inexpensive.
Where to Eat in Rocky Point
We haven't eaten out a lot when we have gone to Rocky Point. The last time I visited, the wonderful man we rented the house from came by with homemade fresh tortillas and tamales, and we ate those for a lot of the time we were there!
There are a lo of great restaurants in Rocky Point, though. Here are some options if you do want to go out.
La Curva Restaurant and Sports Bar
La Curva is a great option for Mexican food and one of the top-rated places on TripAdvisor. It has been around for over 30 years and offers great food and fantastic service, as well as some killer margaritas for a great price.
One of my favorites is Pescado a la Veracruzana, a white fish in a great sauce with vegetables. It's plate-licking good and two or three meals, depending on how hungry you are.
La Curva Restaurant and Sports Bar is located at Blvd. Francisco Eusebio Kino s/n, Centro, 83554 Puerto Peñasco, Son., Mexico. It's open from 7:45 to 9:30 from Sunday to Thursday and from 7:45 to 10 on Saturday and Sunday.
Taco Stands
There are also some great taco stands around town where they will grill the food right in front of you. It's always a good idea to go to one where you see locals making purchases, as you know the food is fresh and well cooked.
One of my favorites is on the way into Rocky Point in nearby Sonoyta. It's a cart in front of the Vasquez store (which has some good prices on tequila and other liquors). It doesn't look like much but wow, do they make a great taco!
Another great one is called Combo Fish Taco in Rocky Point. We got a mixto taco, with shrimp and fish for 50 pesos ($2.25 USD). One was more than enough with the toppings they offer, and it was good!
Licores Vazquez is located at Sonoyta 28, Centro, 83570 Sonoyta, Son., Mexico. It's open from 8 a.m. to 8 p.m. Combo Fish Taco is located at Blvd. Freemont, Benito Juárez, 83554 Puerto Peñasco, Son., Mexico.
Max's Restaurant and Bar
Max's is another great place, and I've eaten dinner there as well as breakfast. They offer a lot of local and American foods and have one of the best bloody Mary drinks I have had. In fact, they are so proud of this drink that they showcase it on the homepage of their website.
Max's Restaurant and Bar is located at Local 13 Calle 13, Centro, 83550 Puerto Peñasco, Son., Mexico. It's open daily from 8 a.m. to 10 p.m.
Cornejo's Bakery (Panadería Cornejo)
For breakfast, there is a great bakery called Cornejo's Bakery. Have of the shop is a neighborhood tiendita, a small local grocery store that was the norm before larger grocery stores moved into the area.
Their baked goods are very good and a little less sweet than what you'll find in the United States.
They make amazing apple fritters and cinnamon rolls. They also have great little rolls with cream cheese in them as well as many Mexican treats like conchas (shells), orejas (ears), banana bread puddings, and little pig-shaped gingerbread cookies.
This place is a carb-a-holic's dream, and you really can't go wrong with anything there. We have gotten lots of their baked goods and snacked on them through the weekend.
Cornejo's is located at Blvd. Alejandro Sobarzo Loaiza 497, Nuevo Peñasco, 83553 Puerto Peñasco, Son., Mexico. It is open from 6:30 to 9 from Monday to Saturday and from 7 to 2 on Sunday.
Rocky Point Weather
Summers in Rocky Point are hot and muggy, and the sand and water get quite warm. The winters are cool, and it is dry and mostly clear year-round. During the year, the temperature typically varies from 56°F to 95°F and is rarely below 50°F or above 99°F.
The best times to visit are May and June, September and October. It can get quite busy during these months, so the "shoulder seasons" are a great alternative to enjoy good weather with fewer crowds.
I have visited in March or April for five years now, and the weather is lovely. Sometimes it's warmer or cooler, and it can be a bit windy in March.
My friend also goes during Thanksgiving. It's a bit cooler but still nice.
How to Get to Rocky Point
Though there is an airport in Rocky Point, it is not open to international flights. The closest place to fly into is Phoenix, AZ. From there, it's an easy drive down to Rocky Point.
Drive
If you live in the Phoenix, AZ area, or within driving distance, I do recommend driving. It's an easy drive and only around 4 hours. Most of the trip, around 3 hours of it, is in the United States, and there are plenty of places to stop along the way for gas and food or to stretch your legs.
Shuttle
There are several options for shuttle buses from Tucson and Phoenix to Rocky Point, ranging in cost from $70 to around $100. I didn't see a lot of taxis around town, so unless you plan to just stay at a resort, I don't recommend this mode of transportation.
Insurance
Auto and travel insurance are not required in Mexico, but both are a good idea.
Auto Insurance
Check with your auto insurance carrier if you drive, as most insurance companies do not standardly cover you in Mexico. You can get an additional Mexico policy for $25-$35 a day.
Or you can get insurance on your way down. In the town of Ajo, a population of 3,300 (as of 2010), there are at least 12 people who sell Mexican insurance policies.
You'll see signs all the way through town. Be sure to review the policy, though, before approving it, making sure you are comfortable with the levels of liability insurance.
If you rent a car, they generally require that you purchase additional insurance through them to drive to Mexico. I rented a car through Hertz a few years ago, and it cost $38/day for the insurance. It's likely a bit more now.
Travel Insurance
Travel Insurance is always a good idea when you are traveling internationally. Though medical costs are generally much less in Mexico than in the United States, travel insurance can cover the cost of transporting you back to the States if needed.
It also provides coverage for things like baggage theft. I usually use World Nomads though I do shop around.
Why Rocky Point is a Great Destination for Beach Time
Rocky Point is a fun and convenient destination in the southwest United States. It's the closest beach to Phoenix and Tuscon, Arizona.
There are a lot of fun things to do and many rental options. An added bonus is that costs are much less than going to the beaches in California.
Since it's a tourist area, many of the vendors, restaurants, and shops, speak English. It's a great place to recharge your batteries and get some beach time.
Like it? Pin it!