24 Best Things to Do in Phoenix (from a Local!)
There are so many fun things to do in Phoenix, from exploring top-notch museums, seeing interesting and unique architecture, learning about the beauty of the desert, hiking the many mountains in and around the city, and enjoying the resorts and spas.
While winter is one of the most popular times for visitors, you can find fun all year round. And you'll see some killer hotel and resort deals during the off-season.
Phoenix is the place I've called home for nearly twenty years. As a local, I'm always thrilled to share my perspective of what it's like to live here. In this post, you'll get a list of the top spots here from a local's perspective.
This article will include things to do in and around metro Phoenix. So, without further ado, here is the list of the top things to do in Phoenix from a local's perspective.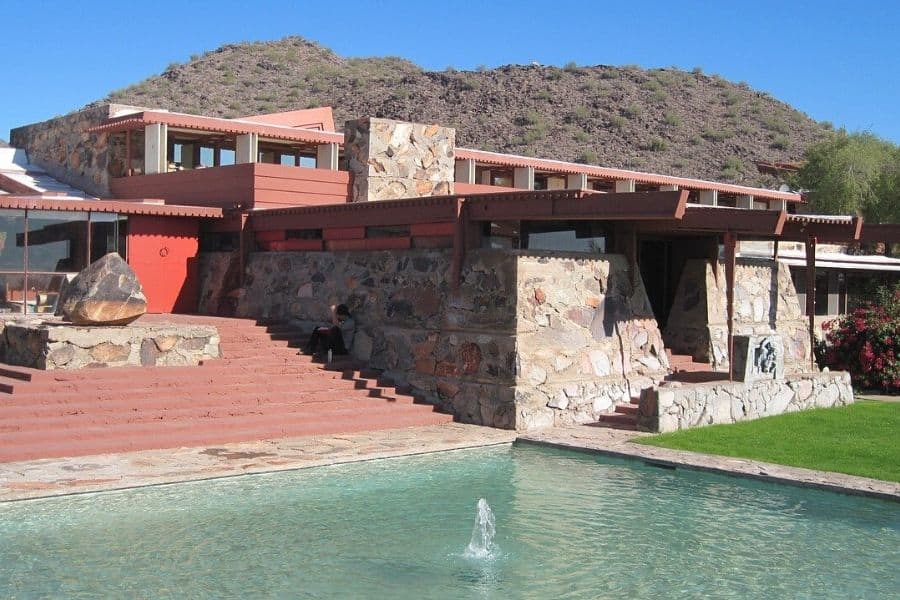 Some links in this article may be affiliate links, which means that if you purchase through them, I receive a small commission. This will never cost you extra. Please read the disclosures to learn more.
The Best Things to Do in Phoenix
Phoenix is the fifth-largest city in the United States. It's huge! So, there are a tremendous amount of things to see and do, and I can't possibly capture them all. Instead, I pulled together a list of the top spots to see.
But first, here are a few quick lists to tempt your interest. If you see what you want, jump down to learn more about the activities and sites, including their location, hours, and costs (where applicable).
Top Things to Do in Phoenix
If you only have a few days in Phoenix, you'll need to make the most of your time. These activities are unique to Phoenix and are must-sees on my list.
Traveling with kids means considering different activities, though some of the top things to do in Phoenix are also great for kids and adults alike.
If your kids have the energy to burn, take them for a hike (or two) around the valley. You can get some great views of the city while enjoying the subtle beauty of the desert.
Top Things to Do in Phoenix in the Summer
The summer is hot in Phoenix, and it's no joke. From mid-May to mid-October, temperatures during the day often hit at least 100°F and can go as high as 120°F.
If you visit during the summer, you'll find prices at their best at hotels and resorts. You won't want to be outside much, except in the early morning, unless you're lounging by a pool.
Taking activities indoors doesn't mean a lack of things to do. In fact, I have a whole post dedicated to Phoenix in the summer.
Top Things to Do in Phoenix in the Winter
There is no better place to be in the wintertime than in Phoenix. When the rest of the country is blanketed in snow and dealing with freezing (and below-freezing) temperatures, Phoenix is simply gorgeous.
A lot of people travel to Phoenix in the winter. This includes seniors who live in Phoenix part-time during the winter and tourists who visit to enjoy the incredible weather.
Though there are so many fun indoor activities, visiting in the winter means taking it outdoors to enjoy the weather and scenery.
1. Musical Instrument Museum
This unique museum is my favorite in the valley, and it's one of my top five favorite museums in the world. And, that's saying something! It is the only global musical instrument museum in the world and is so beautifully and thoughtfully curated. The museum brings instruments from around the world to life in such an interesting way.
You get a headset when you purchase your ticket. Then, walk around the rooms representing the continents and areas around the globe so you can read about the people, and learn about the instruments while having the opportunity to watch them being played. It's a cultural experience and a music lesson in one and fun for the entire family.
Watching the instruments being played on a video as you read about them is such a fascinating experience! They also offer concerts and even have John Lennon's piano!
I absolutely love this unique and immersive experience. It's a truly special place in Phoenix and should be on everyone's must-see list. You won't find another museum in the world like it.
Buy tickets now! When you use this special link, you not only get priority admittance without restriction, but you can also cancel if you need to. And, if you are visiting with kids, use this link to get a bundle including MIM and Legoland in one reservation process.
The Musical Instrument Museum is open daily from 9 to 5 and admission costs $27. It is located at 4725 E. Mayo Boulevard, Phoenix, AZ 85050.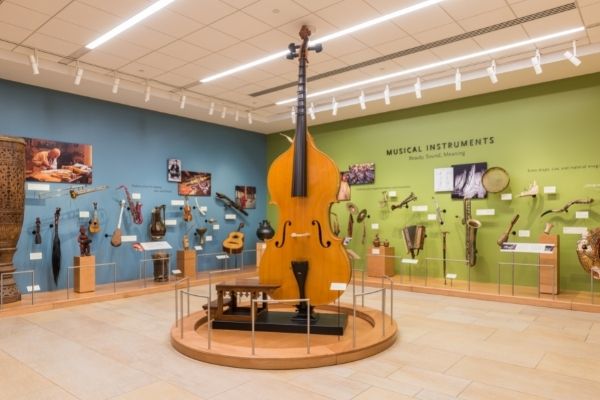 2. Taliesen West
Taliesin West was the winter home of famed architect, Frank Lloyd Wright from 1937 to 1959. It is open for tours and also serves as the main campus of the School of Architecture at Taliesin and the Frank Lloyd Wright Foundation. The home is located on the foothills of the McDowell Mountains.
The construction of the home was inspired by the natural surroundings. The walls were made from local stones and many of the angles and flows of the rooms drew inspiration from the area as well.
The home went through renovations when Wright returned annually, working with his students to carry out his design. The home is a true and unique work of art.
It took me almost a dozen years of living in Phoenix to see Taliesen West. I'm not sure why as I'm a huge architecture buff and really love his work. It is everything I hoped it would be and it was really amazing to see.
Taliesin West is located at 12621 N Frank Lloyd Wright Blvd, Scottsdale, AZ 85259. It is open daily from 8:30 to 6:30. There are several tours to choose from ranging from 45 minutes and $38 to 3 hours and $75 and all visits are guided.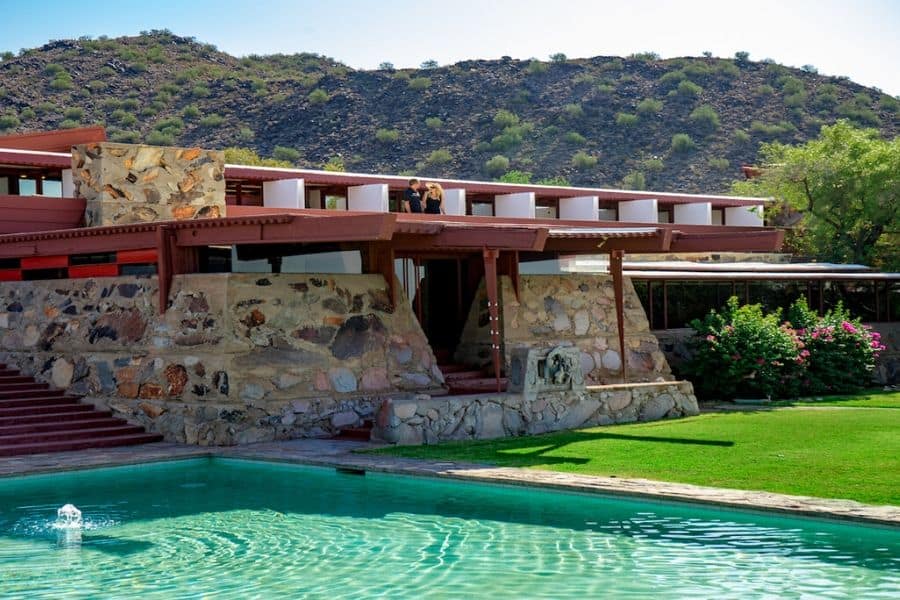 3. Dobbins Lookout South Mountain
This scenic observation point offers the best views of the Phoenix area. It is the highest point you can drive to, with an elevation of over 2,000 feet. It is located in South Mountain Park and Preserve, which is one of the largest municipal parks in the country.
On any given day you will see people hiking and biking on more than 51 miles of trails in this scenic desert park.
If you want to see some other amazing hikes in and around Phoenix, scroll on down to #6 or click here. There are a ton of mountains in and around the valley offering a wide range of hikes and views. You can even conquer a camel (ok, not literally, but it's one of the toughest hikes in the valley and worth noting).
The Dobbins Lookout is located at 10919 S Central Ave, Phoenix, AZ 85042. There is no cost to see it and you have the option to drive to the top of the mountain or hike up. If you do drive, there is a short, uneven walk to get to the Lookout. The park is open from 5 a.m. to 7 p.m. Please check the South Mountain Park website for any information about road closures before you go.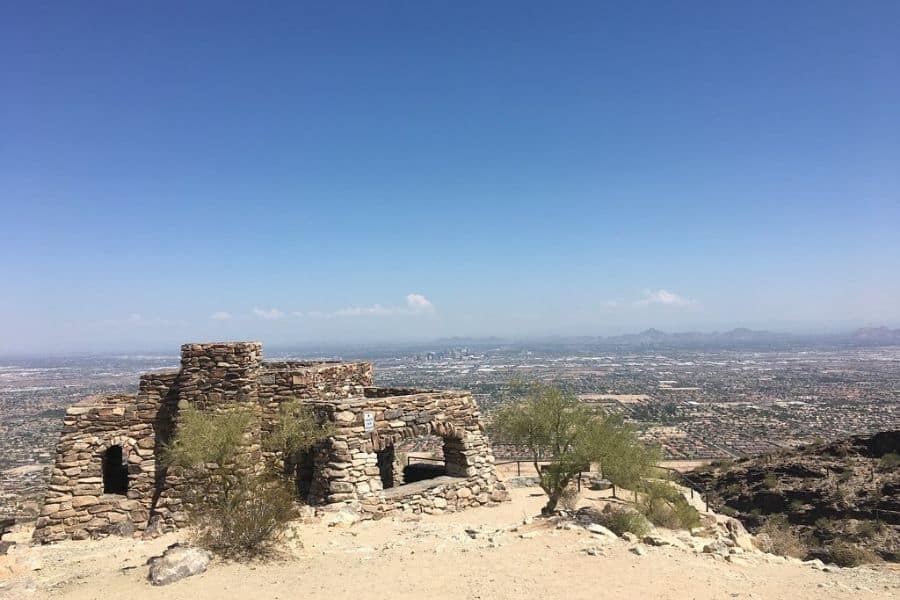 4. Desert Botanical Garden
When you think of the desert, chances are you think of sand and shades of brown. The Desert Botanical Garden is there to debunk the myth that there is little or no green in the desert. It's a 140-acre botanical garden with more than 50 thousand plants.
You can walk the tranquil paths through the garden, attend fun events, dine at their restaurants, and learn about life in the desert.
The Desert Botanical Garden is located at 1201 N. Galvin Parkway, Phoenix, AZ 85008. It is open daily from 8 to 8. Tickets may be purchased online for a specific date for $29.95.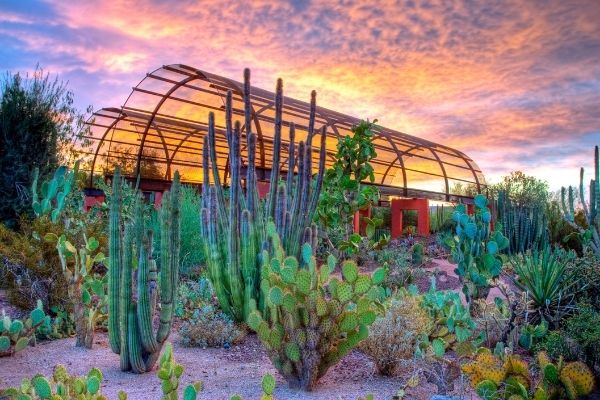 5. Taste the Local Wine & Adult Beverages
You may or may not know this, but Arizona has two relatively large (and award-winning) wine regions less than 3 hours away from Phoenix. The good news is that many of the wineries in that region also have tasting rooms located in Phoenix, or Scottsdale to be more precise.
The best news? The wineries in Scottsdale can all easily be accessed on foot, making visiting multiple locations in one day very easy! They are all within a small area in the quaint Old Town Scottsdale neighborhood.
If you will be winery-hopping in the Phoenix area, be sure to drink plenty of water and eat before, during, and after your visits to keep it classy! Most of the tasting rooms offer small plates of food and others have full menus to keep your stomachs full.
Some Favorite Wineries in Scottsdale
Merkin Vineyards and Caduceus Cellars
LDV Winery
Salvatore Vineyards
Carlson Creek Vineyard
Aridus Vineyards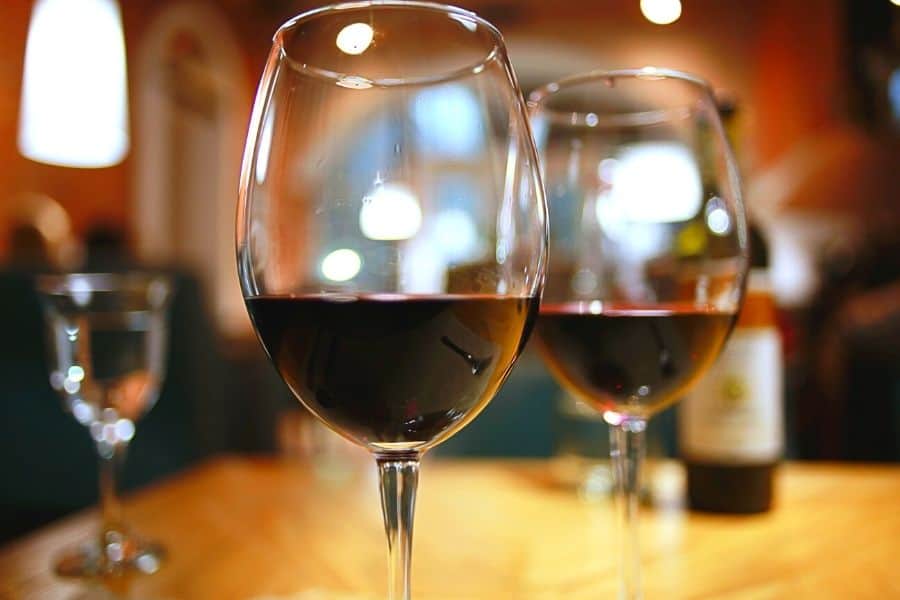 For Beer Drinkers
if wine is not your thing, no worries! There are lots of other incredible beverage options.
Phoenix has a number of great breweries—microbrews and nano brews. If you're interested, check out:
Other Adult Beverages
Cider is becoming a bigger thing in the valley, and there are a couple of great options for cider lovers.
6 Bird Cider—This cidery is a new hit in the valley. Check out their seasonal favorites and don't miss their slushies.
Cider Corps—Support this family-operated and vet-owned local cider shop. What started as a hobby has become an established favorite in the Valley area.
Superstition Meadery—This historic drink is making a comeback! Honey wine is in the Valley, in Phoenix, and in Prescott. Check it out!
6. Hike the Many Phoenix Mountain Parks
There is ample hiking in and around the Phoenix area in many state and local parks. Hiking is my preferred exercise and it's one of my favorite things to do in Phoenix. It doesn't really feel like a workout when you get such incredible views of the valley from the peaks.
The parks are a nice representation of the beauty of the desert. There are a lot of beautiful cacti and desert plants throughout and after the spring rains, you can see a beautiful canopy of green and wildflowers coat the ground.
One of the things I most love about Phoenix is that the mountains are everywhere and it's really easy to get a hike in instead of going to the gym for exercise. And nothing is more rewarding than when you climb a peak and see a gorgeous view of the entire area.
West Valley
Thunderbird Conservation Park is a nice small neighborhood park area located in the NW valley at 22800 N 59th Ave, Glendale, AZ 85310. There is also an entrance on 67th Ave. It is open from 7 to 5:30. There are three hikes in the area that all are around an hour or so, depending on your speed.
White Tank Mountain Regional Park (known as the White Tanks) is in the far west valley. There are a number of hikes ranging in difficulty and this is the only park in this list that has a fee of $6 per car to enter the park. It is located at 20304 W White Tank Mountain Rd, Waddell, AZ 85355. It's a really pretty park and does have a waterfall when there's rain.
Central Phoenix
South Phoenix
South Mountain Park is the largest municipal park in the country. The main entrance is located at 10919 S Central Ave, Phoenix, AZ 85042 in the south part of the valley. There are also trails from south of the range in Ahwatukee, 19th Avenue, and 48th Street. This park has the largest number of trails to choose from ranging from easy to difficult.
East Valley
Superstition Mountains (known as the Superstitions) is located in the far east valley and in my opinion, is one of the prettiest areas to hike. There are a number of hikes including a difficult hike to the "flat iron." According to legend, gold is buried in the mountains somewhere, so that may give you added incentive to visit.
Out-of-Town Bonus: Havasupai Hike
Though it's a few hours' drive from Phoenix, I do want to mention my favorite hike in the state. It's a once-in-a-lifetime experience that I highly recommend. The Havasupai Hike is an incredible experience. It's not an easy hike and getting hiking passes is a challenge as well, but if you plan for it, it's amazing. I wrote a guide to the Havasupai hike that tells you everything you need to know to have a great time.
You May Also LikeEverything You Need to Know for the Havasu Falls Hike
7. Go Golfing
The Phoenix area is really popular for golfers and there are an astounding 200 golf courses in the Phoenix metro area. With over 300 days of sunshine and no snow, it very well may be the perfect place for it.
The Phoenix Open is a popular gathering for golf enthusiasts and non-golfers alike for the festive atmosphere and festive parties. But, golf is an almost year-round celebration for those that enjoy the sport.
There are some incredible private courses and the public ones are pretty impressive as well. Some of the best, according to golf aficionados are:
I'm not a golfer so I can't share personal experience. I don't think any list of top things to do in Phoenix would be complete without adding this sport to it. It's a really popular spot for golfing and you can do it all over the valley.
And there are top-notch courses here you won't want to miss. So, if you are a golfer, you just might want to check these out! Some of these courses are really amazing and in truly gorgeous areas of the valley!
8. Tempe, Mill Ave, and Tempe Beach Park
Tempe is very much a college town and home to Arizona State University (ASU) near Phoenix, and it offers a lot of fun things to do. Stroll Mill Ave. with lots of interesting boutique shops and great restaurants. There are a lot of great ethnic restaurants on Mill and nearby to choose from including Irish, Ethiopian, Lebanese, Greek, and others.
Visit Tempe Town Lake to enjoy kayaking, sailing, rowing, jogging, fishing, or picnicking. There are also many festivals and events at Tempe Beach Park throughout the year that are a lot of fun.
And Gammage Theater is right off of Mill Ave with Broadway-style shows throughout the year as well as other performing arts shows.
Tempe Beach Park is located at 80 W Rio Salado Pkwy, Tempe, AZ 85281. The heart of Mill Ave. starts right across the street and continues for several blocks. Gammage Theater is located at 1200 S Forest Ave, Tempe, AZ 85281.
9. Japanese Friendship Garden
This garden provides a beautiful and relaxing break from the Phoenix desert. Where the Desert Botanical Garden celebrates the desert and indigenous plants, the Japanese Friendship Garden transports you to an authentic Japanese garden in the middle of Phoenix.
The 3.5 acres includes a Koi pond with around 300 fish, a 12-foot waterfall, stone footbridges, lanterns, and a tea house that offers traditional ceremonies. It was created through a joint project between Phoenix and Himeji, its Japanese sister city.
If you are seeking a break from the desert landscape, this is a peaceful place to enjoy.
The Japanese Friendship Garden is located at 1125 N. 3rd Avenue, Phoenix, AZ 85003. It is open from 10 to 4 Tuesday through Sunday and general admission costs $10.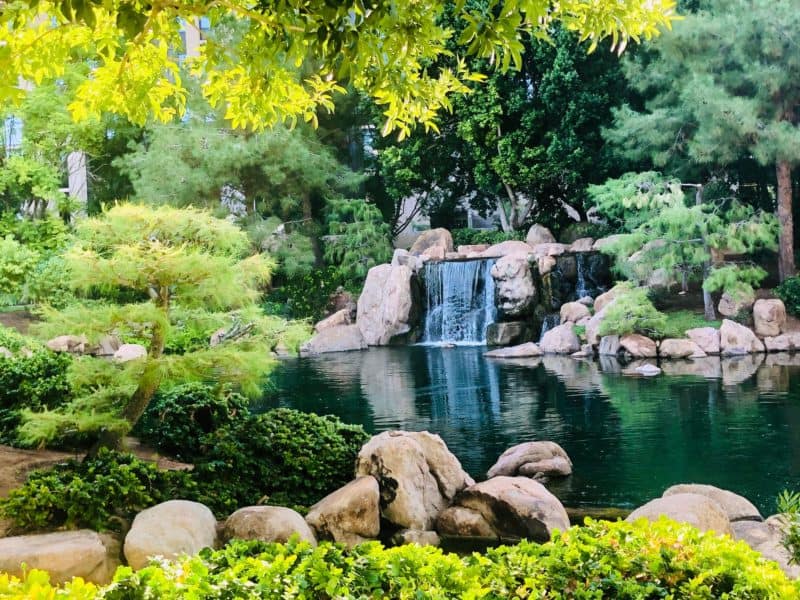 10. Phoenix Art Museum
This is such a fun and nice little museum that I'm not sure why it didn't make my original list of the best things to do in Phoenix. Well, I aim to rectify that now!
Though it's not a large art museum comparable to some of the greats in the world, it sure packs a punch. There are a lot of great works in this museum and I often go every year to visit.
When I go, it's as much for the regular exhibits as the temporary ones, which are generally wonderful! A few years ago they an exhibit about Frieda and Diego and works by them which was pretty amazing!
There is a lot of modern art at this museum with some really fun displays. You'll also see some well-known artists like Georgia O'Keeffe, Picasso, and others.
The Phoenix Art Museum is located at 1625 N Central Ave, Phoenix, AZ 85004. It's open from 10 to 5 Thursday through Sunday, 10 to 7 on Wednesday, and it's closed on Monday and Tuesday. It costs $21 and you can buy tickets online or at the museum.
11. Wrigley Mansion
This stunning mansion is a landmark of Phoenix. It was built in 1932 by chewing gum personality, William Wrigley Jr. as a 50th-anniversary gift for his wife. It is located on top of a hill with amazing views of the city and the mountains.
In 1992, the city was going to tear it down to build condo's and the late Geordie Hormel and his wife Jamie (yes, that Hormel) purchased it and restored it to its original glory.
It's a great place to splurge on a nice dinner at Geordie's Restaurant and Lounge or enjoy a drink and watch the sunset at Jamie's Wine Bar. It is open for lunch, dinner, and Sunday brunch. Tours are also offered for those curious to know more about the history, as well as the ghost stories, told about it.
Wrigley Mansion is located at 2501 E Telawa Trail, Phoenix, AZ 85016. It's open from 11 to 9 Tuesday through Saturday and 10 to 2 on Sunday. Tours are offered from Tuesday through Saturday at 10 a.m., 11 a.m., and 12 p.m. for $17.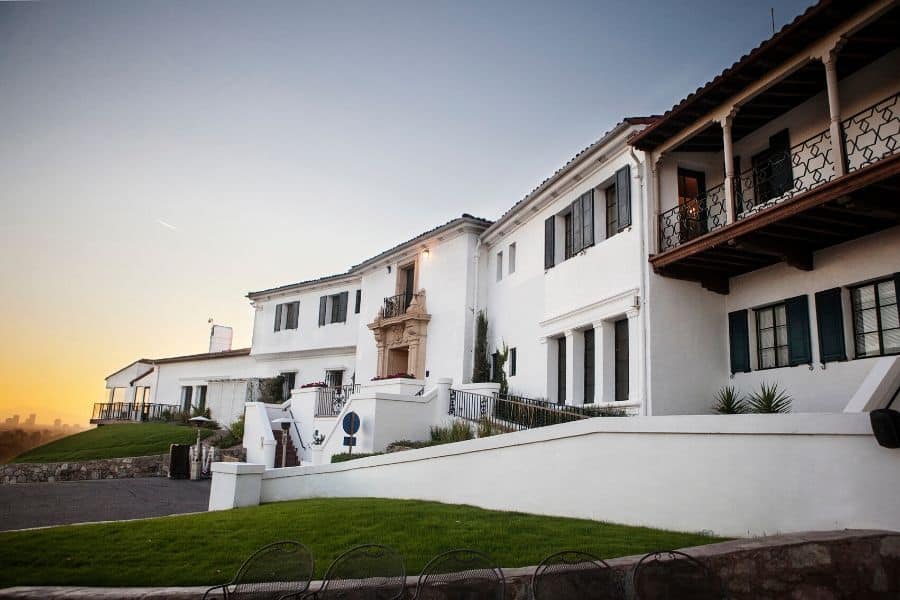 12. Heard Museum
The Heard Museum is dedicated to the advancement of American Indian art. It has a massive collection with more than 40,000 pieces of Native American art. Some of the key collections include Navajo textiles, Hopi katsina dolls, Zuni and Navajo jewelry, ceramics throughout the ages, and woven baskets.
This museum offers a distinct perspective on art and does highlight the Southwest and North America. They also have some interesting exhibits.
There is a strong Native American influence in Phoenix so this is a great museum to go to in order to learn more about the area. This is also the oldest private museum in Arizona and is a landmark having been founded in 1929.
If you want to learn more about Native American art and the Native American people, this is a great place to go. It's also a local favorite of mine.
The Heard Museum is located at 2301 N Central Ave, Phoenix, AZ 85004. It is open Monday through Saturday from 9:30 to 5 and Sunday from 11 to 5 and it costs $25 to visit.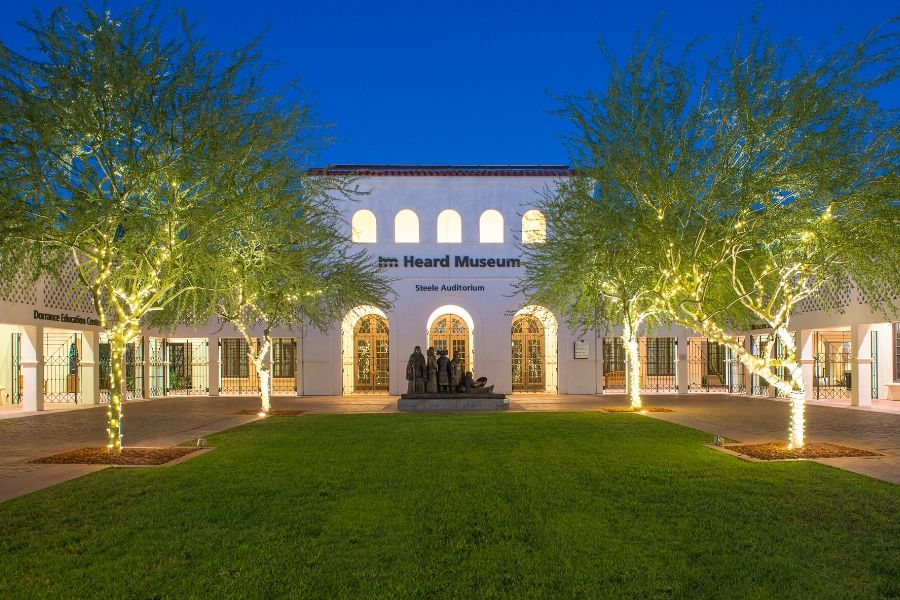 13. Canyon Lake and the Dolly Steamboat
The Dolly Steamboat has operated tours on the beautiful Canyon Lake since 1983. The Grimh family has operated it since 1987 with a crew of three serving up to 142 passengers.
This ship offers sightseeing and dinner boat cruises so people can enjoy the breathtaking scenery and wildlife of the lake. There are several different cruises to choose from and they also offer private tours. It's a unique experience in Phoenix and one you shouldn't miss.
While you're out in that area, there are a few other places to consider visiting in this old West stagecoach stop along the Apache Trail. (Check out #15 on the list for one of the best.)
Dolly Steamboat is located in Tortilla Flat around fifty miles east of the center of Phoenix. It is located at 16802 AZ-88, Tortilla Flat, AZ 85117. Cruises range from $25 to $65 and run from an hour and 30 minutes to 3 hours. The daytime cruises are generally at noon and the evening cruises start around sunset, with the times varying slightly throughout the year.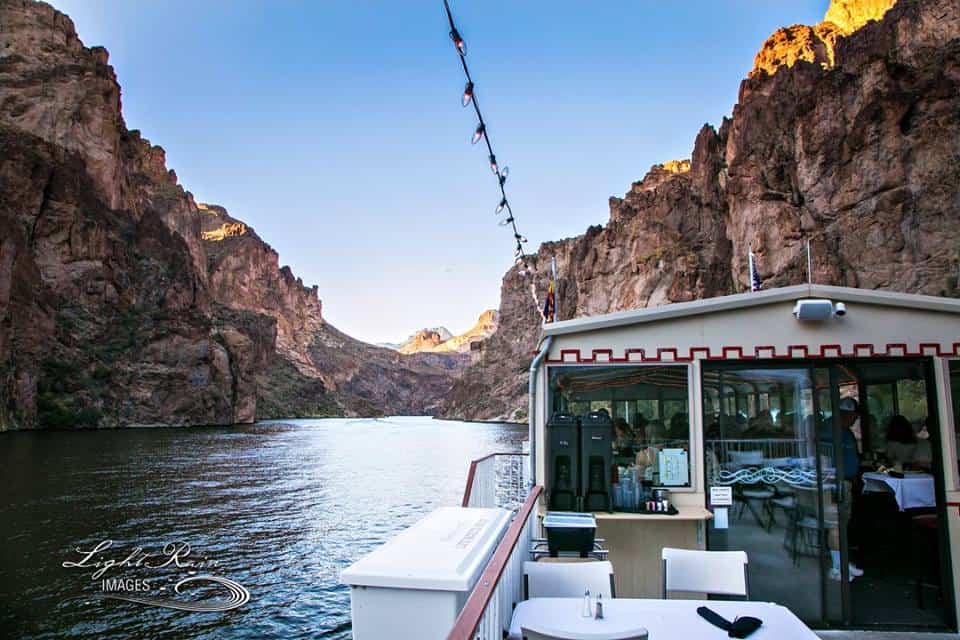 14. Goldfield Ghost Town
If you head to the Superstition Mountains and Canyon Lake, you won't want to miss this treat. The Goldfield Ghost Town is a fun place to visit. When the mine closed, the town died a slow death and was vacated around 1926.
You can now enjoy a stroll down Main Street to enjoy many of the old buildings. You can also tour the mine, ride a train, and enjoy other fun activities.
And if you get hungry, check out the Superstition Saloon and Restaurant where you can sit on horse-saddle bar stools and enjoy the dollar-bill "wallpaper" while enjoying a burger with a cold brew or sasparilla.
Enjoy a prickly pear cactus gelato at the Country Store next door or go to the Mercantile to buy some fun local gifts. There is also a cute little one-room schoolhouse that you can visit nearby.
Goldfield Ghost Town is located at 4650 N. Mammoth Mine Road, Apache Junction, AZ 85119. It is open daily from 10 to 5 and there is no entrance fee.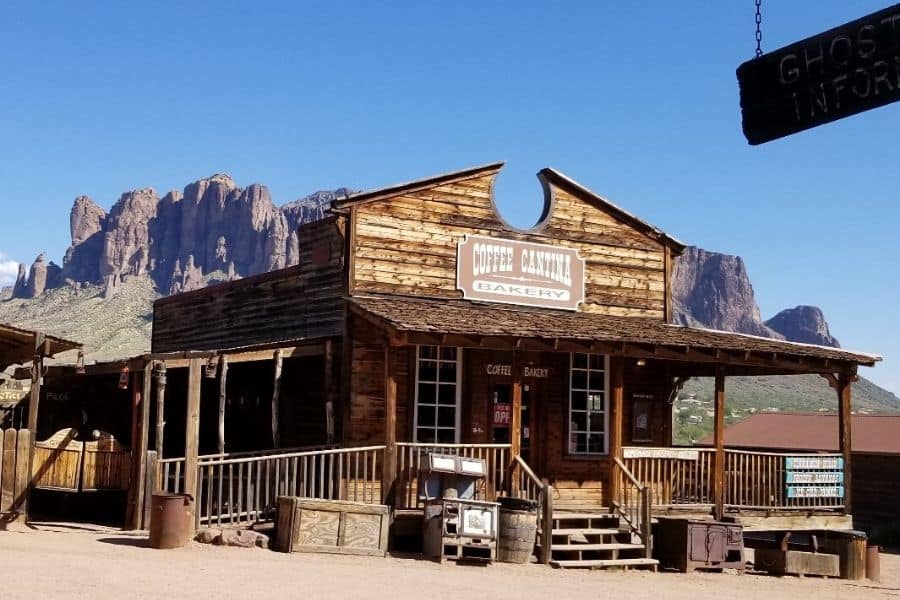 15. Tres Rio Wetlands
The Tres Rios Wetlands are an environmental restoration project. Close to 700 acres in and around the Salt River were restored to their condition in the early 1800s. This area is a riparian habitat with more than 150 different species of birds.
There are also animals like bobcats, coyotes, skunks, beavers, raccoons, and muskrats. It's a beautiful area with cottonwood groves, willows, and other desert shrubs that attract migratory and wintering songbirds.
The Tres Rio Wetlands are located in the Southwest Valley of Phoenix. Permits are required before visiting by going to this website and making a request. (Click the "Make a Request" button on the upper right of the page.) They are good for unlimited visits from sunrise to sunset any day of the year.
16. Hall of Flame Fire Museum
for another unique museum experience, check out the Hall of Flame Fire Museum. Part firefighter tribute and part historical collection, this museum is an acre of exhibits from 1725 to the current day.
Arizona, unfortunately, has more than its share of fire fighting, as wildfires often rampage the state during the scorching summer months. This museum pays homage to the firefighters noted for heroism or killed in the line of duty in the Hall of Heroes.
The museum has a wide array of fire-fighting apparatus like old fire engines and hydrants used around the world. If you want a really interesting historical perspective about something you may not have thought a lot about previously, this is a great museum. You'll learn a lot and will have a great time.
The Hall of Flame Fire Museum is located at 6101 E Van Buren Street, Phoenix, Arizona, 85008. It's open from 10 to 6 Tuesday to Saturday and costs $12.
17. Wildlife World Zoo
The Wildlife World Zoo is a 200-acre zoo and aquarium. The zoo specializes in African and South American animals and has Arizona's largest collection of exotics.
Though I'm not generally a fan of zoos, this one does a nice job providing a natural habitat for the animals. It also offers plenty of space for the animals to roam.
Wildlife World Zoo is located at 16501 W Northern Ave, Litchfield Park, AZ 85340. Tickets cost $41.50 though there are often discounts available through Groupon and other related organizations. It is open daily from 9 to 6 and the aquarium remains open until 7.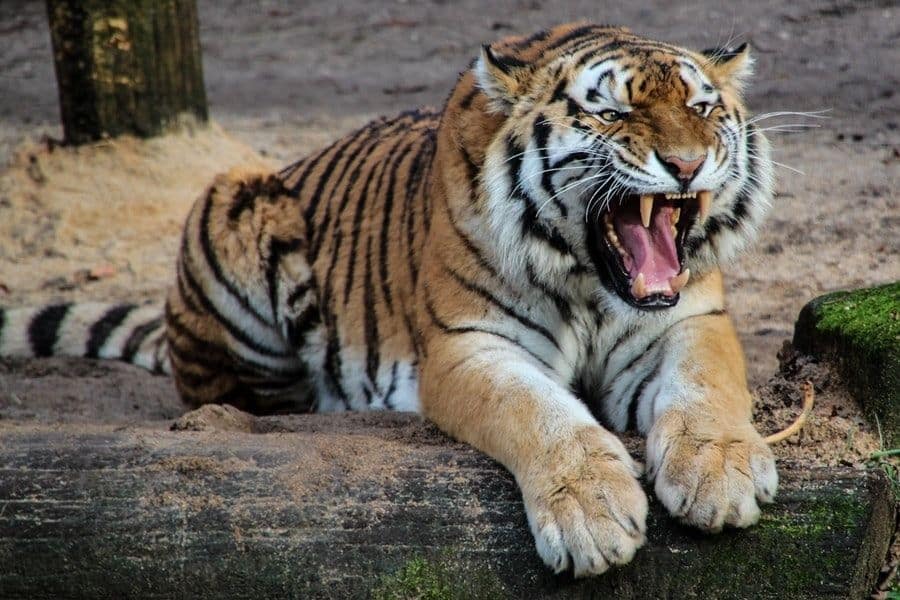 18. View Street Art in the Roosevelt Arts District
Street art is big in the downtown area of Phoenix and particularly in the arts district around Roosevelt between 7th Avenue and 7th Street. There are also a number of murals down 7th Street and one of my favorites is the David Bowie mural located at 1755 N 7th St, Phoenix, AZ 85006. It's fun just driving around that area to see them all.
This is my favorite area in town and I can't rave about it enough. It's one of the older parts of Phoenix so you'll see a lot of smaller bungalow-style homes and historic neighborhoods.
It doesn't have the polish of areas like you'll see in Scottsdale, but that's what makes it fun. And, the people are pretty amazing and interesting.
Here, you'll find some of the best restaurants in the city like one of my favorites, Cibo. You'll see a lot of galleries, small boutique shops, and lots of interesting finds. Go to Old Town Scottsdale, but don't skip this area.
19. First Fridays
First Fridays is a monthly art walk in the Arts District of Phoenix around Roosevelt Avenue between 7th Ave and 7th Street. The art galleries extend their hours into the evenings and it's a festive time for Phoenix. You can enjoy the art and revitalization of this area as well as some great Phoenix restaurants.
There is a trolley that can take you around the area and a map which shows the places to see here. It's a fun time and worth going to when you're visiting Phoenix.
Scottsdale has a similar monthly event on the third Thursday of each month located in Old Town Scottsdale.
20. Live Music
Phoenix is a music town and there are a lot of music venues to choose from. You'll catch local bands and even some amazing bands you've caught on the radio with a national presence.
These venues from theaters with extensive seating to small clubs and are all incredible. Some of my favorite smaller venues are:
21. Live Performances
In addition to live music, there are many venues for other cultural performances like Opera, Ballet, and Symphony. Gammage Theater in Tempe is mentioned above, and here are some other organizations with some great offerings.
Off the Beaten Path Phoenix
These places are lesser-known in the valley but are highly recommended by the locals. In fact, I didn't even know about one of them!
22. Mystery Castle
Mystery Castle is a place with quite a history! It was built in the 1930s by Boyce Luther Gulley who moved to Phoenix when he learned he had tuberculosis.
He built this 18-room and three-story home from mostly found and other inexpensive materials. He died in 1945 and his daughter moved in where she lived until her death in 2010.
Part of the home is unfinished and electricity and plumbing weren't added until 1992. Interestingly, this home was originally built far from the city. However, with the Phoenix expansion, it is now not as remote as it once was.
It's really interesting to see and if you have been to Watt's Towers in Los Angeles, it reminds me of that place. You can see plates, cups, and other items embedded in the walls.
Mystery Castle is located at 800 E Mineral Rd, Phoenix, AZ 85042. Tours are available Thursday through Sunday from October to May at 11 and 3:30 and they cost $10.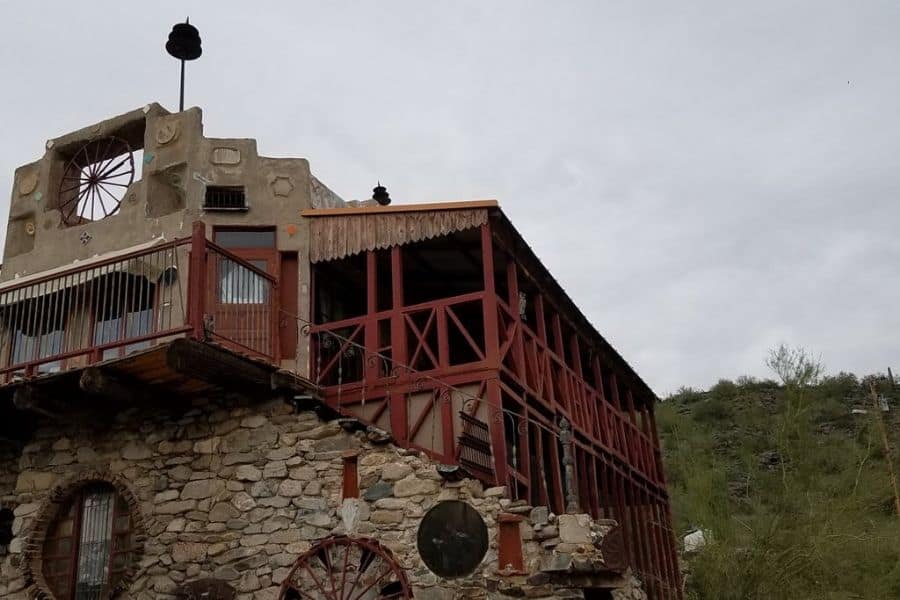 23. Bat Cave
Phoenix is home to more than 10,000 Mexican bats from May to October during their migration to return home to Mexico. They sleep during the day and at night they fill the skies starting at dusk.
To see the bats, walk Northwest from 40th Street and Camelback near Chelsea's Kitchen on the northern end of the Arizona Canal trail. Parking is available at Chelsea's Kitchen or the office buildings nearby.
24. Native American Ruins
There are a lot of Native American ruins in and around Phoenix, as well as the rest of the state. In Phoenix, you can find the Pueblo Grande Museum. it's a small place with a lot of great information about some of the Native Americans, the Hohokam, who lived in the area.
It's located at 4619 E Washington St, Phoenix, AZ 85034. It's open from 9 to 4:45 Monday through Saturday and from 1 to 4:45 on Sunday. It costs $6.
There are a number of other ruins around Phoenix and Flagstaff. Some of my favorites are right on the way to Sedona, a popular day trip from Phoenix, Montezuma's Castle is a cliff dwelling you can visit high up on a rock wall. And Tuzigoot is a partially rebuilt site that you can climb through to see how they once lived.
You May Also Like Native American Indian Ruins in Arizona
Places to Eat in Phoenix
There are an absolute ton of great restaurants in Phoenix and it would be hard to list them all. Phoenix is definitely a foodie's destination. In fact, I'd challenge you to find something not available in the area! From 5-star dining to cozy and tasty dives, you'll find it in Phoenix.
Here are some of my favorites by area. And if you want even more, check out my dining guide for Phoenix. There are over 100 restaurants and I'm sure you'll find something you'll love!
West Valley
Little Saigon – This family-owned and operated Vietnamese restaurant is an institution in Glendale. It's nothing fancy but the Vietnamese food is the best I've had outside of Vietnam. Their spring rolls are packed tightly and taste amazing, and their pho keeps me coming back for more. I have been going here for years and love it. It is located at 7016 N 57th Ave, Glendale, AZ 85301.
Central Phoenix
Where to Stay in Phoenix
In a city as large as Phoenix, there are a lot of hotel options to choose from. The trick is to stay in a convenient area to the things you want to do when you're there.
The Phoenix metro is a large geographic area. It takes over an hour, without traffic, to drive it from end to end. So, your best bet is to plan out what you want to do, then look to book your hotel.
If you find you're doing things all around the valley, no worries! There are three great areas to stay in: downtown Phoenix, Old Town Scottsdale, and Tempe. Each is close to many popular things to do, and they are mostly near main highways.
Here are the top recommendations for hotels to stay at in the Phoenix area, as well as a resort that I love.
Budget
Clarendon: This fun retro boutique hotel is in downtown Phoenix. The pool is decadent, with cabanas and even underwater speakers. There are multiple room types that can accommodate whatever type of trip you're seeking. And, the location is ideal, near some of the best restaurants in the city.
Mid-Range
Found:Re Hotel: This hotel is also in downtown Phoenix, and not far from the Clarendon. It's my favorite part of the valley and so convenient to my favorite places. Found:Re has a fun urban chic industrial vibe with a rotating art display in the lobby and the public areas. And, the restaurant is fantastic!
Luxury
Hermosa Inn: This boutique hotel is one of my favorite spots in the valley. It's in Paradise Valley, which is nice and central. The grounds are gorgeous and the restaurant, Lon's, is my favorite in all of Phoenix. Don't miss it.
Resort
The Phoenician: For the ultimate in luxury, the Phoenician can't be beat. I stayed here before I even moved to the valley, and have never been able to forget it. The rooms are incredible, the grounds beautiful, and the restaurants divine. The spa is one of the best in Phoenix, so don't skip it, whether you stay there or not!
When to Visit Phoenix
Phoenix is located in the low desert so winters are mild and summers are scorching hot. It's incredible from October through April. If you're ok with cool mornings and evenings and hot days, the cusp months of May and September are great as well.
June temperatures start to soar and from June through August the temperatures average around 105 degrees Fahrenheit (almost 41 Celcius). However, June and July in particular spike to 110 and even up towards 118 degrees Fahrenheit (almost 48 degrees Celcius).
Monsoon season is technically from mid-June through the end of September. Though, in my experience, it seems to start in mid-to-late July and go through the end of August. August is the primary month. There are scattered showers during this time that can bring the temperatures down some. However, the humidity increases as a result.
In my opinion, it's not a fun time to be in Phoenix. Though you can get some great hotel deals, I'd come at a different time of year when the weather is better and you can go outside without risking bursting into flame. There are so many fun things to do in Phoenix outside.
If you're looking for a road trip out of Phoenix, particularly during the scorching summer months, here is a fun list of great day trips from Phoenix and road trips from Phoenix. And for something uniquely southwestern U.S., check out the Native American ruins of Arizona.
My Move to Phoenix – Yes, I'm a Local!
When I moved to Phoenix, I was simply looking for a change. I wasn't sure what I wanted and didn't really have any requirements, except that I knew I wanted to live in a city where I could find jobs and somewhere that was very different from where I was living, near Boston.
I love Boston, and I'm always homesick for a return visit. But, as much as I love it there it feels like home. I got tired of the snowy and cold winters. Also, my immediate family moved away, as did several of my closest friends, so I felt it was time for a change.
I'm glad I did decide to move, as living in Phoenix has given me a great launching point to see the western part of my country. I'm not sure I would have seen as much had I not moved. As much as I enjoy living here overall, I admit I have itchy feet yet again for a change.
However, my next move will be with much more thought and will likely be international. And, I'm not expecting to live where I move for as long as I lived here, but like Phoenix, it has been a good launching point for local travel.
My plan was to live in Phoenix for three to five years. I have now been here for more than 15. You can conclude I'm not great at math (truth!), but also, that the metro Phoenix area is a great place offering a lot. Both are true. I love living here and would highly recommend anyone come to visit to see what this area has to offer.
Why You Should Visit Phoenix
Phoenix is a great city with a lot of fun things to do in and around the city. There is a little something for everyone here, with lots of activities both inside and outside.
When the rest of the country is hunkered down under a layer of snow, it's some of the best weather in Phoenix. Come, check it out! You won't be sorry you did.
You Might Also Like
Like it? Pin it!