The 7 Best Arizona Road Trips (from a Phoenix Local!)
The "big square states" in the southwestern United States are made for road trips, and there are many great road trips in Arizona to choose from. Phoenix is a great starting point, especially if you're flying into the state, as it has a large international airport.
When you plan to visit Arizona, spend a few days in the capital area, as there's a lot to do in Phoenix. Then choose from one (or more!) of these fun road trips in Arizona to see all that this amazingly diverse state has to offer.
I have lived in Phoenix for nearly two decades. During that time, I have explored much of this incredibly beautiful state. In this post, I'll share my favorite road trips, which I highly recommend.
If you're looking for day trips or even trips to extend to a weekend in Arizona, here is a great list of Phoenix day trip options to get you started. As an added bonus, this list also includes some other fun things to do around the area of each trip, so you won't miss out!
This post may contain affiliate links, which means I'll receive a commission if you purchase through my links at no extra cost to you. Please read the full disclosure for more information.
Top 7 Arizona Road Trips + What You Can See in the Area
These are my favorite road trips in Arizona. Some can easily be combined, like Canyon de Chelly and Monument Valley.
For others, there are some incredible places to visit along the way, showcased in my post on the best day trips from Phoenix. If you're visiting the Grand Canyon, the Page area, and the Petrified Forest (if you go via I-17 through Flagstaff), you'll find several great spots on the way.
These spots include Sedona, Cottonwood, Jerome, Flagstaff, and others. There's also a great Native American cliff-dwelling ruin on the way called Montezuma's Castle.
Petrified Forest, including Winslow, Meteor Crater, and La Posada Hotel
Canyon de Chelly
The Grand Canyon, including the South Rim and the West Canyon
Havasupai Falls
Page and Lake Powell Area, including Horseshoe Bend, Glen Canyon Dam, and Antelope Canyon
Monument Valley, including Four corners
Bisbee, including Tombstone and Kartchner's Cavern State Park
On the way to Bisbee, you'll pass near Tombstone as well as Tucson. Tombstone does Old West re-enactments, which are fun for all ages. And Tuscon is a lot of fun and worth a visit.
The Petrified Forest
The Petrified Forest is something everyone should see once in their lifetime and it's one of the most popular road trips in Arizona. It's an hour-and-a-half from Flagstaff and three-and-a-half hours from Phoenix.
It's known for its fossils, and especially for fossilized fallen trees in the area as well as some fossilized plants and reptiles. There are a lot of hiking trails and you can hike all around the fossilized trees, which is an amazing experience. But please do be respectful and leave the fossils where you find them.
There is also an area known as the Painted Desert, which runs through the Petrified Forest National Park. It's an area of badlands that looks a lot like the Badlands National Park in South Dakota. It's a striking contrast to the Flagstaff area and even the area of most of the Petrified Forest.
The Petrified Forest National Park is located right off Interstate 40 (and Highway 66). It costs $25 per vehicle for seven days. Or, get an America the Beautiful pass to see any US national park. It's a great deal if you plan to see multiple national parks.
Stop at the Corner in Winslow, AZ
Made famous by the Eagles' song, Take it Easy, there is even a small sculpture sitting on the corner to visit. Historic Route 66 runs right through here, so it's worth a quick stop. The corner is located at the intersection of Kinsley and Highway 66.
Meteor Crater
The Arizona Meteor Crater is a meteorite impact crater from approximately 50,000 years ago located between Flagstaff and Winslow, AZ. It is one of the best-preserved meteorites and it's around 3,900 feet (1,200 meters) in diameter and around 560 feet deep (170 meters).
There is a big-screen theater that shows a movie about the impact in a visitor's center located on the rim of the crater.
Meteor Crater National Landmark is located just off Interstate 40, Winslow, AZ 86047. It is open from 8 to 5 and the entrance costs $22.
La Posada Hotel
La Posada is one of the last great railroad hotels in the United States. But this place isn't only a hotel — La Posada also has an art gallery, a museum, and one of the best restaurants in the state, The Turquoise Room. I first tried their creative southwestern-style food at a food festival in Phoenix.
When a friend and I decided to go on a road trip to visit Flagstaff and the Petrified Forest, it was added to my shortlist of places to go. It is well worth the drive though thankfully, there are other things to see and do in the area as well.
La Posada is worth visiting–even if only to wander around and dine at the Turquoise Room. But if you're looking for a nice place to stay around 45 minutes from the Petrified Forest, I'd highly recommend checking it out.
La Posada Hotel and The Turquoise Room are located at 303 E 2nd St, Winslow, AZ 86047
Accommodation Near the Petrified Forest
The town of Holbrook is the closest to the Petrified Forest. It's a small town, and there aren't a lot of hotels there. Most of what you'll find are chains like Days Inn and Quality Inn.
If you're looking for a cute, small, locally-run place that has been around forever, check out Brad's Desert Inn. It's a budget place that plays up its historic roots.
For a splurge, I'd consider La Posada Hotel. I haven't stayed there, but the grounds are stunning and the Turquoise Room is hands down one of the best restaurants in the entire state.
Canyon de Chelly
There is something so hauntingly beautiful about Canyon de Chelly. It's in a remote part of the state in the Northeast. It's not one of the more popular road trips in Arizona, though I think it should be.
Canyon de Chelly is every bit as beautiful as the Grand Canyon though in a different way. Once you arrive in Chinle, a small and fairly nondescript town close to Canyon de Chelly, the landscape changes to gorgeous red rock. There is a helpful Canyon de Chelly Visitor's Center where you can get a map and some guidance on seeing the canyon.
You are required to have a Native American guide to enter the canyon. However, you can drive around the top of the canyon on your own.
There are a few trails you are able to go to on your own including the White House trail, which has a beautiful Native American ruin called the White House (bet you didn't see that coming!!)
The canyon has incredible shades of red rust, brown, and tan that turn spectacular shades with the rising and setting sun. The colors are contrasted with the bright green grass and the river at the base of the canyon.
There are a lot of scenic overlooks you will want to stop and see including the Face Rock Overlook, Junction Overlook, Tunnel Overlook, and Tsegi Overlook. Sliding House Overlook has another Native American Ruin, this time a cliff dwelling.
The Spider Rock Overlook showcases one of the most spectacular parts of the canyon with the incredibly beautiful Spider Rock spire, or "hoodoo," as they are sometimes known here.
Canyon de Chelly Tours
Tourists are only allowed to enter Canyon de Chelly with an approved Native American guide. The Canyon de Chelly Visitor's Center has a list or you can go to the Canyon website. Before you decide not to do this, I highly recommend that you consider it.
It's so worth the extra money to tour the canyon. Not only are you supporting the local people, but you get up close to this stunning sacred land. And you get to learn more about the history of this area and the people who call it home.
We chose to go with Antelope House Tours and went out with Adam Teller. It appears he may have his own tour company now, and Adam's website is here. He has a degree in anthropology and has been a guide for a long time. He's a great guy and was really interesting!
The tour lasted three hours, and he pointed out many petroglyphs (carvings) and pictoglyphs (paintings) on the canyon walls and shared their stories. He pointed out a really interesting cave up on the canyon wall with warnings depicted and explained that the place is considered holy, so even the natives won't go to it.
We even got to go visit his grandparents, which was an amazing experience. They didn't speak English, but he translated for them, and they generously welcomed us to their home. Adam proudly told us that he and his family built a small home for them on his land, and the family all helped to care for them.
They were adorable and proudly showed us a picture on the wall from 50 years ago where they were featured in a magazine. We really enjoyed our time with Adam and highly recommend him, and visiting Canyon de Chelly.
Inside Canyon de Chelly
Driving in the canyon is no easy feat, and we quickly understood why a local guide is required. Weaving around the water is challenging and we saw several jeeps that got stuck!
Adam expertly wove his way around, chatting the whole time about his people and sharing some of the history of the canyon and its people.
Canyon de Chelly National Monument is located in Chinle, AZ. The Canyon de Chelly Visitor Center is located at Indian Rte 7, Chinle, AZ 86503. There is no fee to visit the park, however, access inside the canyon is only allowed with an authorized guide (with the exception of two trails).
Canyon de Chelly Accommodation
Chinle is a very small town, and there aren't a lot of hotel options. The two top options are:
Thunderbird Lodge is another option, located at Rte 7, Chinle, AZ 86503.
There are two campgrounds that are popular for RV trips in this area:
We ended up staying at the Spider Rock Campground in an RV. It is less than a mile walk from the edge of the canyon. It's very basic, but the location was great!
The Grand Canyon
If there's one place you're planning to go when you visit Arizona, there's a good chance it's the Grand Canyon. It's the most popular of all of these great road trips in Arizona and with good reason!
It's one of the seven natural wonders of the world and a truly awe-inspiring place to visit. Standing over the canyon, it seems to go on forever! It's a striking place to visit, and nowhere else will you feel so small, in a good way.
If you enjoy hiking, the Grand Canyon is a great place to go. Hiking down to the Colorado River and staying overnight at Phantom Ranch is an amazing experience. And if you're up for it, there's a rim-to-rim hike you can go on, extending from the south and north rims.
Both of these hikes are considered strenuous, and you'll want to be sure to train well for either of them. It is not recommended that anyone consider doing these hikes in a day and if you do want to stay at Phantom Ranch, you need to make a reservation.
The Grand Canyon isn't just for the hard-core hikers, though. There are a number of hikes in the canyon ranging in difficulty, with quite a few moderate or moderate-strenuous hikes. It's a good idea to still train for those, but they require less in terms of strength and endurance.
South Rim
The South Rim of the Grand Canyon is the more popular place for tourists to go and there's a bit more there. There are a number of hotels where you can stay, dine, and shop, and one of the most popular is the El Tovar Hotel. It's a historic grand hotel right near the south rim. They often book out six months to a year so you'll definitely want to plan ahead.
There is a nice walking trail along the rim with great views and a railing for those with a fear of heights (raising my hand slowly)! There are also a lot of short paths where you can walk out onto the rocks to take in the spectacular views.
The Grand Canyon is a popular day trip from Phoenix, though it's better as an overnight. You can stay at the canyon, or there are some hotels fairly close by. Another great option is to stay in Flagstaff, which is only two hours from Phoenix. There are a lot of fun things to do in Flagstaff.
Grand Canyon South Rim Accommodation
There are a handful of hotels right on the rim and a bunch more a few miles away.
Red Feather Lodge is around 6 miles away but a little more affordable than the hotels on the rim of the canyon. El Tovar is one of the old grand hotels at the park, and it's an experience, but you pay a premium. Yavapai Lodge is an alternate option that's a bit more affordable.
West Canyon
For those more daring and have some extra time, there is the Grand Canyon Skywalk. It has a glass bottom, and you can walk over the canyon itself and look down into the depths below. It's in the western part of the canyon, and though it's not very far "as the crow flies," it does take close to four hours by car from the Grand Canyon National Park.
The skywalk is a 10-foot wide horseshoe-shaped glass bridge that goes 70 feet out over the rim of the Grand Canyon. You can look down through the platform to see the floor of the canyon 4,000 feet below (1219 meters). It offered views of the canyon that you cannot get anywhere else.
The Grand Canyon map is here. The El Tovar Hotel is located at 9 Village Loop Drive, Grand Canyon Village, AZ 86023. The Grand Canyon Skywalk is located at 808 Eagle Point Rd, Peach Springs, AZ 86434. It costs $35 per car to visit the Grand Canyon for seven days. Or, get an America the Beautiful pass to see any US national park. It's a great deal if you plan to see multiple national parks.
Havasupai Falls
Not far from the Grand Canyon, at least as the crow flies, is Havasupai Canyon, home of the stunning Havasupai Falls. A tributary from the Colorado River supplies the falls, the same river flowing through the Grand Canyon. It is a few hours' drive from the South Rim of the Grand Canyon in Havasupai Tribal lands.
Havasu Canyon is known for its brilliant blue-green waterfalls pouring from bright red rock. The falls can only be reached by foot, and though it's a challenging hike, it is worth every moment.
The canyon itself is beautiful, though not at the same level as the Grand Canyon or Canyon de Chelly. And the waterfalls are simply majestic. If you're up for a bit of a challenging hike with an amazing reward, this is one of the best road trips in Arizona for you.
You May Also Like Everything You Need to Know for the Havasu Falls Hike
Havasupai Falls Hike
Visitors must secure the Havasupai Falls Permit as this hike is through native lands, and a minimum of two nights is required. There is a large campground right next to the two most popular and famous falls, Havasu Falls and Moody Falls, so it's no hardship to stay here for a few days to enjoy the beautiful scenery.
Brilliant blue-green waterfalls pour from bright red rock. A deep canyon lit up in an array of reds, purples, pinks, and browns. A soothing and sacred space. This is why you will want to visit Havasupai Falls and why it is on the list of the seven best road trips in Arizona.
This ultimate Guide to the Havasupai Hike has everything you need to know to plan this amazing trip, including the costs and how to get a reservation. The Havasupai trailhead is 4-and-a-half hours from Phoenix. You can find a map of the drive from Phoenix to the Havasupai trailhead here. Permit availability is open on the Havasupai Reservations website on February 1st at 8 a.m. local time.
Page and Lake Powell Area
Page is close to 4-and-a-half hours from Phoenix ,and visiting may be best as a long weekend trip. It's located on the Utah border in the far northern part of Arizona.
It's on the way to get to some popular Utah National Parks like Zion and Bryce, though it's worth a stop in its own right. if you're looking for striking red rock, Page is your kind of place. If you have the time to visit, it's one of the best road trips in Arizona.
Horseshoe Bend
Just before you hit Page, you will come to Horseshoe Bend. You may not have heard of it before, but it's very likely you've seen pictures of it. The Colorado River, the same one that created the Grand Canyon, carved out this stunning horseshoe-shaped canyon.
It's around 1,000 feet deep (305 meters) to the canyon floor, and there's a path to it that takes around an hour-and-a-half to walk. This park is part of the Glen Canyon National Recreation Area.
Horseshoe Bend is located in Page, AZ. There is a $10 parking fee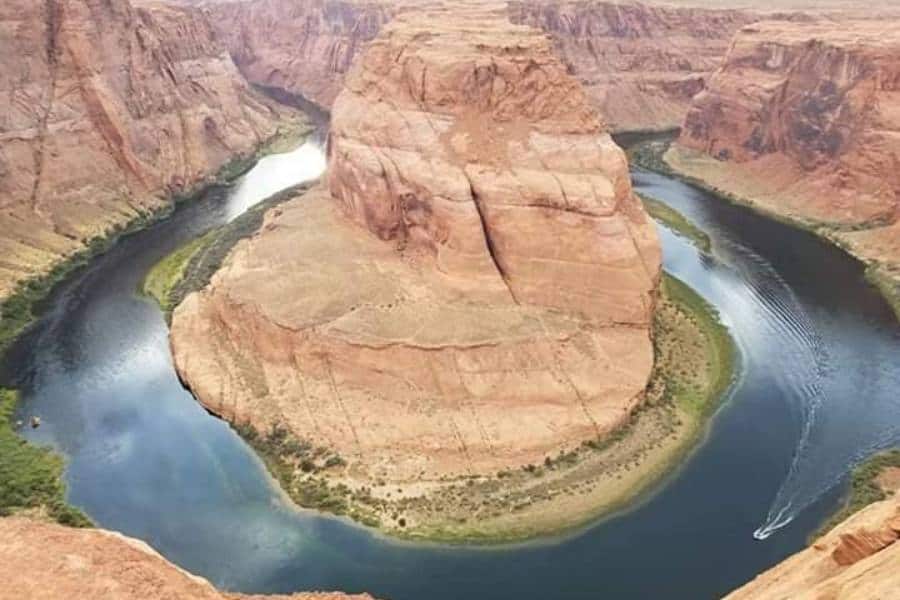 Glen Canyon Dam
The Glen Canyon Dam is only around five miles past Horseshoe Bend, and you'll drive right over a bridge near the dam on Route 89. There is a parking lot just past the bridge where you can pull off and walk over it to get great pictures of the dam.
This dam is actually larger than Hoover Dam, and it was built to provide water storage from the Upper Colorado River Basin to the lower. It is a concrete dam that is 710 feet high (216 meters), and it's massive.
The Glen Canyon Dam formed Lake Powell, the largest man-made reservoir in the United States. It's a major source of hydroelectric power for the region. It is federally-owned, though you can take guided tours through the Glen Canyon Conservancy.
The Glen Canyon Dam is on US-89, Page, AZ 86040, and the overlook is as well.
Antelope Canyon
Antelope Canyon is a slot canyon located near Page, Arizona. It was carved by rain and wind in incredibly beautiful red sandstone. This slot canyon has many narrow passageways that lead several hundred feet from the mouth of the canyon.
Typical for slot canyons, it has sloping angles of the rocks with incredible shifts of light making their way down from the top rim of the canyon and creating an incredible scene. Many of the passageways are only eight to twelve feet wide. Pictures are beautiful but it's hard to capture the true beauty through a lens. This is something you should see to believe how incredible it truly is.
It's a good idea to consider the time of day when you book your tours, as the sunlight will show differently. From March to October, optimal viewing times are from 11 to 1, so the sunlight shines into the canyon and lights up the walls. However, there are fewer tourists and tour groups from November to March.
You do have the option to go to the Upper or Lower Antelope Canyon areas. The Lower portion is typically a little less busy.
You are required to have a tour guide as this is on Navajo Nation land. The guide will help you to secure the permit that is required for you to visit. There are many tours that offer visits to Antelope Canyon, and some also include other local places like Horseshoe Bend.
The Antelope Canyon Tribal Park location on a map is here.
Lake Powell
Lake Powell is a man-made reservoir on the Colorado River on the border of Arizona and Utah. It's massive, and the size is second only to Lake Mead. Much of this lake is in Utah, but since there's a part in Arizona, I'm including it in this list. It's a popular vacation spot that sees around two million people every year.
It's known for its beautiful blue water, sandy beaches, and remote areas that are only accessible by boat. In fact, renting a houseboat and staying right on the lake is one of the most popular things to do here.
You can find most water sports at Lake Powell, including kayaking, paddle boarding, canoeing, and boating. Fishing is popular, as well as boat tours, wakeboarding, and waterskiing. Of course, camping and hiking are popular as well.
There are many stunning rock formations in the area to check out with spectacular colors. A natural bridge is located at Rainbow Bridge National Monument as well, reachable by the water. There are so many places to see when you visit Lake Powell, which is why it's part of the seven best Arizona road trips.
The most popular time to go is early summer, as temperatures can get quite high during the remainder of the summer. If you want a great time to go that's slightly off-peak, check out the fall. Crowds are less, temperatures are a little cooler, and it's amazing up there!
Lake Powell is located here on a map. There is a large marina on Lake Powell, and this Utah website has some great information about planning a trip there.
Page/Lake Powell Accommodation
There are a number of larger hotel chains in the Page/Lake Powell area. Lake Powell Resort is one of the nicest hotels in the area. It's overlooking the lake and located at the marina. Hyatt Place has nice, large suites, and it's located between Page and Lake Powell. The Best Western has views of the Glen Canyon Dam and is located on the canyon rim.
Monument Valley
Monument Valley is a stunningly majestic and desolate area on the Arizona border with Utah. You may not have heard of it before, but chances are you would recognize it if you were shown a picture of it. Monument Valley has been shown in a number of famous movies and is a very identifiable landscape.
Its name in Navajo means "valley of the rocks," and it has a cluster of large sandstone buttes. The largest butte is 1,000 feet (300 meters) tall. It is located on the Navajo Nation Reservation.
As this is on Native American lands, a permit is required. There is a 17-mile dirt road loop that passes through part of Monument Valley. It takes around two-to-three hours to drive without stops, and it's something you will want to do when you visit. There are other parts of this area that is only accessible with a Native tour guide including Mystery Valley and Hunts Mesa.
Monument Valley Accommodation
The View Hotel and Campground is the only accommodation in the park. All rooms have private balconies with a view of the rock formations in the park. Goulding's is right outside, just a couple of miles down the road.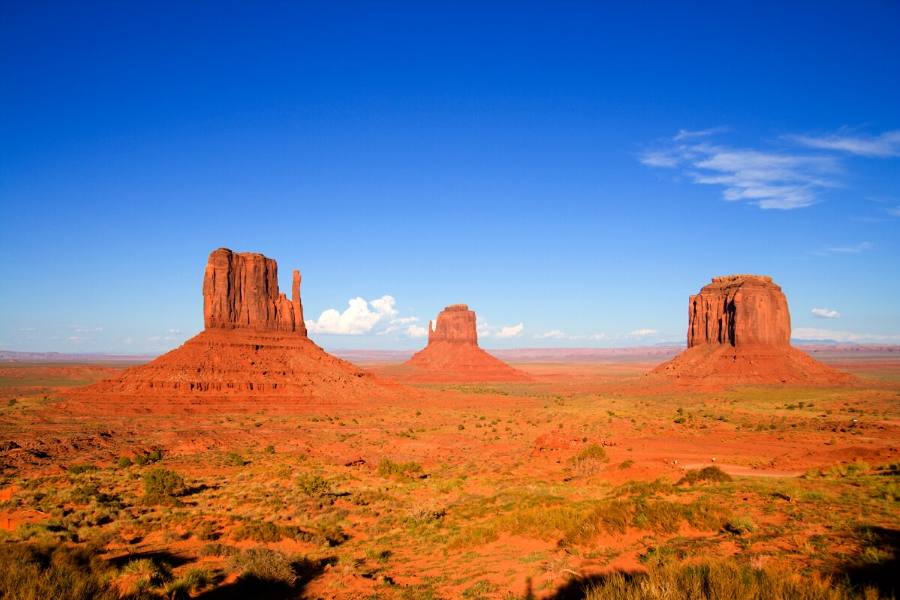 Four Corners
Monument Valley is also considered to be part of the "four corners" area. This is where the four "big square states" of Utah and Colorado to the North, and Arizona and New Mexico to the south all meet in a corner.
A popular trip is to visit Monument Valley in Arizona and Utah. Then go to Mesa Verde, a Native American monument in Colorado where there are cliff-dwelling ruins, and finally Chaco Canyon in New Mexico. They are all Native lands, and each is so very different.
If you're doing this loop and you have the time, it's worth stopping at Canyon de Chelly in Arizona as well, another area with Native American ruins in Arizona.
Monument Valley is located on a map here. Permits cost $10 per person and $20 per vehicle. Or, get an America the Beautiful pass to see any US national park. It's a great deal if you plan to see multiple national parks. This Navajo Nation Monument Valley website provides information about the visitor's center, guided tours, and more.
Bisbee
Bisbee is a great little town in southeastern Arizona past Tucson and only 11 miles from the Mexican border. In my opinion, Bisbee ranks high as one of the top road trips in Arizona for a number of reasons.
Not only is Bisbee a great small town with a lot of fun things to do, but there are some really great places around it worth seeing. I have been to Bisbee a few times. It's one of my favorite road trips in Arizona.
It was founded as a mining town in 1880, mining gold, copper, and silver at the Copper Queen Mine. It boomed in the early 1900s when the mines proved successful and even more so when open-pit mining was successfully introduced.
In addition to metals, a number of stones and minerals were also mined there, including malachite and azurite. A high-quality turquoise, called Bisbee Blue, is also found there.
Copper mining was halted in 1975,, and finished the slide Bisbee found as mining reduced substantially through the years. The mining company, the Phelps Dodge Corporation, working with the mayor at the time, created a Copper Queen Mine tour to help create a tourism draw to the community to partially replace the losses due to the end of mining in the area.
Modern-Day Bisbee
The historic city of Bisbee is now a thriving area known for its architecture. There are many beautifully renovated Victorians and a stunning Art Deco county courthouse.
The town is a haven for hippies and artists who moved in to enjoy the small-town life. It's a quirky area with "art cars" heavily decorated with paint, buttons, beads, and even Barbie dolls and toys.
Bisbee is the location of the Bisbee 1000 Great Stair Climb, held annually in October. You climb steps that are around the mountains overlooking the city. It's a really unique experience and of course, you can climb the steps at any time.
Tour this quaint and artsy town, check out the shops, and dine in the many great restaurants here. It's a town with such a fun vibe.
Bisbee is southeast of Tucson and is a little over three hours from Phoenix.
Bisbee Accommodations
The Bisbee Grand Hotel is a bed and breakfast conveniently located on the main street. It was built back in 1906 and restored in 1986 in an Old Best Victorian style. Feel like you're transported back in time with this elegant place. There are six unique suites, including the Captain's, the Western, the Oriental, and the Victorian.
The Eldorado suites have one or two-bedroom suites with the comforts of home. It was built in 1914 as housing for miners and their families. This is a condo-style hotel with large, remodeled apartments, and it's one of the few hotels in historic Bisbee with onsite parking.
The School House Inn is just a mile west of Old Bisbee in a quiet and peaceful area. Garfield School has become a charming and lovely B&B that's quaint and well-appointed. With rooms like the Art Room, and the Reading Room, how can you go wrong?
Tombstone
When you're heading to Bisbee, I highly recommend stopping in Tombstone for a taste of the Old West. Tombstone was founded in 1877 and grew significantly due to the productivity of its silver mines. Much of the town's revenue is now from tourism.
Tombstone is famous for some of the famous people who once lived there, including Wyatt Earp and Doc Holliday. It was a bustling boomtown of the Wild West until the mines flooded. And, of course, it's known as the site for the famous gunfight at the O.K. Corral.
Visit the Birdcage Theater, the Boothill Graveyard, and the O.K. Corral and enjoy watching re-enactments of the famous gunfight there. It's a campy-fun good time and worth a stop.
Walk down the roads where carriages and gunslingers'll pass you. Tour the Tombstone courthouse and the shops on Allen Street. Just be careful you don't get caught in the line of fire.
Here is a map of Tombstone, AZ.
Tombstone Accommodations
Tombstone Monument Ranch is just three miles outside of Tombstone. It's a fun place set up like an 1880s Western frontier town. Each individually designed room has a unique and historical Western theme.
The Tombstone Bordello is a charming B&B just a few blocks off the main drag in Tombstone. When else can you say you actually stayed at an old bordello?
A few miles outside of town and not far from Tombstone Monument Ranch is the Landmark Lookout Lodge. It's one of the top-rated places in Tombstone based on visitor reviews. Hotels aren't very fancy in these parts, but this one does offer some comfortable amenities, including an outdoor pool.
Kartchner Caverns State Park
If you stop in Tombstone on your way to Bisbee, consider stopping at Kartchner Caverns on your way back. The limestone cave includes 2.4 miles of passageways discovered in 1974 by local cavers. The two main features available for public view are the Big Room and the Throne Room.
The Big Room contains the world's most extensive formation of brushite moon milk. Tours are closed during the summer from mid-April to mid-October because it's a nursery area for cave bats.
Over 1,000 female bats go to birth their single pup. The Throne Room has one of the world's longest soda straw stalactites (over 21 feet long). It also has a 58-foot-high column named Kubla Kahn.
There are several other rooms available for a view, including the Rotunda Room, Strawberry Room, the Cul-de-sac Passage, and Mud Flats. Close to 60% of the cave system isn't open to the public in order to protect it. The park has hiking trails to explore and a Discovery Center.
Kartchner Caverns State Park is located at 2980 AZ-90, Benson, AZ 85602. It's open daily from 8 to 6. Parking costs $7 per vehicle, and the cavern tours range from $23 to $33. Photos are not allowed. However, there is a monthly photo tour where you may take pictures for $125. Reservations are recommended. For same-day reservations, you can call (877) MY-PARKS and select Option #2.
Plan One of the Top Arizona Road Trips Now!
From the Old West and Native American Indian lands to incredibly beautiful and majestic natural masterpieces, Arizona has it all. There are some incredible road trips in Arizona to take, and once you get out of the Phoenix metro area, the state shows you all it has to offer.
Go on one of these road trips in Arizona or all to explore a different side of Arizona life.
You Might Also Like
Like it? Pin it!