4 Unforgettable Things to do in Cozumel
Searching for all the best things to do in Cozumel? Well, you've come to the right place!
I've been to Cozumel three times—once on a cruise and the other two as part of a Riviera Maya vacation. Though you can never spend enough time in Cozumel, I've been there enough to recommend my personal favorites.
Cozumel is a small island in the Yucatan Peninsula of Mexico. The closest city on the mainland is Playa del Carmen, so you can easily combine these two places into one vacation if you want to.
Even though most of the island is underdeveloped, some areas host large resorts, ecological parks, and shopping districts. Cozumel is also home to some of the most stunning reefs in the world with large portions of the Mesoamerican reef right off the coast.
In this guide, I've outlined must-sees and dos in Cozumel. I also included a list of the best beaches and a few things you can do if you're just stopping in Cozumel on a cruise.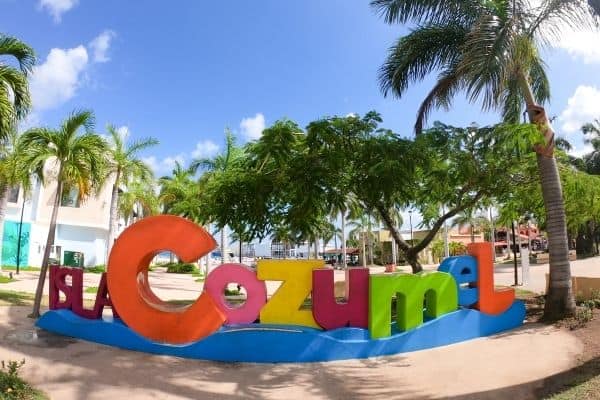 This post may contain affiliate links, which means I'll receive a commission if you purchase through my links, at no extra cost to you. Please read full disclosure for more information.
1. Lounge at Playa Mia Grand Beach Park
Cozumel has many different beach parks to choose from. Unfortunately, many of them have animals in captivity and offer activities such as swimming with dolphins that are not exactly ethical. Please do your research before supporting these businesses.
Playa Mia Grand Beach Park is the only park I know of that doesn't have any animals except the ones in their natural habitat. So, this is the one I highly recommend.
It's a great place to go snorkeling, kayaking, or just lay in the sun and get a tan. If you feel like getting the adrenaline going, you can also take an ATV tour through the jungle, go parasailing, or go jet skiing.
Playa Mia Grand Beach Park is located at Carr. Costera Sur Km. 15, 77600 San Miguel de Cozumel, Q.R., Mexico. They're closed on Sundays, but open every other day from 9 a.m. to 6 p.m. Prices depend on the activities you choose but range from $30 to $100.
2. Hit the Water Snorkeling or Scuba Diving
I always recommend snorkeling or scuba diving while in the Riviera Maya. Many hotels and tour companies have options for either snorkeling or diving depending on which you want to do. If you have your own gear, I recommend just going to one of the reefs yourself and exploring.
If everyone in your party is diving, I recommend going to Palancar Reef. The caves and drop-offs make it a much better spot for diving rather than snorkeling. It's also right next to the Playa Palancar Beach Club where you can grab some drinks and food after you're done diving.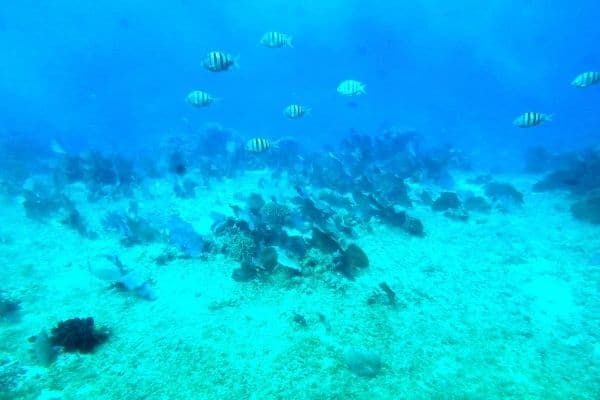 El Cielo Reef is the first place I ever snorkeled. The water is pretty shallow, so I felt comfortable here alone even though I was a beginner snorkeler. I also recommend this reef if you are going with younger children. There is plenty of starfish and tropical fish to see.
Colombia Reef is another place I recommend for those who want to dive. It has a pretty steep 80-foot drop-off at the beginning. There are also plenty of caves to explore and stunning coral formations.
3. Learn to Make Chocolate at the Mayan Cacao Company
When you think of the Mayans, you might think of the ancient temples and ruins. Some people might think of chocolate, though! If you love chocolate and learning more about how it's roasted and made, I recommend taking a tour with the Mayan Cacao Company.
The tour is about an hour-long, and you learn all the phases of chocolate making, including roasting and drying. They have a tasting session at the end where you can try the recipes and even go home with some products to keep for later.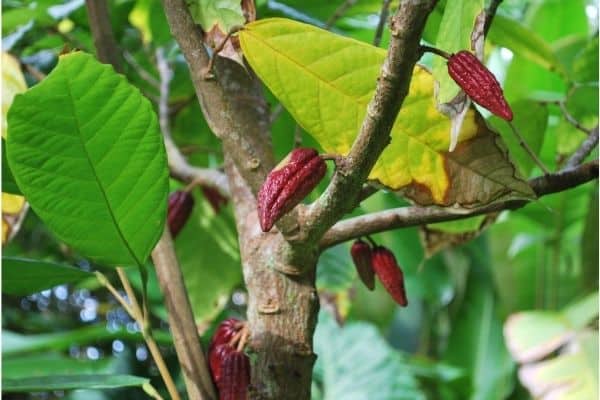 At the end of the tour, you can also go through the art gallery and try some food and cold beer at the bar.
The Mayan Cacao Company is located at Carr. Costera Sur Km. 15.000-Sur, Zona Hotelera, 77600 San Miguel de Cozumel, Q.R., Mexico. They're closed on Sundays and open every other day from 9 a.m. to 4 p.m. Tickets start at $39 for the chocolate workshop.
4. Tour the Capital City
San Miguel, the capital of Cozumel, is located on the west coast of the island. The main sidewalk runs right along the beachfront making it an amazing spot to see sunsets and sunrises. You can also watch the cruises coming in and out of the port.
There are plenty of small shops and local restaurants and bars to relax in. If you want to feel like a true local, make sure to grab a seat in the park in the middle of the town to people-watch.
In the evening, the central park, (Zocalo in Spanish), has live music and street performers.
Here is a map of San Miguel.
Top Beaches in Cozumel
A trip to Cozumel is not complete without visiting the beaches. If you are staying at an all-inclusive resort, they probably have a private beach. If your hotel doesn't have a beach or you are looking to visit some different ones, here are my top recommendations!
Playa San Martin is on the east coast of the island. The currents are too strong to swim, so I wouldn't recommend this beach if you like to be in the water. The wide stretches of sand make it a perfect beach to lay out in the sun, though. It's also very remote, so you don't have to fight for a spot to spread out your beach towel.
Playa Chen Rio is also on the east part of the island. It's a great beach for tanning or playing in the sand with your kids. The calm lagoon also makes it a perfect place to relax in the water, even if you might not be a confident swimmer!
Punta Sur Ecological Beach Park can get a little busy, but it's worth it. You can relax on the beach all day, but there is way more to do here. Make sure to climb to the top of the lighthouse to see the best beach views. The lagoons are also home to exotic wildlife like crocodiles! Not great for swimming, but the pictures are awesome!
Things to Do in Cozumel on a Cruise
Cozumel is one of the top cruise destinations. Your cruise line will probably have excursions for you to pick from. But, you also may be able to get out and explore the island on your own as long as you're back before the ship is set to leave.
How to Get to Cozumel
Cozumel has a small airport where many international airlines fly into. It's a good option if the airline you choose flies to it.
The Cancun airport is only about 2 hours away from Cozumel and often offers cheaper flights. To get from the Cancun airport, I recommend hiring a taxi to the ferry station and then taking the ferry to the island.
Taxis can be found right outside the Cancun airport when you come out of the immigration and baggage claim hallway. You can tell them you want to go to the ferry station to get to Cozumel. They will take you to the ferry station in Playa del Carmen and you buy your tickets from there.
To check the ferry schedules in advance and buy your tickets online, you can go to this website.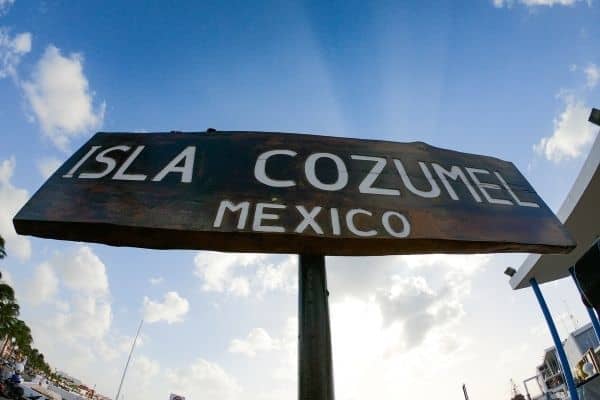 How to Get Around Cozumel
Cozumel is a big island, but you find yourself staying within the same area. This is especially true if you are staying in a hotel near the south side of the island as you will be within walking distance to many restaurants, bars, and excursions.
To get to other places around the island, the easiest mode of transportation is taxis. Your hotel can arrange for you to get one.
You can also rent bicycles and scooters if you are going shorter distances but don't feel like walking. You can also reserve a bike online before arriving at Rent a Bike Cozumel.
When to Visit Cozumel
To beat the summer crowds but still get awesome weather, try going to Cozumel in March through June. Most days are about 85 to 90 degrees Fahrenheit (around 29 to 32°C) with cooler temperatures in the evening.
The rainy season starts at the end of June, so you might encounter some storms in the evening if you visit later in the month.
Best Places to Stay in Cozumel
Budget: Wyndham Cozumel Hotel & Resort is a great basic hotel with free breakfast and free Wi-Fi. You can also upgrade to a suite room with views of the ocean and whirlpool tubs in the bathroom. The hotel also has karaoke nights and three restaurants on-site.
Mid-range: Intercontinental Presidente Cozumel Resort Spa has a private beautiful white sand beach. My favorite part about this hotel is the large windows in the rooms with stunning views of the turquoise water. The hotel also has three restaurants, an Italian bakery, and a spa on-site.
Luxury: The Westin Cozumel is a great place to stay if you want some luxury, but not an all-inclusive stay. The rooms are brightly decorated with free Wi-Fi, balconies, and minibars. Both of the restaurants have terraces with ocean views and amazing sunsets in the evening, so make sure to make a dinner reservation!
All-Inclusive: Cozumel Palace is one of the best all-inclusive resorts on the island. Booking all-inclusive while in Cozumel is a popular choice for those who plan to spend more time at the hotel than out and about. All the rooms are suites with terraces and separate living areas. Your nightly price includes all meals, drinks, snorkeling, live entertainment, and dinners at the separate hotel restaurants with an advanced reservation.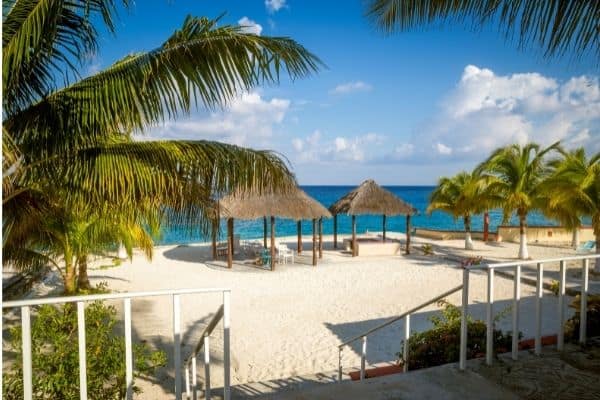 Best Restaurants in Cozumel
Señor Frog's is one of my favorite places in Cozumel even though they actually have one in my hometown in Florida! The drinks are amazing and the menu has choices for local food as well as Mexican food that is more Americanized. There's almost always live entertainment and a funky gift shop to check out.
Azul Madera is one of the most popular spots for steak and seafood. I recommend the grilled octopus or one of the wood oven pizzas. They also have homemade lasagnas and an amazing lemon pie.
Casa Mission is my top choice if you want authentic Mexican food while staying on the island. Try to grab a table in the gardens if you can. I love the seafood combo platter and the lime soup, but you can also order enchiladas or tacos if you don't like seafood! 
All the Best Things to Do in Cozumel Are Waiting For You!
Ready to plan your trip to Cozumel? I hope this guide helped you find all the best activities and resorts to book!
Cozumel is a beautiful island with endless places and things to see. It's also a great place to relax for a solo trip. I've visited Cozumel twice as solo adventures and loved every single moment.
Whether you are only visiting Cozumel on a cruise or you're spending a whole week on the island, make sure you visit some of the places on this list!
Have you been to Cozumel? What's your must-do activity?
You Might Also Like
Like it? Pin it!