6 Top Things to Do in Playa del Carmen—Beaches & More!
Looking for things to do in Playa del Carmen? Well, you're in the right place! Read on for all of the top activities in Playa del Carmen.
I made this guide with all my favorite things to see and do after two trips to Playa del Carmen. Spending time at the beaches is a must, but there is more to do if you don't feel like being a beach bum for your entire vacation.
Playa del Carmen is one of the top cities in the Riviera Maya in Mexico. Some of the best coral reefs are here, so get ready to snorkel or scuba dive! It's also one of the top cities in the Yucatan for nightlife and bars, making it a great vacation destination with friends or even solo!
Even though Playa del Carmen is pretty small, finding the best things to do can be overwhelming with all the tour options. I created this guide to make sure you have an easy time planning your trip and can just focus on the fun and sun!
This post may contain affiliate links, which means I'll receive a commission if you purchase through my links, at no extra cost to you. Please read full disclosure for more information.
1. Be Lazy on the Beach
With any vacation to Riviera Maya, you have to spend time on the beach. Most all-inclusive and fancier hotels will have private beaches you can walk down to. If you're staying in a boutique hotel or vacation rental, you can go to one of the many public beaches!
I recommend asking the hotel reception about the closest beach from where you stay. Most of the hotels are less than a 10-minute walk to the beach! No matter what beach or beaches you choose to visit, make sure to go to Parque Fundadores to see the famous Playa del Carmen arch.
Calle 10 Beach is the place to go if you want to get access to beach clubs and bar service at the beach. Playacar Beach is one of the top beaches to go to because it's quiet. It's also one of the only beaches without rocks near the shoreline making it a perfect spot to bring the kids.
2. Treat Yourself to an All-Inclusive Resort
Playa del Carmen is known for its all-inclusive resorts. If you have never been to Riviera Maya before and want to just chill at the hotel with beaches and pools, I recommend booking at an all-inclusive. It also takes away the worry of having to find restaurants and bars, as your price includes all of this.
All-inclusive resorts also include shuttle pickups from the airport and drop off at the end of your stay. There are countless resorts to pick from, but here are some of my top choices:
Hilton Playa del Carmen is for adults only and is right on the beach. Upgrade to a suite room with a balcony looking over the beach if you can. They have 13 bars on-site, several restaurants, a spa, and a huge outdoor pool.
Wyndham Alltra Playa del Carmen is only a 4-minute walk from the famous 5th avenue. This is one of the few hotels that aren't adults-only, and it even has a kid's club. Other amenities include free fitness classes, live music in the evenings, free beach cabana rentals. 
Grand Velas Riviera Maya is a little further from downtown, but I think the seclusion and quietness is worth it. The rooms are modern with minibars, sea views, and whirlpool tubs. The spa is amazing, but make sure to book your service as soon as you check-in as they fill up quickly! 
3. Take a Stroll Down La Quinta Avenida
La Quinta Avenida is the main pedestrian street in Playa Del Carmen. It's the number one place for nightlife as the street is full of clubs. There are also quieter bars if you just want to sit and have a drink.
If you're looking for souvenirs or little trinkets to bring home, La Quinta Avenida is also full of small local shops with vendors ready to sell you their items. I recommend La Quinta Avenida for nightlife and shopping, but not for eating.
Most of the restaurants are overpriced in this area, and the food is nothing special. The food at the resorts and the fresh seafood places by the beach are much better!
You can find a map of La Quinta Avenida here.
4. Hit the Ocean with Snorkeling and Scuba Diving
With beautiful turquoise waters and plenty of reefs to explore, you have to snorkel or scuba dive while in Playa del Carmen. There are many tour companies you can book with, or you can take your own gear and go out on your own.
I've only been snorkeling in Playa del Carmen, but I know several people that recommend diving with Blue Life. They have some snorkeling tours but are mostly known for scuba diving.
They also have open water diving courses if you aren't certified yet and want to learn to dive. If you want to go diving in other areas of Riviera Maya, they can also take you to Cozumel. Or, you can sign up for a six-dive package that takes you to several different places.
Blue Life is located at Esquina Calle 40 y, Calle Flamingo, Centro, 77720 Playa del Carmen, Q.R., Mexico. They're open every day from 8 a.m. to 5 p.m. Make sure to make reservations ahead of time as this place is popular.
5. Explore Rio Secreto
I didn't even know about Rio Secreto the first time I went to Playa del Carmen, and I have no idea why people didn't recommend this place to me. It's an underground river and cenote combined into one.
While you can tube or relax as part of the tour with some companies, I recommend taking a walking or more hands-on tour to get the most out of the experience. The tour company will supply you with a waterproof outfit and a hard hat!
I loved seeing the stalagmite formations and swimming through the river. I also really liked the tour company I went with because they let you explore on your own after they were done explaining things.
I went with the official Rio Secreto tour guides, but there are third-party tour companies also. Your ticket price with Rio Secreto Tours includes a wet suit, a locker for your valuables, lunch and drinks after the tour, and a helmet. It also includes the guide, and make sure you tip them at the end!
Rio Secreto Tours is located at Carretera Federal Libre Chetumal – Puerto Juárez Km 283.5, Ejido Sur, 77712, 77712 Playa del Carmen, Q.R., Mexico. They're open every day from 9 a.m. to 8 p.m. Make sure to book your tour in advance!
6. Take a Day Trip or Two!
Looking to take some day trips from Playa del Carmen? Playa del Carmen is well-connected to other cities in Riviera Maya. If you have time, I recommend you visit all the best places in Riviera Maya. If you only have time to spend in Playa del Carmen, make sure you take some day trips to the surrounding areas.
Chichén Itzá is one of the top places to visit in Riviera Maya. It's two-and-a-half hours from Playa del Carmen, so it's definitely a full-day trip with an early wake-up call. Seeing the breathtaking Mayan ruins is worth it, though. Check out this tour which takes you to Chichén Itzá and Coba. Or this tour that takes you to Chichén Itzá and one of the most popular cenotes.
Tulum is another popular city in the Yucatan Peninsula and is about an hour from Playa del Carmen. The major thing to do is see the Tulum Mayan Ruins. There are also plenty of cenotes to swim in when you're done touring the archeological zone.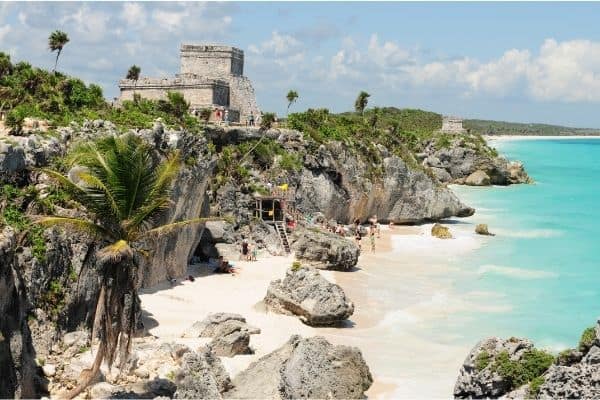 Xel Ha Park is only about 35 minutes from Playa del Carmen, making it a perfect half-day trip if you are pressed for time. It's an all-inclusive water park perfect for taking the kids or visiting with your adult friends. Along with water slides, there are zip lines, snorkeling, and a bar and restaurant.
How to Get to Playa del Carmen
The closest airport to Playa del Carmen is Cancun International Airport (CUN). It's about 45 minutes away from Playa del Carmen. If you have booked a stay in an all-inclusive resort, they will arrange airport pickups for you.
If your hotel doesn't, then take a taxi. There is a car rental place in CUN, but I don't recommend driving around Cancun or Playa del Carmen. Traffic can be really bad, and signs are hard to follow.
If you are looking for a cheaper option, you can also take the buses which are safe and easy to navigate. You can find the bus schedules and more information here.
How to Get Around Playa del Carmen
One of my favorite things about Playa del Carmen is that you can walk almost everywhere, especially if you are staying near La Quinta Avenida. Bike rentals are also an option.
Taxis can also be found outside almost any hotel. Fares are pretty cheap if you are staying in the Playa del Carmen area.
For excursions, your hotel will arrange shuttles. Some excursion companies also book shuttles for you, included with the ticket price. If not, you can always get a taxi to wherever you are going.
When to Visit Playa del Carmen
Playa del Carmen has sunny and warm weather year-round. However, there are major crowds during the summer and holiday months. You will also see hotel prices spike during this time as people flock to the beaches.
If you want to avoid the crowds, try going in April or May before the summer months hit. While the weather is generally very sunny in Playa del Carmen, you might encounter stormy and rainy days if you go around August through October.
Best Places to Stay in Playa del Carmen
Budget: Marvic Hotel Boutique has modern rooms with WIFI and flat-screen TVs. You can also upgrade your room for a balcony with views of the ocean! The nearest public beach is only a six-minute walk away. When at the hotel, you can enjoy the outdoor pool with bar service.
Mid-range: My favorite part about the Magic Blue Spa Boutique is the balconies with hammocks that come with every room. You can relax in the sun in privacy with a cocktail or a good book. Breakfast is included in the price. There is also a Brazilian restaurant on-site and an outdoor pool.
Luxury: Playacar Palace is one of the best all-inclusive resorts in Playa del Carmen. It's only a 9-minute walk to Playacar Beach and every room has whirlpool tubs, free WIFI, and balconies. Suites also have living rooms for extra space.
Best Restaurants in Playa del Carmen
La Perla Pixan Cuisine & Mezcal Store is my top choice for traditional Mexican food and live music. The cocktails are amazing and you can get tequila-tasting flights! They can get pretty busy in the evenings so make sure to make a reservation or have an early dinner.
Harry's Steakhouse and Raw Bar is the place to go if you are in the mood for any kind of steak cut you can imagine. You can also get shrimp, raw oysters, any type of seafood you want. Make sure to also order a margarita and some dessert!
La Vagabunda 38 is a tapas restaurant with a great happy hour and cocktail list. I love the tuna steak and the squid, but there are also great choices for meat and chicken as well if you don't love seafood. They also have a traditional breakfast menu.
The Best Things to Do in Playa del Carmen are Waiting For You!
Playa del Carmen is by far one of my favorite places to visit in the Riviera Maya because of the stunning beaches and the nearby Mayan Ruins perfect for exploring. Since it's well-connected to other cities like Tulum and Cancun, you can also take day trips!
If you're planning a trip to Playa del Carmen soon, make sure to add some of the things from this list to your itinerary. You won't regret it.
When trying to make the perfect Playa del Carmen bucket list, make sure you get a good mix of beach days, shopping, and snorkeling!
Have you visited Playa del Carmen? What you're favorite Playa del Carmen attraction?
You Might Also Like
Like it? Pin it!