Is Belém Worth Visiting? Why You Should Go on the Top Lisbon Day Trip
There are a lot of amazing things to do in Lisbon. Is Belém worth visiting? It's the most popular Lisbon day trip for a lot of reasons!
Though it's technically on the outskirts of Lisbon, it feels different enough to be considered a city of its own. It's a fun-packed half-day or full-day trip and a must-do when you visit Lisbon.
Why? Due to the UNESCO World Heritage sites, Jerónimos Monastery and Belém Tower. And, not to forget the tasty Pastéis de Belém, of course.
Want to know more? Here are the top things to see and do on your Lisbon day trip to Belém. It's a trip you won't want to miss!
This post may contain affiliate links, which means I'll receive a commission if you purchase through my links at no extra cost to you. Please read the full disclosure for more information.
Why Belém is the Most Popular Lisbon Day Trip
Most people visit Belém when in Lisbon, and I highly recommend it if you like stunning architecture, learning about history, and enjoying beautiful river views.
Is it worth visiting Belém? I say a resounding "YES!" I absolutely loved Belém and wished I had more time there to explore.
And of course, many people who love pastries visit. If you ask anyone from Portugal where the very best pastel de nata is, they will tell you without a doubt it's Pastéis de Belém. It's the quintessential pastry of this area and possibly all of Portugal.
The primary sites are Jerónimos Monastery, Belém Tower, and Monument of the Discoveries. These can be done in a half-day Lisbon day trip, or there are many other places to visit as well.
Is Belém Worth Visiting?
Belém is an area of Lisbon that has a significant historic relevance, making it well worth seeing. The incredible structures left behind attest to its importance.
Belém, derived from the Portuguese word for Bethlehem, is part of Lisbon located at the mouth of the River Tagus a few miles west of the city center. A small fishing village grew in this area.
In the late 15th Century, King Manuel secured approval to build a monastery at the entrance of the river. In the 17th Century, Jerónimos Monastery became the burial place for the royal family.
Belém grew in importance and became a symbol of Portuguese expansionism in the Age of Discovery as it is where Portuguese explorers set off on their voyages. It was an exhilarating time.
You can step back in time to when Vasco da Gama sailed to India, Pedro Alvares Cabral sailed to Brazil, and Ferdinand Magellan sailed around the globe.
Travel from Lisbon to Belém
It's an easy trip to visit Belém by public transportation, and it takes around 20 minutes from the center of Lisbon. There are several ways to travel from Lisbon to Belém, including going by tram, bus, train (Cascais train), and cab or Uber.
Tram is usually recommended, and if you purchase a Viva Viagem card in advance (for €0.50), the cost is the same as by bus (1.50 EUR or $1.50 USD).
Travel by Tram
The tram stop is closest to the monastery, so if you're going by public transportation, it's a good idea to go this way.
Tip: You have to purchase a ticket on board on a machine, and the tram is often crowded and jerky. So, it's a good idea to get your tickets in advance.
The #15E line starts downtown in Figueira Square (Praça da Figueira) and runs through Comercio Square (Praça do Comércio) and Cais do Sodre. Get off as soon as you pass Jeronimos Monastery.
On your return, there is a stop in front of the monastery and also, conveniently, in front of Pastéis de Belém. I'm sure it's a coincidence, right?
Travel by Bus
The tram blew past me as I was apparently not at the right stop at Cais do Sodre, so I rode the bus to Belém and took the tram back. Bus 728 takes you to Belém, and there is a stop right before the monastery.
Tips to Travel to Belém
I don't recommend going on Mondays since that's the day the Jeronimos Monastery, Belém Tower, and the Monument to Discoveries are all closed. Additionally, I read several posts about pickpockets on public transportation, especially on this route.
They will often wait until right before the doors are closing, then snatch and run. So, be especially cautious right before the doors close and be aware of all of your belongings. It's a good idea to keep an eye on everything you bring in general.
You May Also Like Conquer a Castle by Elevator in Lisbon
Top Things to Do in Belém, Portugal
Belém may be a small area, but it's packed full of fun things to see and do. Here are the places I recommend going if you have a half-day or more. And I recommend the order noted as well.
1. Jerónimos Monastery or Hieronymites Monastery (Mosteiro dos Jerónimos)
I read that there is a purple tent where you can purchase tickets to avoid the line. However, I didn't see it when I got there.
Tip: if you purchase the joint pass, including the Belém Tower, you can walk past the long like to the tower to enter.
The monastery opens at ten, and I'd advise arriving by 9:30 as there are only two people working the desk to provide tickets. The line gets impressively long throughout the day, and it's nice to get there early to take pictures before the crowds of admirers arrive.
If there is a reason Belém is the most popular Lisbon day trip, the monastery is it.
I love historical architecture, including churches, castles, and really any building where there is clearly a lot of time and artistry in the making. This is one of the most stunningly beautiful and ornate buildings I have ever seen.
I wandered the halls with my mouth open like a guppy soaking it all in. It is an example of the Portuguese Late Gothic Manueline style of architecture and was classified as a UNESCO World Heritage Site.
The construction of the monastery and church began on 6 January 1501 and was completed 100 years later.
Vasco da Gama Burial Site
One of the most famous explorers hailing from Portugal, Vasco da Gama, is reported to be buried in this monastery. I write, "reported to be.." as there is some debate.
He actually died in Kochi, Kerala, India. He was buried there but later exhumed and brought to Portugal for burial. Both cities now claim to be his resting place.
Jerónimos Monastery is open from 9:30 to 6 daily except for Monday when it is closed. It is located at Praça do Império 1400-206 Lisboa, 1400-206 Lisboa, Portugal. Tickets are 10 EUR (around $10.40 USD). They do offer joint tickets with the museum and the tower, which can save you some money if you are doing two or three. And, if you buy the joint ticket, you can skip the lines.
2. National Archaeology Museum (MNA)
The National Archaeology Museum (MNA) (Museu Nacional de Arqueologia) is located in Jerónimos Monastery at a separate entrance at a separate cost.
Unfortunately, they are closed to the public for a renovation expected to last until 2025. If you visit, check their calendar so you're not disappointed!
Tip: you can purchase a joint ticket with the tower and monastery, including this museum, and also bypass the line).
It's a small museum with an impressive display of Egyptian and Roman antiquities. You might be tempted to skip past it to visit the tower—Don't! It's very much worth seeing and doesn't take too long to visit.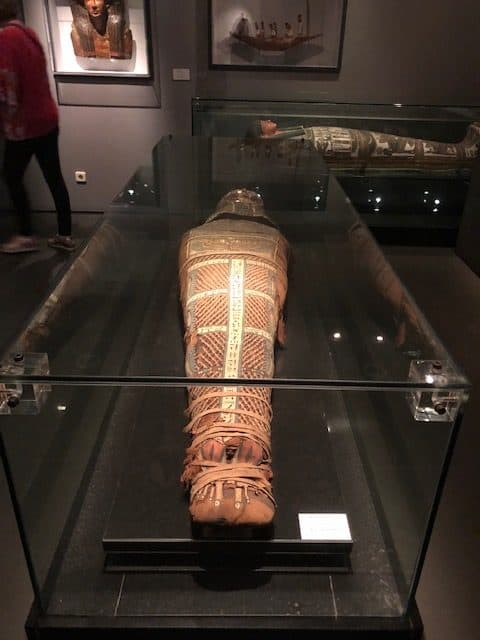 The museum is located within Jerónimos Monastery at Praça do Império 1400-206 Lisboa, 1400-206 Lisboa, Portugal. The Archaeological Museum is open from 10 to 6 except when it is closed on Monday. The ticket cost is included with the Monastery for 12.50 EUR ($14 USD), and it is worth spending a little while to check out.
3. Monument to the Discoveries (Padrão dos Descobrimentos)
Walk straight towards the Tagus River, and you will find the Monument to the Discoveries that celebrates the Portuguese Age of Discovery (or Age of Exploration) during the 15th and 16th centuries.
Originally conceived as a temporary exhibit in 1939, it was rebuilt in concrete and rose-tinted stone in 1960.
Walk along the water, past the fishermen and a small marina of boats, to get to Belem Tower.
4. Belém Tower (Torre de Belém, or the "Tower of St Vincent")
Belém Tower is a UNESCO World Heritage Site (along with the nearby Jerónimos Monastery). According to Wikipedia, "The tower was commissioned by King John II to be part of a defense system at the mouth of the Tagus river and a ceremonial gateway to Lisbon." The tower was built in the early 16th century and is in the Portuguese Manueline style.
You May Also Like What Makes Portugal So Special
The tower is four levels high, and you walk up a very narrow, one-way narrow, circular staircase to get to the top. There, you can enjoy a glorious view of the Tagus River with the 25th of April Bridge and the Christ the King statue in the distance.
There is actually a lighting system that tells you when you can go, and when it's red, people are traversing in the opposite direction.
Tickets are 6 EUR (around $6 USD), or you can purchase a ticket combined with the monastery and the museum for around 17 EUR ($19 USD). Belém Tower is located at Av. Brasília, 1400-038 Lisboa, Portugal. The tower is open from 9:30 to 6 every day except for Mondays. I highly recommend you buy tickets in advance due to the long lines. They also limit the number of people in the tower to 150 at a time.
5. Pastéis de Belém
Cross the street to get back to the town of Belém on a walkway going over the street. Head to the right to get to the town, which is small and cute. You'll pass the monastery, then continue on to Pastéis de Belém.
If you're hungry, Pão Pão Queijo Queijo offers cheap and good sandwiches. There's often a line out front that reflects the quality. Sandwiches ranged in price, but most were 2 to 4 EUR (around $2.25 to $4.50 USD).
If you thought the line was long to get into the sandwich shop, look just past it to Pastéis de Belém. There is no mistaking you found the right place when you see it.
I had read to go inside to get a table to avoid the line, but the line inside to get a table was even longer than the outside line. This is impressive as there are a gazillion tables and many rooms inside the establishment.
The wait was maybe 15 minutes outside, and I got two to go and headed back to my apartment. You can learn more about Pastéis de Belém in this post.
Pastéis de Belém is open daily from 8 a.m. to 9 p.m. The pastéis cost around 1.10 EUR each ($1.25 USD) when I went, but you get a small discount if you buy a few, so they are around 1 EUR each. They may be more now (but they are STILL worth it!).
Are Pastéis de Belém the Best?
I decided to do a taste test between the Pastéis de Belém and the pastel de nata from my favorite place (and honestly, the only place I went to get them), at Manteigaria.
If you ask anyone in Portugal (I randomly asked over a dozen people, so it's a "scientific" study!) what the best pastel de nata are, hands down, they will say Pastéis de Belém.
Do you want my opinion about the difference between the Manteigaria pastel de nada and Pastéis de Belém? I have read another review that shows I may not be the only person with this opinion. There are at least two of us!
Here's an interesting fact: the pastel de nata (specifically, the Pastéis de Belém) was created by monks from Jerónimos Monastery. Learn more in the post!
6. National Coach Museum
If you have a little more time to spend in Belém, the National Coach Museum is another interesting place to visit. The museum was once the Portuguese School of Equestrian Art. Now, it's part of the President of Portugal's residence.
This museum is in the Royal Riding Hall of Belém, where horses used to be trained. It was repurposed in 1905 by Queen Amelia to house her rather large collection of carriages. The large hall is decorated with some paintings and beautiful azulejos tiles.
The National Coach Museum is located at Av. da Índia 136, 1300-004 Lisboa, Portugal. It is open from Tuesday to Sunday from 10 to 6. It costs €8 (around $8.65 USD) to visit.
Lisboa Card
The Lisboa Card is a discount card offered to see the main attractions in Lisbon. Many other large cities offer similar cards, so you may be familiar. They offer free or discounted entry to attractions and often will let you skip the line and enter directly.
The Lisboa Card includes Belém and all of the attractions listed in this article, including the National Coach Museum. And, as an added bonus, it also covers all public transportation in the city, including both the trams and the busses.
The card is available in 24, 48, and 72 hours, and the 24-hour card costs €21 (around $21 USD). It may be worth getting, saving you both time and money. Take a look and give some thought to what you're doing to see if it makes sense to purchase.
Why You Want to Visit Belém
There is a lot to see in Lisbon, and you might be tempted to skip Belém, but I think that would be a mistake. Belém is a half-day or full-day trip from the center of Lisbon that is worth visiting.
If you see the primary three sites: Jerónimos Monastery, Belém Tower, and Monument of the Discoveries and make a stop at Pastéis de Belém, it's a solid half day.
I recommend making the time for at least half a day here. You won't regret it.
You Might Also Like
Like it? Pin it!