Connect with Childhood Nostalgia: Little House on the Prairie
We flew into Sioux Falls, South Dakota (SD), and made our way a couple of hours to DeSmet to visit one of the primary areas of my childhood nostalgia. I grew up watching this tv show every week and read the entire series of books, so it was a bit of a dream to get to see some of the areas where she lived in person.
It was just like walking back through time to a very different period of time in United States history. Laura Ingalls lived during a time where much of the midwest United States was occupied by Native Americans.
Settlers were moving west and farming was one of the common ways that people made a living. Life was hard but in many ways, it was much simpler than today. There was a lot of strength and beauty in life and people who worked hard tended to get ahead.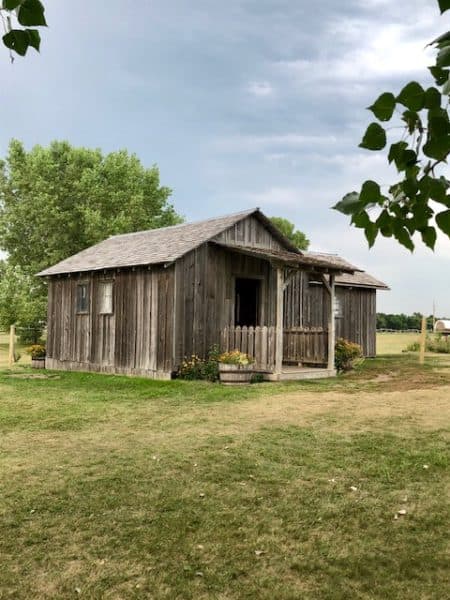 Some links in this article may be affiliate links, which means that if you purchase through them, I receive a small commission. This will never cost you extra. Please read the disclosures to learn more.
Visiting South Dakota
As you might expect, De Smet is in the middle of nowhere in a very rural area. Can you even imagine how far it was from civilization back then?? The good thing is that there is a lot to do in South Dakota and it's a great state for a road trip.
If you want to visit De Smet, it's a good idea to fly into Sioux Falls and drive to De Smet first as I did. Then, you can drive across the state and check out the sights along the way. Alternatively, you could drive in and out of Rapid City in the western part of the state. However, that does add a few hours extra of driving.
Either way, if you're a history buff or just a lover of Laura Ingalls lore, it's really worth visiting De Smet. I absolutely loved it and I'm sure you will as well!
You May Also Like Ten Fun Things to Do in South Dakota
Laura Ingalls Wilder
Laura Ingalls was born in 1867 in Wisconsin. She was the second of five children, with only four girls surviving (a boy died in infancy). The family moved around a number of times and when Laura was growing up, they lived in Wisconsin, Minnesota, Kansas, Missouri, and Iowa. Her father, Charles, was a farmer though he did pick up other work when farming didn't provide for his family working at a railroad, a hotel, and other jobs.
Laura went to school and then became a teacher two months before her 16th birthday. She was married at 18 to a man she met when she was 16 who was ten years her senior. She ended teaching when she married him. They had two children and only a daughter, Rose, survived.
Her childhood and young adult life are chronicled in her book series. The tv series ran from 1974 to 1983 and it loosely followed the books. Both presented a childhood of financial difficulty, struggles, and lots of love. There was something very innocent and romantic about the stories. The theme song would play and I was all excited to watch another episode. I'll admit that I still watch it on occasion as it brings me back to childhood nostalgia.
Laura Ingalls Wilder, the Writer
Laura's writing career began in 1911 where she was a columnist and editor for a newspaper. With encouragement from her daughter, she began writing magazine articles. After the stock market crash of 1929 decimated her finances, Laura decided to write an autobiographical series about her childhood and life. Her first book was published in 1932 and she wrote an additional 8 books, one of which was published after her death.
The books are a charming and engaging portrait of frontier life in the late 19th century and have left a lasting legacy.
Visiting Ingalls Land in De Smet, South Dakota
Here, in one of the lands of Laura Ingalls Wilder's Little House on the Prairie series, we first visited the Ingalls Homestead, The Ingalls family moved to De Smet at the beginning of Laura Ingalls Wilder's book, By the Shores of Silver Lake. I felt like a bit of a groupie with my excitement to see this place after growing up reading her books and watching the tv show. Kick in the tingles of childhood nostalgia!
Laura lived in De Smet for around ten years, with her family, and for a few years after she married. Her parents and her older sister remained there for the rest of their lives.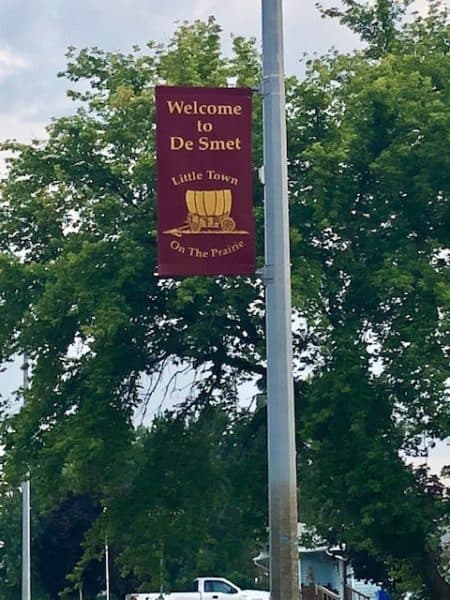 Ingalls Homestead
The homestead property is just a few minutes from the center of De Smet, nestled between patches of grasslands and cornfields. Laura and her family moved to De Smet in 1879, lured by the offer of free land from the 1862 Homestead Act. In exchange for five years of continuous residency and establishing a working farm, homesteaders achieved ownership of the land.
The family lived there in "Ma's House" from 1880- 1887. This house started as a single room of 140 square feet for the family of six. After a couple of years, two bedrooms were added on, and finally a living room that doubled the square footage of the home.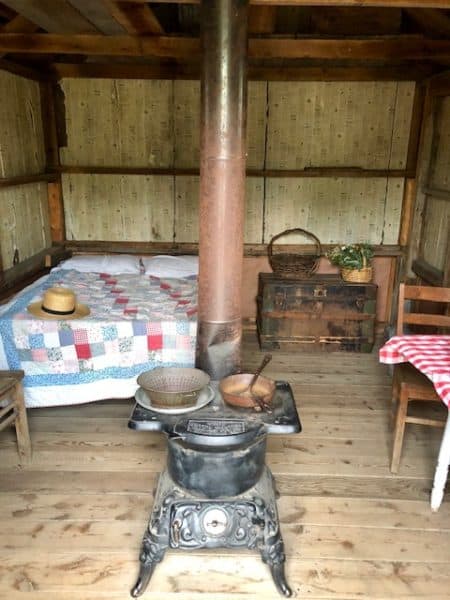 The property contains a cornfield, a small garage, a stable, a small church and two other small structures similar to those Charles Ingalls built for his family. I believe only Ma's house is original to this property, though all were built during this time. You can take a carriage ride to a one-room schoolhouse on the property, led by Jack and Annie, the horses. There are lots of fun activities for children.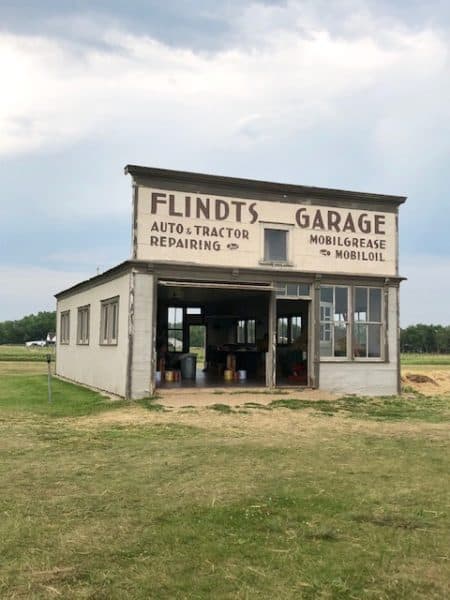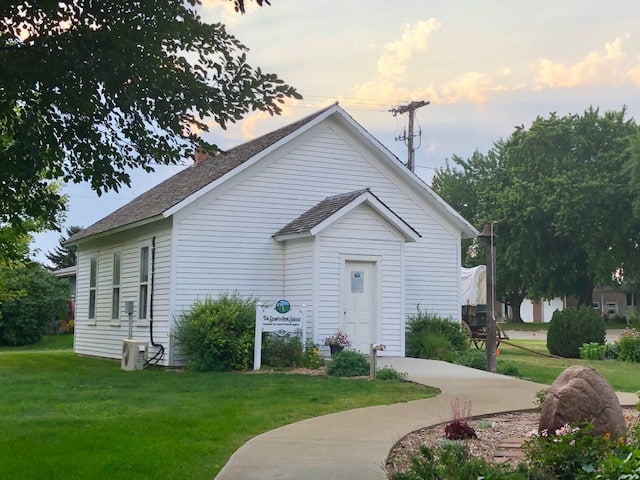 The Ingalls Homestead Farm is located at 20812 Homestead Rd, De Smet, SD 57231. In the summer (May 25 – September 2) it is open daily from 9 to 7, and in the fall (September 3 – October 31) it is open from 9-5. The homestead is closed in the winter. There are lots of activities for people and children including carriage rides, and the cost for a day visit is $15.

De Smet Cemetery
The De Smet Cemetery is close by. De Smet is a town of 1,100, so nothing is very far. Here you can find the graves of several members of the Ingalls family including two of Laura's three sisters, Mary and Carrie, Laura's parents, Charles and Caroline, and Laura's infant son. Charles' tombstone was original, however, the rest of the stones had been replaced. In addition to the Ingalls' graves, several other people known from the books are buried here including the Boasts and Reverend Brown.
The cemetery is located in DeSmet, South Dakota.
Next, we drove to Silver Lake, a very small lake bordering on a slough, or swamp. It was much smaller than I expected and "lake" is a bit generous. But, it was great to see it as I remember reading about her living near it for a time.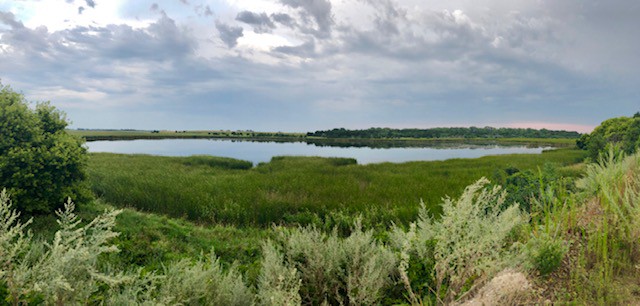 Laura Ingalls Wilder Memorial Society
The next day, we went into town where the Laura Ingalls Wilder Memorial Society keeps her memory and spirit alive through cultural events and tours. The property includes the original first school of De Smet, the one-room schoolhouse where Laura and Carrie went to school, the Brewster Schoolhouse, where Laura was a teacher, and the Surveyor's House, as well as the Discovery Center, which is a museum of sorts with lots of amazing pictures and treasures from the family.
We took a tour with a high-school student from town, and learned a lot of interesting information about the Ingalls family, and living in De Smet. The schoolhouses on the property were moved to that location, but I believe the Surveyor's House may have remained in its original location.
While we gathered for the tour a siren went off, that sounded startlingly like a tornado siren. Our guide calmly explained that it was the "noon whistle." Small town life!
When the family moved to De Smet, Charles worked for the railroad and the Ingalls lived in the Surveyors House through their first winter before moving out to the homestead in the spring of 1880. In 1887 they retired to a house in town.
Laura Ingalls Wilder Historic Homes is located at 105 Olivet Ave SE, De Smet, SD 57231. It costs $14 and hours vary throughout the year.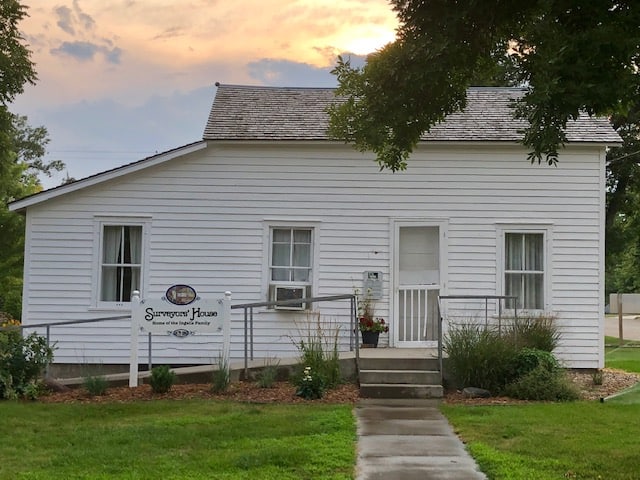 Ingalls Home & Museum
Last we visited an original "Little House" Ingalls Home built by Charles "Pa" Ingalls, from 1887 – 1889. Laura never lived there, as she had married by then and lived in her own house. But, the rest of the family did. The house is decorated with some original items the family-owned as well as some others that are from the same time period.
Laura Ingalls Wilder Historic Homes is located at 105 Olivet Ave SE, De Smet, SD 57231. It costs $14 and hours vary throughout the year.
When we finished the tour, a very friendly large orange tabby cat came over to greet us. We talked with our guide for a bit about living and going to high school in a town with an average of 20 kids per class. It's definitely different than the life I'm used to, that's for sure!
Where to Stay When You Visit DeSmet
In truth, there aren't a lot of places to stay in DeSmet and options are fairly limited in the area. But here are a handful of choices in the area.
My Childhood Nostalgia
I read the "Little House on the Prairie" series when I was a young girl and grew up watching the tv show of the same name. Her story is straight out of childhood nostalgia for me and reminds me of the more fond memories of when I was growing up. Coming to De Smet and walking down the path she once walked was pretty amazing and something I highly recommend.
There's something to be said about taking a trip like this down memory lane. I was little when the show was on TV though I still watch it occasionally. And, it would be a really fun thing to share with your own kids. The show was beautifully done and had a lot of great life lessons for children. And, of course, the books were some of my favorites. It would be such a wonderful thing to share with the next generation. Going there just cemented it all for me. Getting to see where Laura and her family lived and spent their time was just a dream come true.
It's a quaint and pretty area and the small town center of DeSmet is cute. I'm not sure you would feel the same about it if you didn't read the books or watch the show. But, either way, it's charming and worth stopping to get a better picture of frontier life in the 19th century.
Gift Opportunities
If you're interested in reading or re-reading the series or sharing it with your kids, you can purchase them as a book collection by clicking the first image. (You have the option to buy each book separately as well, but why would you?) The Little House of the Prairie book collection is a classic that every child should read.
Or, if you're more interested in the Little House on the Prairie television series, click the second image below. The stories are a bit different but they were based on the book series. It's a charming and well-done series that would make such a nice gift.
Last, there is a Laura Ingalls Wilder Country Cookbook and a cookbook filled with recipes mentioned in Laura's book series. It's such a sweet way to bring her stories to life through a wonderful activity you could do with your kids (or by yourself!)
Some of the Fun Things to Do in South Dakota
There are so many fun things to do when you're in South Dakota. There is also a lot of natural beauty in the state, so it's worth visiting the many national and state parks when you go. Thank you for sharing this fun trip down memory lane with me. I hope you enjoy it as much as I and if you get to go to DeSmet, please let me know!
You May Also Like The Best South Dakota National Parks and State Parks
Like it? Pin it!