What to Do on a Barcelona Weekend
Looking for the best things to do in a Barcelona Weekend?
Barcelona is an enchanting seaside city steeped in history and culture. From 2000-plus-year-old architectural wonders to Modernism treasures and everything in between, this city has a quaint and quirky side.
It also has a world-class dining scene for even the most particular. Barcelona offers another side of Spain to those who visit and here's what to do on a Barcelona weekend.
This post may contain affiliate links, which means I'll receive a commission if you purchase through my links, at no extra cost to you. Please read full disclosure for more information.
Brief History of Barcelona
Barcelona is a city that has had a number of revivals and continues to grow and thrive. It is the largest city in Catalonia, a region in Spain, and the second-largest city in the country.
Barcelona was founded in the Middle Ages as a Roman city. It then became part of the Kingdom of Aragon, maintaining a level of importance throughout history as a cultural center. This was the first rise of Barcelona, between the 13th and 15th centuries.
When Christopher Columbus sailed to the "new world," Barcelona lost prominence to Madrid until the late 19th-century industrial revolution. the city expanded from just a small medieval city into a more powerful one. The expansion came to a halt during the Franco era, a Fascist dictator who ruled until around 1975.
Following his death, the city rose to prosperity and prominence again within Catalonia and Spain. The Catalan people funded the 1992 Olympics, and it became the third golden age of this magnificent city.
This brought an expansion at the seafront, knocking down old factories and building out this area. It's now one of the busiest seaports in Europe and tourism has become the largest industry. Barcelona is a very popular tourist destination.
Things to Know in Barcelona
There are two things that come to mind when I think of Barcelona. One, and you'll read about this often in guidebooks, Barcelona is known for its high incidence of pick-pocketing. This is especially so in the high tourist areas like the Gothic Quarter and La Rambla.
What this means to you, as a tourist, is to be careful with what you carry on a Barcelona weekend. Make sure you always have a hand on your things and if you put anything down, be sure your eyes are on the items and are scanning around you.
Wear any bags across your chest or in front of your chest (like backpacks, for example). These are the same precautions you should take any time you travel, but even more so in these areas.
Second, the letter "c" in Spain is pronounced like a "th." So, Barcelona, is said like "Barthelona." The word for thank you: gracias, is pronounced: "grathias." For those who learned Latin American Spanish, this can be a bit confusing.
Things to See on a Barcelona Weekend
Barcelona is a fascinating large city and there's a lot to see. Trying to pack it all into one Barcelona weekend would be tough. I have listed what I most recommend in order below.
This list is likely more than you could do in just a weekend, so choose what's most interesting to you. I added a few extras in case you have the time and the interest, as well as some day trip options if you have more than a weekend.
1. Visit The Gothic Quarter (Barrio Gótic)
The Gothic Quarter is the historic old town of Barcelona. It's a must-see for any Barcelona weekend. Not only is so much of the history of the city here, but there are a number of medieval landmarks here including the cathedral and the Jewish quarter, El Call. Interestingly, though, many of the buildings are not from medieval times but were built in the 19th and 20th centuries.
The best way to explore this area is with a free walking tour to get to know the history. Sandeman's is the tour I took and I highly recommend it. The tour takes 2.5 hours and shows you the major landmarks in this area as well as walks you through the history. You visit the Gothic Quarter, Barcelona Cathedral, El Born district, Santa Maria del Mar, and others.
There are a lot of narrow winding streets that open up to plazas in this area. It's a maze of beauty everywhere you turn. Some of the notable areas to visit:
Plaza del Rey (Plaça del Rei or King's Square)
This was the King's Square and the former residence of the city executioner. The executions were held here and the executioner actually lived in the city wall (as no one wanted to live next to him!)
The King and Queen stayed in this area when they were in Barcelona. This was the area where King Ferdinand and Queen Isabella received Christopher Columbus after he returned from the New World, and a procession was held to the Cathedral.
This square was also the local headquarter for the Spanish Inquisition. It was reported if someone lied, the foundation would vibrate.
Roman Walls
There are some of the original Roman walls remaining. The larger stones are part of the original wall and the smaller blocks are part of the medieval expansion as they enabled the walls to be built higher. there is also an aqueduct in the walls that ran water throughout the city.
Sant Felip Neri Square (Plaça de Sant Felip Neri)
This is a small square with a church named after Saint Felip Neri. As the story was told, his heart got so big that it cracked his ribs. He dedicated his life to the others (but, not in a creepy way, as we were told).
The church was built in the 1700s in a Baroque style, very uncommon for this area. The square also has a school and at one time, it also had an orphanage. You can see pits in the walls from bombs dropped during World War II by Mussolini.
However, it's said that Franco claimed that the pitted walls are from firing squads executing traitors.
Basilica Santa Maria del Pi
This church was built in the traditional Catalan Gothic style. There is a large pine tree in front of this church and stories are told that the Virgin Mary climbed it.
Sant Jaime Square (Plaça Sant Jaime)
The Mayor's office and other official offices are in this area. Closeby is a sculpture that looks like several levels of a chain-link fence. It is intended to symbolize castel, or human towers.
This is where people climb on top of each other to see how high they can go, much like you may have seen in cheering squads. They claim the record is a human tower of 12 people high.
Santa Maria del Mar
Santa Maria del Mar was paid for by city tradesmen from the Born district, where the wealthy lived. The church was completed in the 1380s and is designed in the traditional Catalan Gothic style. The arches are 31 feet wide, the widest of any church in this area. It was actually burned by anarchists in 1936 during the Spanish Civil War.
The area around the cathedral is wonderful and just walking around this area aimlessly is a pleasure, especially if you enjoy architecture and food. There are a ton of small restaurants and bodegas here.
It's a great area of the city to stay in as well as it's so well located and there are some great dining options all around.
The Gothic Quarter is known to be an area with a high level of pick-pocketing. Be careful with your bag(s) and any valuables.
2. See the Barcelona Cathedral
Barcelona Cathedral, also known as the Cathedral of Saint Eulalia is an amazing structure with a sad story. It is included on the Sandeman's Free Walking Tour and even if you don't take a free walking tour, you'll want to be sure to visit it on a Barcelona weekend.
Though the church was built between the 13th and 15th centuries, the façade was created in the late 19th and early 20th centuries in a Gothic architecture style. It is stunning inside and outside and if you're a fan of historic architecture as I am, it's worth seeing.
This cathedral was dedicated to a poor martyred young Roman Catholic girl of only 13. Her death was during a time of Christian persecution in the period of Diocletian. The story our tour guide shared was pretty horrific!
Suffice it to say that they tried to kill her in several horrible ways including being tossed in a barrel with knives and rolled down a hill, crucified, and finally decapitated. Given that she held fast to her beliefs throughout this torture, she was martyred and a lovely church was named for her.
Barcelona Cathedral is located at Pla de la Seu, s/n, 08002 Barcelona, Spain. Visiting hours can be found here. Be sure to wear appropriate attire with your shoulders and knees covered when entering the church. If you forget, you can purchase a shawl outside the church.
3. Get to Know Gaudi
It wouldn't be a Barcelona weekend visit without going to see at least one Gaudi structure. There are a number to choose from. Though I'm honestly not a huge fan, they are quite unique and quintessential Barcelona.
And, the works of Gaudi are a UNESCO World Heritage Site for the "creative contribution to the development of architecture and building technology in the late 19th and early 20th centuries."
They are recognized for being eclectic and they certainly do stand out. The buildings included in this list are Parque Güell, Palacio Güell, Casa Mila, Casa Vicens, Gaudí's work on the Nativity façade and Crypt of La Sagrada Familia, Casa Batlló, Crypt in Colonia Güell.
Who Was Gaudí?
Whether you believe him to be an artistic visionary or an overrated artist, there's no denying the impact Gaudí has on Barcelona. He is a Barcelona architect and part of the Catalan Modernism movement. His structures have a rather unique look to them.
Gaudi was influenced by neo-Gothic and Oriental architecture, and in later years, religious architecture. His work was created during the late 19th century and early 20th century. Seven of his works are a UNESCO World Heritage Site now and La Sagrada Familia, an unfinished basilica, is the most visited structure in Barcelona.
La Sagrada Familia
La Sagrada Familia, or Sacred Family, is an unfinished basilica designed by Antoni Gaudí. Though construction began under a different chief architect, Gaudí took over the project and influenced the style by combining Gothic and Art Nouveau architecture.
He dedicated the remainder of his life to this project, though he died before it was completed in 1926. Gaudí is buried in the crypt at La Sagrada Familia. At the time of Gaudí's death, less than a quarter of the project was finished.
The church was built through private funding, so construction was slow. It was also interrupted by the Spanish Civil war. Even though the original plans and models were destroyed, there was enough dedication to continuing the project.
Opinions are mixed as to whether this basilica is a good thing for Barcelona and if it honors Gaudí's design. However, it's a tremendous draw for tourists and it's now more than 50% complete.
If you are only going to visit one of Gaudí's structures on a Barcelona weekend, this is the one to see.
La Sagrada Familia is located at Carrer de Mallorca, 401, 08013 Barcelona, Spain.
Park Güell
The Park Güell is a public park made of architectural elements and gardens. It was built from 1900 to 1914 and officially opened in 1926.
Its original intent was as an urban housing development. The concept was to build organized groupings of high-quality homes with the latest technology and artistic touches. When that was unsuccessful, it became a park.
The style reflects Catalan Modernism with influence from naturalism, popular in the early 20th century. Gaudí used organic shapes rooted in geometry with creative liberty, adding imaginative and ornamental aspects.
Some people claim there are mystical and theological references throughout the park, including references to Freemasonry, as well as politics, religion, and mythology. There is some agreement about religious and political symbolism.
This park is viewed as his "unleashing his architectural genius" and practice of sorts for his masterpiece, La Sagrada Familia.
Park Güell is located on Carmel Hill, Barcelona, Spain. t is open from 9:30 a.m. to 7:30 p.m. daily and tickets cost 10 EUR (just under $12 USD).
Casa Batlló
This was a private home designed by Antoni Gaudí and a remodel of a previously-built home completed in 1904, and it's considered one of his masterpieces.
Locally, it is called Casa dels Ossos (House of Bones) due to its skeletal and almost visceral quality. It has irregular oval windows and flowing sculpted stonework, giving it an unusual appearance.
You won't see many straight lines on the facade of this building. It's decorated with a mosaic of broken ceramic tiles.
Gaudí's Casa Batlló is located at Passeig de Gràcia, 43, 08007 Barcelona, Spain. It is open every day from 9 a.m to 8 p.m. Tickets are 35 EUR.
Casa Milà
Casa Milà is another home built by Antoni Gaudí and the last private residence built by him between 1906 and 1912. It's locally known as La Pedrera, or "the stone quarry" locally due to its unconventional rough-hewn appearance.
This building was considered rather controversial in its time. It features an "undulating stone facade" with wrought-iron balconies in a twisting style. As with all of Gaudí's structures, he was architecturally creative with building them.
Casa Milà has a self-supporting stone facade, an underground garage, and a roof terrace.
Gaudí's Casa Milà is located at Passeig de Gràcia, 92, 08008 Barcelona, Spain. It's a 5-to-10-minute walk from Casa Batlló. Tours run from 9 a.m. to 6:30 p.m. and then there's a night tour from 8:40 p.m. to 10 p.m. Tickets range from 27 EUR to 35 EUR (approximately $28.50 to $40.50 USD), depending on the tour you choose.
4. Enjoy Flamenco
Flamenco is a music and dance institution founded in Andalusia, the southern part of Spain. You'll find it in most places and it's worth seeing for a Barcelona weekend.
Flamenco is passionate and bold. It's almost like seeing an opera set to music with all of its drama and intensity. Watching it is truly a magical experience. Flamenco is both graceful and over-the-top dramatic.
Guitarists have lightning-fast fingers accompanied by castanets and hand clapping to set a rhythm offset by raspy-voiced singers. The song almost sounds like a Muslim prayer at times and is rhythmic and beautiful.
Like with opera, you may find a wave of emotion sweeping over you, in a good way. It's beautiful and transformative. Whether you see a flamenco show or a bodega spontaneously burst with it, it's a very Spanish experience.
Palau Dalmases Flamenco is a great place to go. It's right in the Gothic Quarter near Basilica Santa Maria del Mar. It is located at Carrer de Montcada, 20, 08003 Barcelona, Spain. Shows are for one hour at 6, 7:30 and 9:30. The cost is 30 EUR and that includes one drink.
Another great option that a friend recently went to was Tablao Flamenco Cordobes. Want to enjoy a bite with your flamenco, check out this offer with Tablao de Carmen.
5. Stroll Barceloneta Beach
Barceloneta Beach is one of the most famous and popular beaches in Barcelona. It's free, clean, and a lovely place to enjoy the ocean and walk. It's a perfect way to wind down on any day during your Barcelona weekend.
This beach is also one of the oldest in the area, dating back to the 1800s. It was actually man-made and sand was brought in to create it, which requires topping off periodically due to erosion.
Restaurants line parts of the beach so it's a great place to grab food or a drink and enjoy the ocean views. There is also an outdoor gym where you can get a workout in or also enjoy the views.
6. Wander La Rambla
La Rambla, also known as Ramblas or La Ramblas, is the main pedestrian boulevard in Barcelona. It runs for around three-quarters of a mile (1.2 km) from the monument of Christopher Columbus in Port Vell to the square, Plaça de Catalunya.
It is the boundary between the Gothic Quarter on the east and El Raval to the west.
This tree-lined street is popular with locals and tourists alike and can get very crowded both day and night. You'll find a lot of shops and restaurants geared towards tourists in this area. There are also street performers and kiosks selling things from fruit to souvenirs.
La Rambla is another area known for a high level of pick-pocketing. Be careful with your bag(s) and any valuables.
The Columbus monument is located at Plaça Portal de la pau, s/n, 08001 Barcelona, Spain.
7. Shop at Mercat de La Boqueria
If you like a good public city market, Mercat de la Boqueria, also called La Boqueria, is a great place to go. There is an entrance from La Rambla not far from the Barcelona opera house, called the Liceu. This is a busy market for locals and you can get fresh produce, meat, and fish, among other things. There is a wide selection of goods.
The market has been around for hundreds of years, since at least the early 13th century. Even if you're not in the mood for shopping, it's worth a quick walk-through.
The Mercat de la Boqueria is located here. It is open from 8 a.m. to 8:30 p.m. and it's closed on Sunday.
8. Explore the Palace of Catalan Music (Palau de la Música Catalana
The Palace of Catalan Music is a large concert hall designed in the Catalan Modernista style, a type of Art Nouveau style. It was built between 1905 and 1908. The project was financed mostly by the Orfeó Català, a choral society founded in 1891 that was a leading force in the Catalan cultural movement known as the Catalan Rebirth.
The Palace of Catalan Music is a UNESCO World Heritage Site with the Hospital de Sant Pau. This building is magnificent, inside and outside. If you're able to watch a show there, it's worth doing. More than half a million people a year attend musical performances here. There is a wide range from symphony to jazz to flamenco.
The Palace of Catalan Music is located at C/ Palau de la Música, 4-6, 08003 Barcelona, Spain.
9. Enjoy the Museum of Chocolate (Museu de la Xocolata)
What's not to love about a museum dedicated to chocolate? Of course, there is a cafe that offers up some delectable sweets including my favorite, a cup of thick and steamy hot chocolate. It's so thick, your spoon will almost stand upright in the cop.
Oh, and they offer tours as well so you can learn about the history of chocolate and about chocolate production if you're interested. They also have tastings.
Did I mention their hot chocolate?
It's only a ten-minute walk from the Palace of Catalan Music.
The Museum of Chocolate is located at Carrer del Comerç, 36, 08003 Barcelona, Spain. It's closed on Mondays but open from 10 a.m. to 7 p.m. every other day except for on Sunday when it is open from 10 a.m. to 3 p.m. A visit costs 7.50 EUR (just under $9 USD). Tours and tastings range in cost to around 67 EUR ($77 USD).
10. Stroll by the Triumphal Arch (Arco de Triumfo)
The Arc de Triomf, or Arco de Triumfo, is a triumphal arch that was built as the main gate for the 1888 Barcelona World Fair. It is made of reddish bricks with a frieze containing ornate stone sculptures.
The arch crosses a wide promenade leading to Ciutadella Park. It's very different from the Arc de Triumph in Paris and quite beautiful in a different way.
The Triumphant Arch is located at Passeig de Lluís Companys, 08003 Barcelona, Spain.
11. Eat Lots of Tapas
For foodies who struggle to choose what they want to eat from a vast menu, tapas is the answer! These small shared plates, similar to appetizers, allow you to try a number of different things.
Tapas are a Spanish tradition and plates range from simple, like jamon y queso (ham and cheese) to more intricate dishes. They are very often finger foods that can be eaten with your fingers or a toothpick. The ham is actually Spanish-cured ham and it's incredible.
You'll see manchego cheese, croquetas, small balls of fried goodness with various tastes inside, garlic shrimp, stewed meats, salads, and more. All of this is served up with tasty sangria, red wine mixed with fruit and liquors, bold Spanish red wines, and others.
Tapas are usually eaten from 6 to 8 and dinner is generally eaten late in Spain, between 9 and 10. For those who prefer to eat earlier than the local custom, tapas suits and you won't feel you were lacking at all.
You will find them in restaurants and often in small tapas places. They may be listed on a menu, written on a chalkboard, or displayed in the window to point and choose.
12. Day Trips from Barcelona
There are many wonderful day trips you can take from Barcelona if you have some extra time.
Visit Montserrat
Visiting Montserrat is one of the most popular day trips from Barcelona. Montserrat is a mountain range located near Barcelona with a unique and stunning appearance.
Near the top of one of the peaks is a beloved Benedictine abbey, Santa Maria de Montserrat. Inside the monastery is the Santa Maria de Montserrat, a black madonna, making this a popular pilgrimage site for the faithful.
You May Also Like What to Do on a Barcelona Weekend
If you prefer to take a tour, here are some very popular ones. And for the "wineauxs" who read this, I think this one looks really appealing: Montserrat & Cava Winery Small Group Day Tour.
The location of the monastery offers some stunning views of this area. There are some beautiful hikes in the mountains and it's fun to ride the funiculars as well. This is a popular tourist destination and worth visiting if you have the time.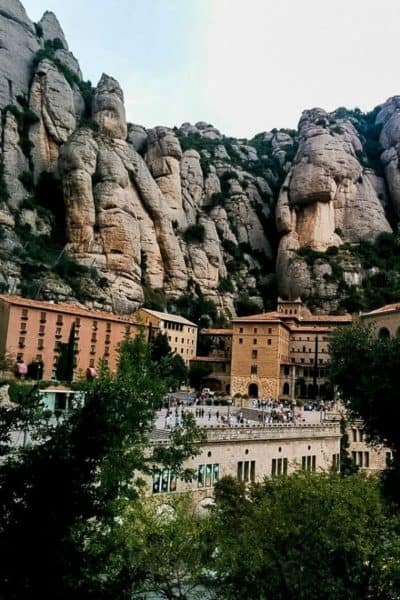 Other Barcelona Day Trips Ideas
Here are some other day trip ideas to tempt your fancy. I even saw a hot air balloon ride if you're interested in seeing this beautiful area from above.
Where to Stay in Barcelona
There are so many wonderful and vibrant neighborhoods in Barcelona. When we planned the trip, we focused on the Gothic Quarter to be close to many tourist attractions. However, we ended up finding an apartment in El Born, the neighborhood to the east.
We could not have been happier! We stayed right near Santa Maria del Mar. My only issue was that I am direction challenged, and the area is a bit of a maze with few street signs. I got lost frequently, but it's part of the fun!
We got an apartment through Airbnb and it was a great experience. The building owner wasn't around, though there was a woman who was super helpful for the many apartments. I don't see it listed right now though there are lots of very affordable options in this area.
Budget: Hotel Rec Barcelona is designed for the cosmopolitan guest who likes to blend in with the locals. It's located in La Ribera, one of Barcelona's oldest neighborhoods. Explore some of the lesser-known spots of the city and enjoy the terrace bar.
Mid-Range: Duquesa Suites Barcelona is located in an 18th-century estate that was transformed into a small luxury hotel with 20 rooms. There's a wonderful rooftop deck with a pool where you can enjoy incredible city views.
Luxury: H10 Madison is a newer luxury four-star hotel. It has beautifully-appointed rooms, a lovely terrace offering close-up views of the cathedral with a plunge pool. The onsite restaurant has a full range of dining options.
Where to Eat in Barcelona
We did not find one restaurant that we didn't love, and I'll be honest, I didn't do the research I usually do to select them. There were a gazillion places right in the neighborhood we stayed in and we just bounced from place to place trying tapas. We never quite got to a proper dinner (which is eaten around 9 or 10 p.m.)
To get to this neighborhood, go to the Basilica of Santa Maria del Mar and walk all around. We enjoyed one called Tapeo (which I remember as it was one of the first Spanish restaurants I ate at in the States!) and all of the others in the area. For some other options:
Barcelona Airport
Barcelona is served by a large, international airport, Josep Tarradellas Barcelona-El Prat Airport (BCN). It's the largest airport in the region and a popular airport for international connections. I have run through this airport many times trying to catch flights. It's massive.
It's very easy to get to the historic center of Barcelona. You can take a RENFE Train, and they run every 30 minutes. The ride takes just under 30 minutes and this guide has all of the information you will need.
You can also take the Metro, a bus, a taxi, or Uber. This bus guide offers the information you'll want for this transportation and here is a Metro guide as well.
When to Visit Barcelona
Like much of Europe, the most popular time to visit Barcelona is in the summer, from May to August. However, it's very humid during the summer, especially from June through August. Locals head out in droves and return in the fall with the cooler and less humid weather.
April brings frequent rain showers, so May or June are great months to visit (unless you love humidity, in which case, go in July and August!) Otherwise, the fall is lovely from September through late October.
Summer high temps from June to September average between 75° and 83°F (24° to 28°C) and lows run from around 60° to 67°F (around 15° to 19°C). Winter highs average from 56° to 58°F (around 13° to 15°C) and lows average 39° to 42°F (around 4° to 6°C).
The Best Way to Spend a Barcelona Weekend
There are so many fun things to do in this incredible city and there's a good reason why it's the most heavily touristed city in Spain. This itinerary will help guide you to the most popular things, and many that I enjoyed.
Feel free to swap out things based on your interests! And if you have more time, take a day trip to impressive Montserrat. Two days isn't nearly enough, but if all you have is a Barcelona weekend, you'll want to make the most of it.
You Might Also Like
Like it? Pin it!