7 Best Personal Item Bags for Flying (2023 Buyer's Guide)
Traveling by airplane soon and need one of the best personal item bags for flying?
Most airlines allow you to bring a carry-on and a personal item. Your carry-on will go in the overhead bin, while the personal item will go under the seat in front of you. Even though the personal item bag is small, the one you choose is one of the most important decisions you'll make when flying.
Getting the right bag will make your travel more convenient and comfortable, especially if you know all the right things to include on your personal item packing list. Here are the top seven bags to choose from and the features to look for.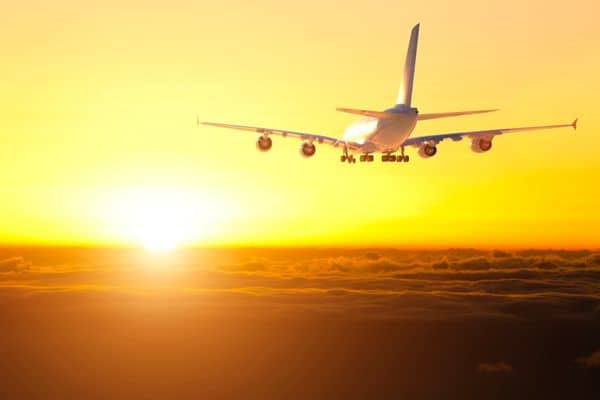 This post may contain affiliate links, which means I'll receive a commission if you purchase through my links at no extra cost to you. Please read the full disclosure for more information.
QUICK LOOK
What To Expect From A Personal Item Bag for Flying
Your personal item when you fly is the bag that fits underneath the seat in front of you. Each airline has different size requirements, but you can find the maximum dimensions of the personal item on the airline's website.
A personal item bag for flying should fit comfortably under the seat without bulging into the open space where you place your feet.
The bag should also be large enough to fit everything you need while on the airplane. Most people pack their laptops, cameras, and other electronics into their personal item bag.
You can also include snacks, your passport, and your wallet. A good personal item bag for flying will be able to fit all your necessary belongings so you can easily and safely reach them while in your seat.
Best Brands For Personal Item Bags for Flying
There are a lot of great options for personal item bags for flying. We include some of the best in this article, and also some great brands to consider. If you don't see exactly what you're looking for in the list, start by checking out the brands listed.
Osprey
Osprey is known for making durable and comfortable backpacks for flying, hiking, and outdoor activities. They sell smaller-sized packs that are versatile and the perfect size for flying. Since the bags are mostly used for outdoor purposes, most of them are waterproof.
Patagonia
Patagonia is known for its wide range of stylish and practical outdoor bags. Flying with a Patagonia backpack or tote bag is a great choice because they are often lightweight and water-resistant.
Land's End
Land's End is one of the best choices for bags if you want something that is more stylish. Most of their bags are specifically made for travel, but they also make gym bags and school backpacks. Even though their canvas tote bags look small, the handles and fabric are made to handle 500 pounds.
Features Of The Best Personal Item Bags for Flying
Organization
Your personal item bag for flying needs to have many different compartments so you can stay organized. Make sure it has a laptop compartment, small pouches for your smaller items like your passport, and a few zippered large compartments.
A few exterior pockets are also a good idea for things you need to reach easily, like your wallet or airline ticket.
Versatile
The best personal item bags will be able to serve many different purposes. If you're going on a hiking trip, you might want to get a personal item backpack that can also be a hiking bag.
If you have a personal item bag with a laptop sleeve, you can also use it for work outings or when going to a local coffee shop to work on your computer.
Zippers
When flying, your personal item should zip closed. Bags can shift as the airplane moves. If your bag is open, the contents can spill out onto the aisle or roll under the seats.
Durable
When flying with a bag, it needs to be able to go through security checks and be under the seats of the plane without becoming damaged. Make sure you get a bag with a durable exterior and good zippers.
Best Personal Item Bags for Flying
Now that you know the features and brands to look for, here are the top seven bags to choose from when flying for your next trip!
Falanko Laptop Backpack
Pros: Stylish design, USB port, many pockets for organizing 
Cons: Straps could be thicker for better comfort 
Organization: The bag has two front pockets, four inner pockets, a laptop compartment, and one main compartment 
Water Resistant: Perfect for exploring your destination city in all weather conditions since water can't damage your gadgets. 
This bag wins as the best overall personal item bag for flying because of its different features. It's water-resistant, stylish, and has a laptop sleeve and tablet pocket.
The backpack's base has a frame that allows the bottom of the bag to lay flat. This makes it easier to pack, and you can see all the items rather than dig to find the one you're looking for.
The zipper on the back is anti-theft. Even in crowded areas while traveling, you don't have to worry about people getting into your bag and taking things.
Osprey Daylight Plus
Pros: Versatile, organizational pockets, water bottle sleeves
Cons: Too small for people with a tall frame 
Interior sleeve: your 15" laptop will fit perfectly here as well as a hydration pack for when you're going hiking 
Compression straps: Perfect for ensuring the bag is the perfect size to go under the seat 
If you prefer to travel with backpacks, the Osprey Daylite Plus is a fantastic option. The bag comes in many different colors, perfect for all styles. It's also a great backpack for hiking and camping.
It has one main loading compartment, an inside sleeve for laptops, or a hydration sleeve. The side pockets are perfect for a water bottle or thermos.
If you love Osprey and have other bags from the same brand, this small backpack can be clipped to larger bags which is perfect for those traveling with carry-ons or checked luggage that are also Osprey.
Lands End Travel Carry-On Tote
Pros: Cost-effective, big main compartment, durable
Cons: Not very many inside pouches, might be too big on some airlines if packed full 
Lightweight: At only 1.25 pounds, it won't feel too heavy on your shoulder
Outside zippered pocked: Great place to store your phone or passport for easy access
If you're looking for an inexpensive, versatile bag this is a great choice. Not only can it be used for flying, but it's also a nice bag for taking to the park, the gym, or a road trip.
The compartment is large enough for a change of clothes, snacks, your tablet or camera, and many other things. There is also one outside pocket, just the right size for your passport, phone, and airline ticket.
The major drawback of this bag is that the size could be too big when packed full. If you only want to throw a few things in here for the flight, it will easily fit under the seat in front of you.
If you tend to pack many things in your personal item, you risk filling it too much and having the airline tell you you need to put it in the overhead bin.
Matein Travel Laptop Backpack
Pros: Water resistant, can fit 15.6" laptop, comes in many different colors 
Cons: A little smaller than other personal item bags 
Breathable straps: The mesh on the shoulder straps means you'll never have to worry about sweating while walking through the airport 
USB port: Charge your devices everywhere with the built-in charger 
If you're always traveling with your laptop, keep it safe and secure with this personal item backpack. The padded sleeve inside is perfect for your computer.
There is a luggage strap on the back where you can slide it onto a suitcase you're wheeling around the airport.
The front compartment is perfect for sticking all your smaller items like a passport, pens, wallet, and phone.
If you're a college student, this is an excellent purchase as it can double up for a bag you can carry around campus.
BAGSMART Camera Backpack
Pros: Travel with your camera protected by foam, pockets for organizing smaller items like memory cards
Cons: Can't hold many other items besides the camera
Padded dividers: The inside of the bag has several padded dividers where you can organize all your equipment 
Wraparound zipper: The bag can unzip and lay flat which makes it easier to pull your camera out equipment when needed 
If you're always traveling with your camera while for work or vacation, this is a nice bag to bring while flying. The inside compartments and sections are designed to fit a DSLR camera with four lenses and other camera accessories.
The cushioned pads are also removable, so you can use them as a standard backpack if you are sometimes traveling without your camera equipment.
You never have to worry about your camera equipment getting damaged as the entire inside of the backpack is lined with thick foam.
Patagonia Ultralight Black Hole Tote
Pros: Lightweight, nylon lining, comfortable 
Cons: Not as stylish as other choices 
Mesh straps: The padded mesh straps make it comfortable to wear whether you're walking around the airport or a new city
Zipper closure: Never worry about your stuff falling out in the airport 
Patagonia is known as one of the best brands in the world for travel bags, hiking backpacks, outdoor clothing, and many other things related to travel. If you're looking for a lightweight bag to put under the seat in front of you, this bag by Patagonia is one of the best choices.
Despite only being 13 ounces, it's 27 liters and can hold all the items you need while flying. It comes in black, blue, and red. You can use it as a shoulder bag or use the straps in the back to wear it as a backpack.
It can also be compressed if you want to pack it inside another bag after you get to your destination.
Hycoo Travel Duffel Bag
Pros: Many different colors, great pockets for organization, one waterproof pocket inside 
Cons: No sleeve on the bag where you can attach it to luggage handles 
Lightweight: Even when stuffed full, the bag can be comfortably carried on the shoulder 
Never bulky: The bag doesn't look huge or bulky even when packed full
This is a great personal item duffel bag that also doubles as a weekender bag. It comes in many different and unique colors, so you'll definitely be able to find one that matches your style.
It's small enough to fit under the seats of most airlines but still has enough space for all the items you need. I've flown with this bag on Delta, American Airlines, and Emirates.
You can carry it as a handbag or carry it on your shoulder. The inside has three small compartments, and there is one small compartment on the exterior as well.
Which Personal Item Bag for Flying is Right For You?
So, how do you choose a personal item bag for flying? It depends on your travel needs and your style. Most people find that a backpack or tote bag with a laptop sleeve is the best choice.
You might want to choose a slightly larger bag if you also plan to pack clothes in your personal item rather than bringing a carry-on. There are also speciality bags for those that need to fly with special equipment like cameras.
Are you planning on flying soon? Which of these bags are you going to purchase for your trip?
You Might Also Like
Like it? Pin it!