How to Pack a Carry-on for 2 Weeks
One of the questions I get often is about packing, and how to pack for trips. Trying to pack a carry-on for 2 weeks has become my latest obsession. Through trial and error, I'm getting better at it!
One of my most challenging attempts was my 16-day trip to Colombia. Temperatures varied from a low in the low 40s in Bogota to highs in the mid-90s in Cartagena, where it was really humid.
I was quite proud of myself for getting two weeks of what I'd need in a carry-on bag!
I did have a few misses—things I wish I had brought, and things I brought that I didn't use. Overall, I was quite pleased with the results. Of course, this list can and should be adapted for any specifics of your trip.
Here's what you should pack for 2 weeks in a carry-on to minimize your load. And I'm including some tips on how to do it based on my personal experiences.
This post may contain affiliate links, which means I'll receive a commission if you purchase through my links, at no extra cost to you. Please read full disclosure for more information.
Why Carry On?
When I think of my first international trip to London, I can't help but laugh. I packed the largest roller bag I could find and a very large shoulder bag for clothes that I could barely lift under its weight. Can you imagine?
My, how things have changed and I now find it a fun challenge to reduce what I pack as much as possible. of all of my tips for traveling better, reducing what you bring is really one of my favorites.
I prefer to carry on and haven't intentionally checked a bag in quite a few years. I say "intentionally" because many of the smaller planes require that you check any bags that do not fit under the seat.
Sometimes it's due to policy or because they don't have overhead space. Yes, I was recently on a plane that was so small it didn't have overhead space.
Why do I prefer to carry on? There are a few reasons.
I don't have to worry about my bags. No worrying that my bags won't arrive at my destination or having my bag, or items within, stolen. Since they are in my possession the entire time, I know they are safe and secure.
I don't have to pay baggage fees so more money goes into my travels.
No waiting! I don't have to wait once we arrive at the destination. I simply pull my bag down from the overhead, de-plane and I'm off! No waiting is required.
If you have ever arrived at your destination when your bag has not, you'll understand this. I'll never forget arriving in Raleigh, to learn my bag when missing. I had business meetings the following day requiring a suit! And, that's not something you can easily just pick up.
And, if you're a bit impatient like me to get to your destination or just hate to wait in lines, carrying on solves that. If you want to pack a carry-on for two weeks, read on. You'll be on your way in no time!
The Right Carry-on for 2 Weeks
Packing for two weeks in a carry-on all starts with getting the right bag. You want to get the right bag that will fit on most airlines. And, it's a good idea to get a bag with things like compression straps and solid zippers as you are going to pack it in!
I did a lot of research to find a new carry-on bag that would meet the most strict size requirements. I used Ryan Air as a guideline, as the requirements are quite stringent for this European budget airline.
They charge hefty fees for checked bags from £ 25 GBP to £ 40 GBP ( $32 to $50 USD) and more. (Note: As of November 2018, they changed their baggage policy. Now they only allow a small personal bag that fits under the seat in front of you. And it must measure 40cm x 20cm x 25cm, except for priority passengers.)
I got the Eagle Creek EXPANSE™ CONVERTIBLE INTERNATIONAL CARRY-ON. I tested it on my 10-day trip to Portugal a few months before heading to Colombia. The bag is quite small, only 30 L capacity, but has some really great features. Most important is that it is on wheels, but also has backpack straps tucked away.
Unfortunately, they no longer make it. However, they offer this international carry-on bag that's similar, but without the straps.
This flexibility is tremendous and came in quite handy in Bogota, where I was on cobblestone streets that were uneven. From a safety perspective, having a backpack worn on your back is often not recommended.
I felt comfortable with this one as there are locks on the zippers. It would have taken time and dexterity to try to tackle these to get into the bag.
Other Carry-on Options
My Eagle Creek bag is currently my bag of choice when I'm packing for 2 weeks in a carry-on. I love it for its small size and the ability to convert to a backpack. Though, there are lots of great bags out there.
You'll want to make sure you get a bag that is light and convenient to bring with you. Whether you prefer a bag on wheels or one that straps to your back is a matter of personal preference. Newer bags offer technology fabrics that are light and durable.
You'll also want to consider your needs during your trip. Do you need easy access to things in your bag? Do you need to bring electronics like a laptop? Do you need to walk on cobblestones? Consider what type of bag will work best for you.
Some others that I have seen recommended by frequent travelers include those listed below.
Travelpro Luggage Platinum Elite 21" Expandable Carry-on Spinner
Travelpro has an extensive line of carry-on bags so there are a lot of great options. However, this one seems to often bubble to the top. It's small enough for many international carriers with sizing restrictions and does allow you to expand it if needed.
It includes a lot of thoughtful and very usable features. It is a four-wheel spinner so it is easy to roll and glides really well, even on cobblestones. And it's quite durable—important for a bag!
It has some nice features inside including a wet bag and a garment bag. No worries about wet bathing suits! And it has handy interior pouches for each storage and access. There's also a built-in luggage tag holder.
Buy the Travelpro bag now. It comes in red, black, and grey.
Away Carry On
Here's a brand that has gotten a lot of hype in recent years, and for good reason! They have raving fans due to the quality, durability, and thoughtful design of their bags. If you prefer a hard-sided carry-on bag, the Away Carry-On is a great option.
It's a great size to fit on most flights. It also has an interior compression system which is helpful to maximize space and a water-resistant laundry bag.
interior compression system and water-resistant laundry bag make it easy to pack all of your essentials. It also has a 360° spinner for easy use.
The secret weapon in this bag is for travelers who want to stay connected while on the go—there's an ejectable USB charger you can use to charge your phone up to four times! Wow. For someone who always forgets her external battery charger, this is an amazing feature. (You can easily eject it should you need to go through security).
If you want a roomier carry-on bag, check out this Bigger Carry-On. You can't take it on some of the smaller international flights, but it will fit on most major airlines.
Osprey Ozone
Those who are familiar with quality backpacks will recognize the name Osprey. In fact, my larger backpack is an Osprey and I love it! Osprey makes a lot of great packs.
The Osprey Ozone includes both interior and exterior compression straps to enable you to pack it as fully as possible. There is an easily accessible compartment at the top of the bag. You can use it to stow liquids which makes it easy for you to pull them out at the airport.
There's a strap on the front of the bag so you can attach a smaller bag to it. And there is a rear zippered pocket for carrying a laptop or a tablet. It also has a carrying handle that can be used when you can't roll it easily, like on cobblestones or uneven ground.
My Day Bags
I also carried a small Camelback backpack that I stowed under the seat for items I wanted on the plane. It came in handy as I used it for a hike that I did in Salento.
For the two times that I did wear the Eagle Creek bag as a backpack, I wore the little Camelback backpack on my front. Not terribly comfortable, but it got the job done and the Camelback pack was less secure so I wanted eyes on it.
I stored my day bag inside my backpack. It's an anti-theft bag by Travelon. While I don't see the exact bag I got, a Travelon Anti-Theft bag is very similar and has many great safety features.
The one I got is fairly small with locking clasps, metal wire in the strap to make it more difficult to cut, has RFID inside the bag, has several pockets, and on the outside, there is a zippered pocket on one side and an open one on the other.
I walked with the bag "messenger style" across my chest with the zippered part on the inside where I stored my phone and my journal on the outside with easy access in the open slot.
Pack a Carry-on for 2 Weeks
I packed all of my clothing (excluding jackets and socks) in the Eagle Creek compression packing cubes. This was no small feat! If you're going to get 2 weeks of what you need in a carry-on bag, it's critical. Especially with a fleece sweatshirt.
I rolled my clothes and had to be patient, putting items in, shifting, and retrying the zippers. These cubes aren't the easiest to use, but they really do compress clothing way down in size and are very helpful.
I wore my biggest clothes, including my jeans, hiking sneaker, a tee, and one of the jackets or a sweatshirt on every flight. Also, make sure what you bring can mix and match so you have options for what to wear.
Laundry
When you pack for a long trip, it's important to pack clothes that will wear well and can withstand multiple wears. I will generally wear items twice, and for things like jeans or a sweatshirt that I wear over a tee, I might wear more.
Given the high temperatures in Cartagena and the high humidity, I knew I wouldn't be able to re-wear my warm-weather clothes. So, when I booked an Airbnb in Medellin, my second stop, I found one with a washer.
It took some figuring out and help from my host, but I was able to run a load of laundry when I got to Medellin, and another right before I left, so all of my clothes were clean. There was no dryer, so I had to be sure that any wash I did on my last night would dry by morning.
I did find small laundry detergent packets in the grocery store, and also brought some laundry sheets (strips of dried laundry detergent that can be used in a sink or in a washer.) I will admit that I used what I found locally and didn't test the sheets, but I think they're a great idea.
How to Pack a Carry-on for 2 Weeks: My Carry-on Packing List
Below, I have detailed what I brought to Colombia. If you'd like a printable packing list template that you can adapt to your needs, I've got you covered! It includes all you need to pack a carry-on in two weeks.
Clothing to Pack
Jeans—I'm a fan of boot-cut jeans and tend to go with Eddie Bauer jeans. They have a lot of styles to choose from, they're comfortable and wear well.
Black knit pants
Hiking pants (that convert to capris)—I love these Prana Halle Roll-up Pants. They have a number of different styles, but they all are pants that roll up to capris. They fit well and I live that they meet both needs. You can hike in these and go out as well. I also like these roll-up pants by Kuhl.
Capri pants (that convert to shorts)—These Kuhl shorts or these are my go-to's.
Long knit dress (converts to a skirt)
Four t-shirts
Fleece shirt
Long-sleeved thin wrap—This Eddie Bauer Daisy Wrap goes with me everywhere!
Long-sleeved shirt
Thin down jacket—Patagonia down jackets are comfortable and last forever. REI makes great ones as well at a lower price point.
Fleece jacket—This Colombia fleece is what I use. They are affordable and have everything you need.
Raincoat—This North Face Venture 2 raincoat is my go-to. It's comfortable, has lots of pockets, and it's breathable.
Hiking sneakers— I love these Teva shoes as they are great for hiking and walking around a city in comfort.
Merell sandal/flip flops—I have always loved Merell, but lately, I have been wearing my Chaco Spot Flip Flops everywhere. They went with me to Colombia, and I wear them all the time. They are rugged and last and are so comfortable and supportive.
Close-toed shoes—These black flats by Olio pack down small and are quite comfy.
2 pairs of socks and 1 pair of compression socks
3 bras and 7 pairs of underwear
Other Packing Items
Ipad
Phone
USB cord
External phone battery
External hard drive
2 collapsible water bottles (one with a filter)
Day bag
Travel journal and pen
Toiletries (toothbrush, toothpaste, conditioner, soap, deodorant, hair gel, bug cream, sunscreen, face soap, face cream, face powder, cover-up, eyeliner and chapstick, medicines, tongue scraper)
Glasses and glass case
Medications
Note: generally, trips require a power adapter and sometimes a converter as well. On this trip, I didn't need to bring them.
I had a few small odds and ends tucked in, including almonds for snacks, some United States cash (in case my ATM card didn't work for some reason and I needed access to money), and a few other small items, but this was it. And I got it all in my two bags!
How to Update the Packing List
This packing list is an example from one of my trips. It included what is essentially three seasons, as it was very hot and humid in Cartagena, very cold in Bogota, and in between everywhere else. That makes it so much tougher to pack for a trip when the weather varies so greatly!
This can be adapted to the details of your trip. If you go to a place that is hot the entire time, of course, you won't need to pack sweaters, sweatshirts, and a heavy jacket. You may want to add a bathing suit and a quick-dry towel or a sarong, and more tees, shorts, and skirts.
It's a good idea to pack at least a light wrap or jacket, as nights can still get cold, even in the tropics or areas with warmer weather. And of course, if you go to restaurants or stay at a hotel, it may be air-conditioned.
If you stay in a cold-weather place, packing can be a bit more challenging as warmer clothes tend to be bulkier. In this case, consider layers.
If you're trying to go light, you can bring just 2-3 sweaters and sweatshirts and add lots of layers, including tanks, tees, and thermals.
They can actually keep you warm or even warmer than a thick sweater. Doing this also helps as you can swap out the layers for laundering more easily, and you run less risk of shrinking them!
My Misses and Packing Improvements
There were a few areas where I could improve my micro-packing skills to better pack a carry-on for two weeks. In the spirit of sharing and lifelong learning, I'd like to share:
Packing Misses
Bring earplugs. Man, oh man, did I regret not having these in Bogota. I loved my hotel, but it was open-air and on a very busy pedestrian street with lots of clubs belting out loud music.
Test things: first, I brought the clip-on sunglass case for my glasses but never checked that my sunglass clip-ons were in it! Novice mistake. Second, I got a new external battery charger for my phone and didn't test it first. It didn't work, and that made things challenging because as much as I love taking pictures, I use my phone for navigation as I have absolutely no sense of direction.
I didn't bring a bathing suit. I learned that there were hot springs in Manizales that were highly recommended, but I wasn't prepared. Even though I figured I could buy anything I needed that I didn't have, who wants to go bathing suit shopping while on vacation? Not this girl.
Packing Improvements
Consider not bringing my laptop. I would prefer to do research on my laptop than on a phone, and had big ideas about working on my blog while I was traveling. The reality was that I didn't do any writing. And, while my computer is more convenient for responding to emails, etc. I am not sure it was worth the space and weight.
Bring a micro hairdryer. I have a tiny one that I got years ago from Brookstone. I had checked that all of the places I stayed at had hairdryers, and yet one of them did not.
Don't bring a raincoat and an umbrella. I had figured the umbrella was easier to stash in my bag, but the jacket was more practical. However, having both took up space and added weight. I only used the raincoat once, and I never used the umbrella. I would recommend choosing one or the other, and the jacket makes a little more sense.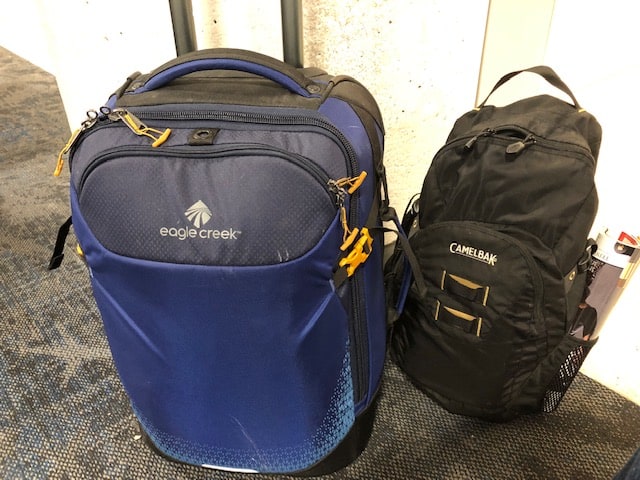 How to Pack a Carry-on for 2 Weeks
Packing is an important part of any trip. Pack too much, and you're weighed down, and pack too little, and you're buying a lot of what you need. It's important to plan in advance and to do a dry run to ensure you're able to pack what you most need. Though I generally pack a day or so before trips, for this trip to Colombia, I did a bit more planning.
The great thing I learned is that I could have stayed much longer on a trip with what I brought. I would simply have to do laundry again. I might need a couple of other things, depending on where I would go, but overall, this packing would work. As I mentioned, it has become a game of sorts to me, a challenge to pack as minimally as possible for trips. Yes, I like a challenge!
I did have to check my teeny-tiny bag on the in-country flights. However, I didn't pay any fees to do so. Also, I never had issues with the weight of my bag because it's quite challenging to load it up too much when there is so little space! I did manage to bring some small gifts home, so overall, my packing was a success! You can do it too.
Disclaimer: MyFlyingLeap.com is a participant in the Amazon Services LLC Associates Program, as an Amazon Associate I earn from qualifying purchases. Please see the Privacy Page for more information.
You Might Also Like
Like it? Pin it!