7 Unmissable Things to Do in Jackson Hole
Choosing all of the best things to do in Jackson Hole depends on whether you are visiting in the summer or winter.
While people visit Jackson Hole year-round, you'll find the most choices for activities segmented by season. You'll find activities either during the summer months of May through September or the winter months of November through February.
It's a top destination for skiing and other snow activities if you're visiting in the colder months since the resorts in the area offer huge slopes. If you're planning to travel to Jackson Hole in the summertime, there are tons of water activities to choose from including fly fishing and white water rafting.
No matter what time of year you're visiting, downtown Jackson also has plenty of choices for dining, shopping, and entertainment. The quaint area of downtown Jackson Hole is a nice place to relax and go shopping for a more relaxing day.
Nestled in Wyoming's Jackson Hole Valley, the city is also close to Yellowstone National Park and Grand Tetons National Park if you are on a road trip or looking to explore more of the surrounding area.
Ready to visit Jackson Hole? Here are my top recommendations for the best things to do in Jackson Hole Wyoming to make sure you don't miss any of the top activities! 
This post may contain affiliate links, which means I'll receive a commission if you purchase through my links at no extra cost to you. Please read the full disclosure for more information.
Skiing and Snowboarding
If you're here in the wintertime and feel confident doing some snow activities, the main resorts in Jackson Hole offer skiing and snowboarding. Jackson Hole skiing is challenging compared to some other locations in the United States, but the resorts offer classes or sections where you can ski without going down major slopes.
Here are some of the top Jackson Hole resorts in the area: 
Snow King Area & Mountain Resort has snow tubing for those who don't feel comfortable on skis. They also offer lighted trails if you're an adrenaline junkie and want to ski or board after sundown. 
Jackson Hole Mountain Resort is one of the top places for skiing at the base of the Tetons mountains. It's 12 miles from downtown Jackson, so you can still easily get to town in the evening for entertainment without needing to drive too far. 
Grand Targhee Resort has by far the best skiing and snow activities with over 2000 acres of skiing areas. It's 45 miles from downtown, though. Most people choose to stay at the resort or they get a day skiing pass and enjoy the resort for one day. Here's the link to stay at the Grand Targhee Resort.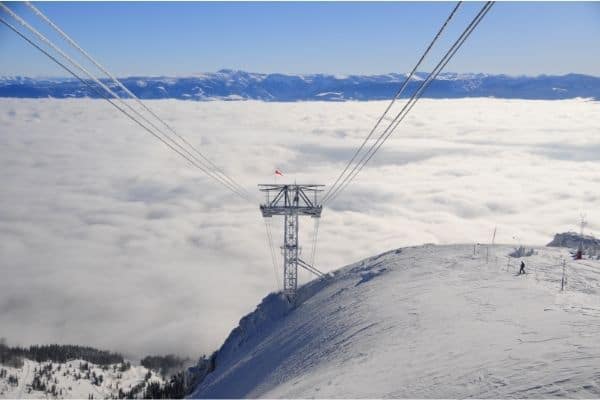 Dog Sledding Tours
Dog sledding is another popular activity in the winter. Most companies offer full-day and half-day tours to fit nicely into your schedule.
All the dogs are Alaskan sled dog racers. Make sure to book with a reputable company that takes good care of their dogs. I recommend going with Jackson Hole Iditarod as they are experienced and professional.
Before your tour, you'll also take a short class to learn more about the dogs, their breed, how to care for them, and how they're trained. The trip starts at their main office and takes you all the way to Granite Hot Springs and back.
With the price of your ticket, you also get lunch, snacks, and warm beverages. They even offer free jackets and hand warmers if you don't have your own!
Jackson Hole Iditarod is located at Granite Creek Road, Jackson, WY 83001, United States. Tours start around 8 a.m. and end at 4:30 p.m. Prices vary depending on the month, so make sure to call ahead and make reservations.
Snow Tubing
If you're not keen on skiing or you're traveling with kids, you can go snow tubing instead! I'm terrible at skiing and snowboarding, so snow tubing is always one of my favorite activities to do when I'm traveling in the winter! Snow King Resort and Grand Targhee (mentioned earlier) are the top places for snow tubing in Jackson Hole.
I recommend Snow King Resort though as it's much closer to downtown Jackson Hole and gives you easier access to other activities once you're done tubing. You can purchase one-day passes for the whole family which gives you unlimited access to all the snow tubing courses. 
Snow King Resort is located at 402 E Snow King Ave, Jackson, WY 83001, United States. Tubing is open Friday through Sunday but only during December to mid-March. It's 20 per hour per tube. 
Horseback Riding
If you're in Jackson Hole during the summertime, you should schedule a horseback riding tour. Since Jackson Hole is covered in the unexplored wilderness, riding a horse is one of the best ways to enjoy more terrain and see more of the countryside. 
Mill Iron Ranch is one of the best places to book a ride. You can choose from a 2-hour tour, a half-day tour, or a full-day tour. If you want to see some of the famous Jackson Hole elk, book the full-day tour. It will take you to the Hoback and Granite area where there are always herds of elk and their babies.
The 2 hour and half-day tours take you into the Bridger Teton National Forest where you can get stunning views of the Snake River Canyon and the Teton Mountain Range.
Mill Iron Ranch is located at 3495 Horse Creek Rd, Jackson, WY 83001, United States. Trail rides are available May through September and tours start at $90 per person. Make sure to call ahead and book a reservation.
Fly Fishing
The economy in Jackson Hole runs on fishing. Fly fishing is a great way to spend the day outdoors and meet a local or two who is doing the same thing.
If you have been fly fishing before and have your own equipment, there are several areas you can go by yourself. The most popular areas for fly fishing are at Snake River, Buffalo River, and Hoback River.
If you have never been fly fishing and want a guide to help you, there are many companies in the area where you can book with a knowledgeable guide. Triangle X Ranch Fly Fishing is one of the most popular guides as you will be able to float down the beautiful Snake River inside Grand Teton National Park. They offer short 4 hour trips or full-day excursions.
Triangle X Ranch Fly Fishing is located at 2 Triangle X Ranch Rd, Moose, WY 83012, United States. Fly Fishing usually begins around 8 a.m. and requires advanced reservations. Prices start at $550 for half-day trips. 
National Museum of Wildlife Art
If you need a break from outdoor activities while in Jackson Hole, make sure to check out the National Museum of Wildlife Art. There are over 5,000 works of art depicting wildlife found in Jackson Hole and the nearby national parks.
Visiting the museum is a great way to learn about the animals and culture around Jackson Hole.
They also have rotating featured exhibits throughout the year. Make sure to check the calendar of events while you're in the area as they also have art festivals and yoga events.
The National Museum of Wildlife Art is located at 2820 Rungius Rd, Jackson, WY 83001, United States. They're open from 10 a.m. to 5 p.m. every day. Tickets start at $17. 
Go Shopping in Downtown Jackson Hole
You're probably visiting downtown Jackson Hole for nightly dining and entertainment, but you should also carve out some time to go shopping, too. They have specialty stores for art and souvenirs, as well as boutique shopping for clothes.
Art galleries can also be found downtown where you can just gaze at the paintings. Or,  buy one to bring home to remember your vacation. Other favorites are Western gifts or classic Western apparel to bring home. 
Once you're done shopping, you can visit one of the many quiet cafes to grab a dessert and coffee. Downtown Jackson Hole is not very large, so you can easily park the car and walk around to all the different places you want to visit.
How to Get to Jackson Hole
The easiest way to get to Jackson Hole is to fly into Jackson Hole Airport (JAC). It's located inside Grand Teton National Park.
At the airport, you can rent a car to drive yourself around. JAC only serves domestic airlines from about 15 cities though. If you are flying internationally, the airport closest to Jackson Hole is Salt Lake City in Utah. You will then need to rent a car and drive about four hours to Jackson Hole, or connect to JAC. 
How to Get Around Jackson Hole
Many people choose to rent cars when in Jackson Hole. Though, there are still plenty of options for getting around if you don't want to drive.
Southern Teton Area Rapid Transport (START) has a bus service that takes you to all the major points around the city including restaurants and hotels. 
You can use taxis or order an Uber or Lyft. If you feel like being a little more active, you can also rent bikes and ride around the city.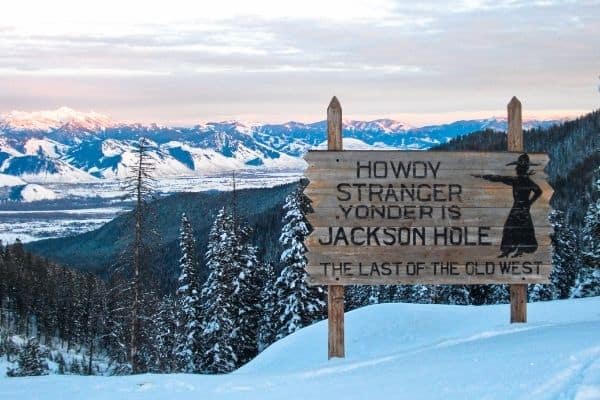 When to Visit Jackson Hole
If you're visiting Jackson Hole to go skiing, you will obviously want to go in the winter months. Christmas and New Year's will be busy times though and the resort fees are usually higher during this time.
The weather can get very cold in the winter and gets stifling hot in the summertime. To avoid extreme weather, you should visit Jackson Hole in April or May or September or October.
Best Places to Stay in Jackson Hole
Budget: Elk Refuge Inn has great basic rooms with nice views. It's only 2 miles from downtown, so you can easily get to all the best shops and restaurants. All the rooms have a balcony where you can enjoy the views. You can also book a suite with full kitchens and separate living areas.
Mid-range: Spring Creek Inn is only 14 miles from Grand Teton National Park. They also offer free parking and free airport shuttles. Almost every room has stunning views of the mountains. If you're there in the winter, you can cozy up by the fireplaces and take advantage of the warm beverage bar. In the summer, you can use the outdoor pool or play a game of tennis.
Luxury: The Wort Hotel is only a 2-minute walk from the downtown area. You can choose from a rustic-decorated room or a western-themed suite. There is a bar with live entertainment and a restaurant on-site as well as a gym. 
There are also lots of options for camping in Jackson Hole. You can check this page for all the best camping spots.
Best Restaurants in Jackson Hole
Here are the best places for dining in Jackson Hole!
Million Dollar is a cowboy bar in Jackson Hole. The whole bar is cowboy-themed with fun artifacts, dancing, and live entertainment. Along with cocktails and great draft beer, they also have bar food and a separate steakhouse to choose from depending on what you're in the mood for.
Gun Barrel is has been consistently voted one of the best places in Jackson Hole. They specialize in all types of games, including some more exotic choices like buffalo and venison. They also have unique cocktails and fresh vegetables to go along with your meat choice. 
Cafe Genevieve is a restaurant in a cute and cozy log cabin. The patio is pet-friendly so bring your furry friend along. Enjoy some American classic food and beer or spirits. I recommend going for brunch so you can get the authentic chicken and waffles or the grits and eggs special.
The Best Things to Do in Jackson Hole Are Waiting For You!
No matter when you're visiting Jackson Hole, there are tons of opportunities for outdoor and indoor activities to keep you busy. Jackson Hole is definitely an adventure town no matter what month you're visiting.
During the winter months, you can hit the ski slopes or go snow tubing with the whole family. The summer months can also be spent outdoors fly fishing, kayaking, or just walking around downtown Jackson Hole to see the best shops and cafes. 
There are so many fun things to do in Jackson Hole! Are you ready to book your trip?
You Might Also Like
Like it? Pin it!