The 26 Best Hikes in the US
One of the best ways to see some of the most gorgeous areas in the United States is on hiking trails. You'll find trails everywhere—national parks, state parks, and other areas worth checking out.
With so many great places to choose from, it can be tough to decide. Here are the best hikes in the US recommended by hiking lovers. You'll find a range of difficulties for hikes located all over the country, in alphabetical order by state. So, continue reading to find the perfect hike(s) for you!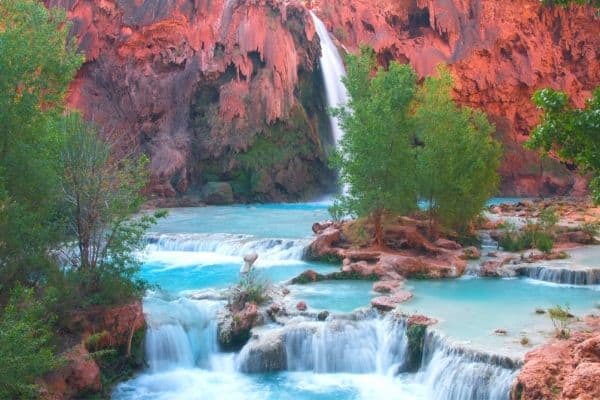 Some links in this article may be affiliate links, which means that if you purchase through them, I receive a small commission. This will never cost you extra, and I appreciate your support!
Bright Angel Trail, Grand Canyon National Park, Arizona
The Bright Angel Trail is the most famous trail in the Grand Canyon. It runs from the Grand Canyon's south rim all the way down to the Colorado River at the bottom of the canyon. The total distance is 9.9 miles each way. With an elevation change of 4,390 feet and four steep switchbacks, this is a very strenuous hike.
There are a few different options for hiking in this area. You can hike down and back up the same trail. You hike down Bright Angel Trail and up the South Kaibab Trail (the other trail between the south rim and the canyon floor), or vice versa. Or, you can do the full rim-to-rim trail and hike up the North Kaibab Trail to the canyon's north rim.
All of these options require an overnight stay either at Phantom Ranch or a campground inside the canyon.
You May Also Like Top 25 National Parks in the US You Must See
The other—and most popular choice—is to hike part of the trail only. Indian Garden is halfway down and is the furthest you can safely go in one day. There are picnic tables, shade trees, and water there. However, you can turn back at any point before this.
No matter how far you go, you will experience being surrounded by the canyon walls and see Grand Canyon from a completely different perspective.
Be sure to take plenty of water, as it gets very hot on this trail.
Where to Stay
There are several lodging options at Grand Canyon Village on the south rim, including Bright Angel Lodge, right next to the trailhead. There are also several accommodations available in nearby Tusayan. The Grand Hotel is a good choice there.
Other Things in the Area
In addition to this epic hike, you can spend several days exploring the south rim. This includes easy hikes along the rim, catching the shuttle or cycling to various viewpoints, and taking a mule ride.
From James Ian of Parks Collecting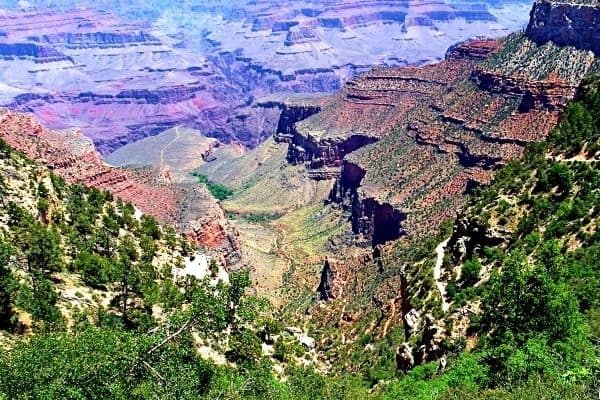 Havasupai Falls Hike, Havasu Canyon, Arizona
One of the most epic hikes in Arizona is the Havasupai Falls Hike. It's located in northwestern Arizona, not far from the Grand Canyon as the crow flies. However, it's in a very remote area and takes several hours to get to it from the Grand Canyon, or Flagstaff, the nearest city.
This hike is on Native American lands. the Havasupai Tribe, "people of the blue-green waters" are charged with protecting this sacred land. You are allowed to visit with their permission and must purchase a permit to do this hike. They are not easy to get, but this hike is well worth the effort.
The ten-mile hike into Havasu Canyon starts at the Hualapai Hilltop Trailhead. You'll hike down steep switchbacks into the canyon, then walk on mostly level terrain in the silty riverbed for a total of 8 miles until you reach the Supai Village. Here, you can purchase any last-minute supplies and fill up your water.
It's another two miles to the campground. You'll pass the New Navajo Falls and Fifty Foot Falls for a teaser of the stunning area to come. Once you arrive in the campground, you'll see the stunning 100-foot high Havasu Falls.
These beautiful blue-green falls pour out of striking red rock canyon walls. Mooney Falls, equally beautiful, is closeby. This area is a peaceful oasis you won't want to leave.
Nearby Hikes
If you're up for it, hike an additional few miles past Mooney Falls to Beaver Falls. They aren't as tall as Havasu or Mooney Falls, but they aren't as populated. You may even get them to yourself!
Where to Stay
Your only options for accommodation in Havasu Canyon are in the campground or the Lodge in the Supai Village. To be close to the falls, the campground is your best bet. The night before the hike, most people sleep in their car in the parking lot.
The closest hotels to the trailhead are an hour and a half away, and you are best getting an early start before temperatures heat up. If you're determined to stay in a hotel, Peach Springs is the closest town. The Grand Canyon Caverns Inn or Hualapai Lodge are your best bets.
From Sam of My Flying Leap
Yellow Rock Trail, Ozarks, Arkansas
The Ozarks are one of the largest mountain ranges between the Rockies and Appalachians in the United States. They extend into Oklahoma, Missouri, and Arkansas. This mountain range is home to lush forests, waterfalls, caves, lakes, and iconic bluff overlooks. The northwest part of Arkansas has incredible hiking trails, such as the hike to Yellow Rock Bluff in Devil's Den State Park.
The Yellow Rock Trail is a 3.1-mile loop rated as moderately difficult. The highlight is the view of the Yellow Rock Bluff and Lee Creek Valley below! It's free to enter Devil's Den State Park and use all the trails, and there is plenty of parking. Be sure to bring water and snacks.
There are restrooms at the lower trailhead near the campground but not at the upper trailhead. The area is relatively rural with limited to no cell phone reception so consider downloading offline trail maps.
The Ozarks and northwest Arkansas have some incredible places for hiking in the United States. Arkansas is home to over 50 state parks and makes for an excellent state to hike and explore!
Nearby Hikes
If you're planning to hike the Yellow Rock Trail, be sure to make time also to hike the Devil's Den Trail. (They are not connected, but the trailheads are close to each other). Devil's Den Trail is a 1.2-mile trail that takes visitors along some of the area's famous caves and rock outcroppings.
Where to Stay
Camping is available, and reservations are encouraged at Devil's Den State Park.
From Ashlee Fechino of The Happiness Function
Achenbach Trail, Theodore Roosevelt National Park, North Dakota
Tucked away in the far western corner of North Dakota, it isn't surprising that Theodore Roosevelt National Park is one of the least visited parks in the United States. But don't mistake the lack of visitors with a lack of attractions. The amazing mix of prairie and badlands provides some of the most unique and spectacular scenery anywhere in North America.
Theodore Roosevelt National Park is split into three distinct sections – north, south, and Elkhorn Ranch. The best hiking route is the Achenbach Trail. It's in the north section and features phenomenal landscapes and a wide variety of wildlife (including bison).
The full Achenbach and Buckhorn loop is 17 miles long with over 2,000 feet of elevation gain. It can either be done as a very long day hike (8-10 hours) or an overnight backcountry adventure. There is very little shade and no water so be sure to pack a hat, sunscreen, and plenty of liquids.
Nearby Hikes
There are several more excellent short hikes in the area.
Where to Stay
The closest town to the north section is Watford City. However, Medora, in the south, has a better variety of activities including museums and a fantastic golf course. Medora is a good base for exploring the area. Camping is popular but if you are looking for a bit more comfort, the AmericInn by Wyndham is a good value choice.
From Dean and Laynni of Routinely Nomadic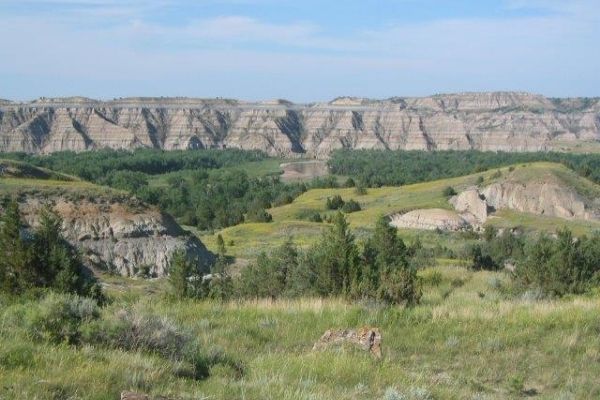 The Wave, Page, Arizona and Kanab, Utah
The Wave is an incredible sandstone formation in Coyote Buttes North. It's part of the Paria Canyon – Vermillion Cliffs Wilderness area. The 5.2-mile in-and-out hike starts in Utah at the Wire Pass Trailhead and heads over the Arizona state line.
You'll cross the desert and feel like you're in the middle of nowhere before you're rewarded with the most stunning landscape of red rock striped with ridges in a wave shape.
The wave was created by water erosion dating back to the Jurrasic period and needs to be protected from over-visitation. Because of that fact, the Wave Lottery issues only 40 permits per day, and it's highly competitive. You need to apply for a permit 4 months in advance or get lucky at the walk-in lottery.
Adults, kids, and even dogs can do this hike as long as they are moderately fit. Even though the hike is only 5 miles with 400 feet of elevation, the soft sand terrain and weather add difficulty. Lots of water, sunscreen, and GPS will help keep you safe.
Nearby Hikes
Buckskin Gulch (Utah)—Starting from the same Wirepass trailhead is a 20 mile slot canyon called Buckskin Gulch. It's an easy hike that requires only a parking pass and is perfect for those that just go a mile in or others that do a multi-day backpacking trip.
Toadstool Hoodoos (Utah)—30 minutes down the road in Utah is an easy 1 mile out-and-back hike that has the coolest "hoodoo" rock formations resembling toadstools.
Arizona – White Pocket (Arizona)—This hike is in Coyote Buttes South part of Arizona, basically further down the road from the Wave. It's an easy hike but takes an hour of challenging soft sand, 4WD driving to get there. 
Where to Stay
Best Friends Roadhouse in Kanab, UT, is great if you're traveling with a furry friend. The Wave lottery is located in Kanab, so it's a convenient place to stay. LaQuinta by Wyndham is new, clean, and well located. For those that camp, Stateline Campground is close by.
Other Things in the Area
Moqui Caverns (Kanab) are Native American caves, often featured in Instagram photos, that are worth a visit. 
Coral Pink Sand Dunes are close to Kanab and a fun half day trip to run around or ride ATVs on the dunes.
From Jen of The Evolista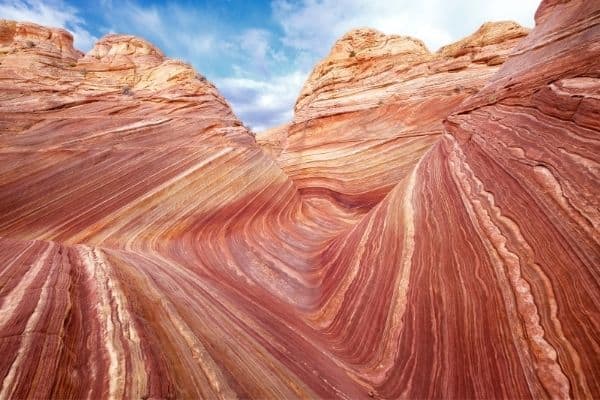 Congress Trail, Sequoia National Park, California
The Congress Trail in Sequoia National Park isn't very long and not particularly difficult. But, what makes it one of the best places for hiking in the United States is the natural history you'll see along the way. This is home to some of the oldest and largest Sequoia Trees in the world.
The trail starts at the General Sherman Tree which is 275 feet tall and 36 in diameter. In fact, it's the largest Sequoia in the world by volume. Along the 3-mile trail, you'll find groupings of other trees including The Senate and The House.
Toward the end of the trail, look for the Room Tree and climb inside. Due to damage from a forest fire, a large portion of this tree's trunk is hollow, making it appear like a small room. If you're visiting in the winter, don't skip this trail, Sequoia National Park in the winter is simply gorgeous after a snowfall, and snowshoeing is a great alternate activity.
With just 230 feet of elevation gain, The Congress Trail is considered easy. There is a small parking lot at the trailhead, but this is a popular destination in the park, so arrive early to claim your spot. Restrooms are available.
Nearby Hikes
Crescent Meadow is an easy 2-mile hike through a scenic, grassy meadow. Along the way, you'll see Tharp's Log, a single sequoia log cabin built by miner Hale Tharp in 1861. This is an ideal trail for families.
Tokopah Falls is a moderate 4.2-mile round trip trail to a gorgeous 1200-foot waterfall. The elevation gain is 630 feet.
Where to Stay

If you want to camp, Sequoia National Park offers 14 campgrounds. Some are open only in the summer, while a few remain open year-round. The city of Visalia, about an hour outside the park, offers several hotels including a Marriott and the historic, art-deco, Darling Hotel.
Other Things to do in the Area
After your hike, be sure to check out the view from the top of Moro Rock, explore Crystal Cave, or learn more about the area's ecology at the Giant Forest Museum.
From Wendy of Empty Nesters Hit the Road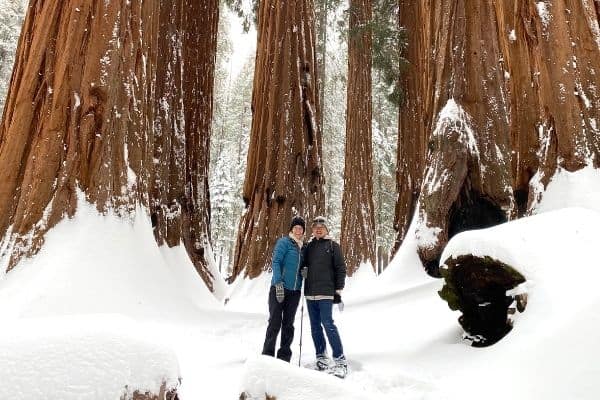 Mist Trail, Yosemite National Park, California
Yosemite National Park is one of the most popular national parks in California. It's known for its beautiful hikes with views of waterfalls and granite rock formations. The Mist Trail is a wonderful trail to catch a glimpse of the park's beauty.
The out-and-back Mist Trail is 7 miles long. It starts in Yosemite Valley and takes you past two waterfalls including Vernal Falls, and to the top of Nevada Falls. The hike is not for the faint of heart and it's considered strenuous in part due to the 2,900 feet in elevation gain.
Spring is the best time for this hike as the waterfalls are usually gushing. By late summer and early fall, the waterfalls are still beautiful though much less impressive. Due to the granite rocks, the trail can get a bit slippery especially with the waterfall spray. Be sure to wear shoes with good grip and consider bringing trekking poles.
Nearby Hikes
For a shorter, less intense hike, try hiking only to Vernal Falls. This will make the hike 3 miles round trip. For avid hikers, double the hike by continuing past Nevada Falls and up Half Dome.
Where to Stay
The historic and upscale Ahwahnee Hotel is one of the best-known national park lodges. It was designed to highlight its natural surroundings, making it a picturesque and beautiful place to stay in Yosemite.
From Constance of The Adventures of Panda Bear
Christian Point Trail, Everglades National Park, Florida
It goes without saying that a landscape as beautiful and diverse as Everglades National Park makes the perfect scenery for an unforgettable hike. With a length of 4.3 miles (6.9 kilometers), the Christian Point Trail is one of the park's most challenging but also most beautiful hiking trails. Make sure to strap on your best pair of hiking shoes, when taking this trail!
Departing from Flamingo Campground, this trail will lead you through mangrove forests, prairies, and a buttonwood forest. You will encounter tons of stunning tropical trees and other beautiful flora.
However, be aware that it can get very hot during the day. Make sure to bring enough water, apply sunscreen, and wear clothing that will protect you from both the sun and bugs.
You May Also Like The National Parks of Florida & Why to Visit
Nearby Hikes
No experience Hiking? Do not worry! There are plenty of other exciting hikes nearby. These include the Anhinga and Gumbo Limbo Trails, which are easier.
Other Things to do in the Area
Make sure to explore more of the park once you are done hiking. Take a narrated boat tour. Or go cycling, kayaking, or canoeing to explore more of the park's beautiful landscape.
Where to Stay
To fully experience the park's beauty, camp at one of the park's beautiful camping sites.
In need of more luxury? Head to one of Everglades National Park's neighboring cities. The Hilton Garden Inn in Homestead or the Everglades Adventures Hotel in Everglades City are some great hotel options.
From Stéphanie of Bey Of Travel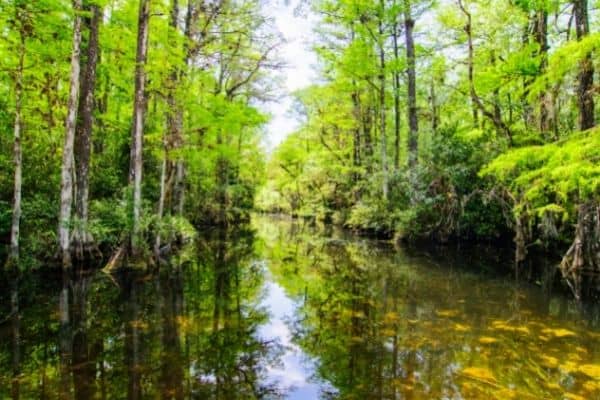 Diamond Head Summit Trail, Oahu, Hawaii
If you're looking for the best places for hiking in the US, then Oahu needs to be on your list! The Diamond Head (Le'ahi) Summit Trail is an unforgettable hike within the tropical paradise of Hawaii.
Located just south of Waikiki Beach, Diamond Head is an icon for Hawaii. Hiking to the top of Diamond Head provides incredible, sapphire blues of the ocean and a great view of Waikiki Beach and the Oahu skyline.
The trail is 1.8 miles round trip and is rated as moderate. The average time to completion is 1 to 1.5 hours. Although Oahu is a tropical island full of beaches, it's best not to hike this in flip-flops. Athletic shoes or hiking shoes are recommended. The terrain is a mix of dirt, rock, and paved steps.
This is one of the most popular trails on Oahu so it gets busy. Arrive by 8 a.m. or after 2 p.m. to get a parking spot. Bring plenty of water as there's no shade during this hike.
Nearby Hikes
Other easy Oahu hikes include the Crouching Lion Hike, Lanikai Pillbox Hike, and the Makapu'u Point Lighthouse Trail.
Where to Stay
Oahu is a relatively small island, but traffic can be intense. Staying in the nearby Waikiki area would put you really close to the trail. Alternatively, the North Shore of Oahu has the more laid-back island style you might expect in Hawaii.
Other Things to do in the Area
While on Oahu, be sure to visit Pearl Harbor, the Polynesian Culture Center, and the Dole Plantation.
From Nikki of She Saves She Travels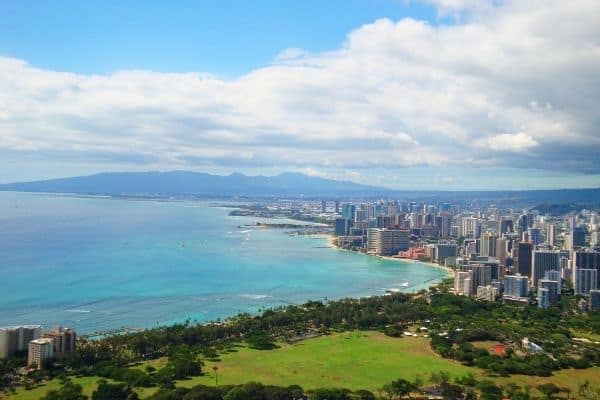 Kalalau Trail, Kauai, Hawaii
The Kalalau Trail is located on the Napali Coast on the Island of Kauai. This trail to Hanakapi'ai Falls is an 8-mile round trip hike. It's rated difficult, however, when the trail is dry, it's more of a moderate hike.
This hike is unique because it's one of only three ways to see the Napali Coast. The other ways to see the coast are by boat or helicopter. All of these ways provide a different type of experience of the Napali Coast.
The entrance to this trail starts at Ke'e Beach. During the first two miles of the trail, you will be rewarded with amazing Na Pali Coast views and the beautiful and secluded Hanakapi'ai Beach. You will then hike inland two miles and cross several streams before reaching the Falls.
You must obtain advanced reservations at www.gohaena.com to hike any portion of this trail. Tickets can be difficult to secure, so be sure to check out my guide on how to successfully get entry tickets.
There is no cell service on the trail and you will need plenty of water and snacks as this will take you anywhere from 4-6 hours. Bring or wear your bathing suit as you will definitely want to swim in the falls when you arrive!
Nearby Hikes
For a shorter hike option, you can hike to Hanakapi'ai Beach for a 4-mile roundtrip. If you are looking for something more challenging, hike the entire 11-mile Kalalau Trail.
Where to Stay
Staying in Princeville, Kauai would be the ideal location for hiking this trail. The Westin Princeville Ocean Resort Villas is a great place to stay. If you're looking to camp, check out Anani Beach Park Campground.
From Melissa of Melissa's Travel Addiction
Old Man's Cave Trail, Hocking Hills State Park, Ohio
Looking for one of the best hikes in Southeastern Ohio? Visit Hocking Hills State Park and hike the must-see Old Man's Cave trail. It's one of the best hiking trails in Ohio.
Hocking Hills is the most popular state park in Ohio and it's easy to see why. From magnificent rock formations and recessed caves to breathtaking waterfalls, Hocking Hills has it all.
Hiking Old Man's Cave trail is a moderate intensity, one-way loop of either 1 or 1.5 miles, depending on where you exit. Choosing to exit at Old Man's Cave will lead you right into the heart of the cave and up some stairs for a total of one mile.
Continuing on to the Lower Falls, however, adds another half-mile to your trip. Be warned, though, that you will be climbing many flights of stairs on your way out. This ending part is not for those that get winded easily.
Hike past Upper Falls (easily the most photographed falls in all of Hocking Hills), Devil's Bathtub, and stone walkways and bridges. Enjoy the scenic beauty of all the hidden caves in the sandstone rocks.
Old Man's cave is definitely one of the best hiking trails in the US. Stop by and see why so many people find it their favorite hike.
Nearby Hikes
While you are at Hocking Hills, don't forget the other popular trails in the park such as Cedar Falls or Ash Cave.
Where to Stay
Instead of a hotel or campground, stay in one of the many independent log cabins within the Hocking Hills region. Check out VRBO and try to stay in one of the treehouse cabins if you can. Enjoy fireplaces, hot tubs, and fire rings for a truly relaxing getaway.
Other Things to do in the Area
For a change of pace, rent a pontoon boat on Lake Logan.
From Christine of Treasured Family Travels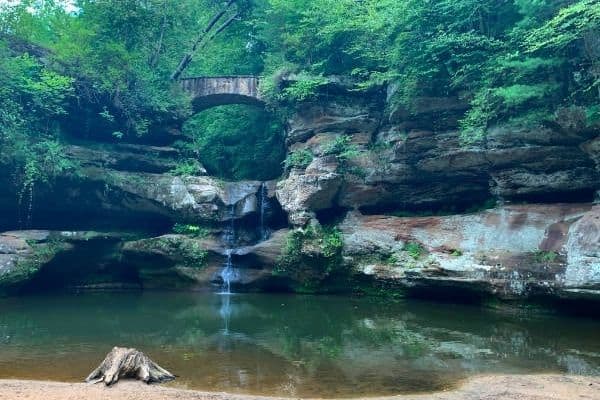 Cathedral Mountain Mesa Trail, Gloss Mountain State Park, Oklahoma
Gloss Mountain State Park is one of the most beautiful places to hike in Oklahoma. The park itself is small with only one main hiking trail, but it offers some of the best views in the state.
The hike itself is called Cathedral Mountain Mesa Trail. However, most people just refer to it as Gloss Mountain or the Gloss Mountains. The trail is 1.5 miles, with three-hundred sixty-degree views from the top of the mesa of the nearby rock formations and Lone Mountain as your reward.
The hike itself is up Cathedral Mesa. It includes 182 steps and, so it has a bit of elevation change to get to the top of the mesa. The exact elevation change is 205 feet, most of which is from the staircase. However, even with the stairs, this is an easy hike that young children can do.
There might be some accessibility issues at the top of the stairs, where you need to step on the rocks.
There are facilities at the bottom. And there are restrooms, a vending machine, picnic tables, and grills. However, there's no information stand and there's nothing at the top. So bring water and some snacks just in case you end up getting stuck at the top for longer than you anticipate.
Look out for rattlesnakes when walking the trail.
Where to Stay
Most hikers come out for the day, but you can stay nearby in Fariview or in Okeene. The Fairview Best Western is a good bet. If you want to spend time here, there are things to do in both Okeene and Fairview to enjoy in the afternoon after your hike.
From Stephanie of Oklahoma Wonders
Precipice Trail, Acadia National Park, Maine
Precipice Trail in Acadia National Park, Maine is the most exhilarating and scary-but-rewarding hike in the park. It's a 2.3-mile difficult loop hike. The word "hike" could easily be replaced by a more appropriate word: "climb."
Most of this amazing Precipice Trail hike involves climbing improvised iron-rung ladders forged into granite rock with boulder field climbs, narrow ledges traversing sideways, and sheer drop-offs behind.
Precipice Trail is one of the most adrenaline-pumping hikes you can take in the entire US national park system. Though, take time to relax and turn away from the rock face to enjoy extraordinary ocean views as you gain elevation. This trail is about conquering a unique non-technical trail, beating down any nerves, and soaking up the best of east coast hiking.
Do not attempt Precipice Trail if you have a fear of heights. Start the climb early in the morning to beat inevitable crowds and get a parking spot. If you're concerned, try Beehive first. If you enjoy the buzz, be sure to take on the amazing climb up Precipice to the summit of Champlain Mountain.
Some other fun things to do near this hike include swimming, cycling, and photography.
Nearby Hikes
Where to Stay
Stay at Balance Rock Inn, Bar Harbor Grand Hotel, or Bar Harbor Inn & Spa.
From Mark and Kristen Morgan of Where Are Those Morgans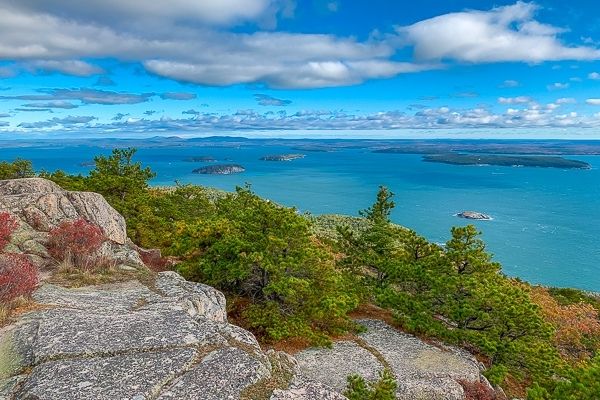 Highline Trail, Glacier National Park, Montana
Glacier National Park is known as the "Crown of the Continent," and the Highline Trail is the centerpiece gem. Over a million people hike some portion of the trail every year, and it's not hard to see why!
The total trail length clocks in at anywhere between 7-13 miles, depending on where you end your trip. But no matter how long or short you decide to make your trek, you'll be rewarded with some of the best vistas in the entire United States.
At every bend, there's another towering snow-covered peak, glimmering glacier, or expansive field of alpine flowers to ogle at. It's also one of the best locations in the park to see wildlife, with mountain goats, bighorn sheep, marmots, and even grizzly bears frequenting the trail along with the hikers.
The Highline also gives hikers a lot of bang for just a few bucks. The entire trail is relatively level, with very few uphill sections, making it doable for families and non-hikers alike. The trail offers up the majesty of Glacier National Park with very little effort on your part.
A few tips: Bring lots of water, because the trail is very exposed and can get quite hot in the summer. At the halfway mark, there's an offshoot trail that's only a mile long and goes to a glacier. The vista is incredible but it is extremely strenuous. Take that into account!
Nearby Hikes
Siyeh Pass Trail is a 10 mile, strenuous one-way hike with some of the best scenery in the park. Iceberg Lake is another 10-miler, but it's moderate and goes to a lake that has icebergs in it year-round.
Where to Stay
Lake MacDonald Lodge and Many Glacier Lodge are the only hotels inside the park, and they are often booked a year or two in advance. The best option is to find an Airbnb on the west side of the park in Kalispell or Whitefish.

Maggie from Pink Caddy Travelogue
La Madre Springs Trail, Red Rock Canyon, Nevada
Red Rock Canyon National Conservation Area is a park approximately 40 minutes drive from the Las Vegas strip. It is a simple drive mostly on the highway, has spectacular natural beauty, and offers many hiking trails.
Red Rock Canyon lies in Nevada's Mojave Desert. Accordingly, there are beautiful vistas of beige sand, green cacti, and towering red sandstone peaks next to huge brown limestone summits. Even though you are very close to Vegas, you feel hundreds of miles away from any civilization.
A lovely hike to make while there is La Madre Springs. This is a 3.6 miles moderate hike that should take around two hours. The trail ultimately takes you to a small spring where you may see wildlife and different vegetation than the mountainous surroundings. It would be best to wear hiking boots to make this hike as there is a steep ascent and descent and small loose rocks on the path.
It gets very hot early in the morning most of the year. Accordingly, don't forget to pack a hat and lots of water. If you forget, you can purchase them at the Visitor's Center near the entrance to the park. You can also get directions, use restrooms, and other help there.
Nearby Hikes
If you are looking for something more difficult, you will find that along the way. The Park also offers a booklet with a comprehensive overview of all hikes, their difficulties, and locations. You can get that at the entrance, Visitors Center, or online.
Calico Tank Trail and Ice Box Canyon Trail are two other great trails in the area.
Where to Stay
There are lots of places to stay in nearby Vegas like the Wynn Hotel. You can then combine time lounging at the pool or enjoying Vegas attractions with time spent in Red Rock Canyon. If you want to stay near the trail, check out the Red Rock Canyon Campground.
Other Things to do in the Area
There is a breathtaking 13-mile one-way scenic drive through the park which takes you to overlooks and other trailheads.
From Nicole of Go Far Grow Close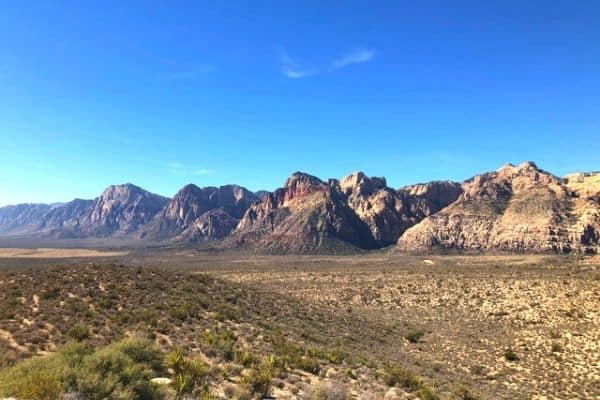 Van Hoevenberg Trail, Adirondacks, New York
Hiking to the summit of Mount Marcy, the tallest peak in the Adirondack Mountains and the state of New York, is one of the best hikes in the northeast. Trailheads can be found within 15-20 minutes of the town of Lake Placid.
This 14.6-mile hike is typically covered as an out-and-back trek via the Van Hoevenberg Trail. This is no walk in the park! You'll find yourself skipping along rocks and small boulders. The last stretch requires some scrambling up open rock faces, though no technical skills or equipment is required in the summer.
What awaits at the top is an outstanding 360-degree view of the Adirondacks. On a clear day, you will also be treated to views of the Green Mountains in Vermont and occasionally Montreal.
Arrive early at the Adirondack Loj to secure a $15 parking spot for the Van Hoevenberg Trail.
Nearby Hikes
Combine this hike with Skylight and Gray for an even more epic High Peaks adventure. Wear waterproof boots on this trail; you'll appreciate the ankle support. You may even want to pack an extra pair of socks, as the trail can be quite wet and muddy.
Where to Stay
Stay at the Courtyard by Mariott Lake Placid, only 15 minutes from the trailhead. Or, the Golden Arrow Lakeside Resort on Mirror Lake is located in the heart of Lake Placid. Another option is the North Pole Campground resort for a great experience.
Other Things in the Area
After hiking the tallest peak in New York, be sure to check out some of the sites of both the 1932 and 1980 Olympics or paddle on one of the many lakes scattered throughout the area.
From Samantha of PA on Pause
Babel Tower Trail, Linville Gorge Wilderness, North Carolina
Located in the Linville Gorge Wilderness of western North Carolina, the Babel Tower trail descends into the canyon from Old NC 105 down to the Linville River. It's one of the best hiking trails in NC.
The trail is just under 1.5 miles one-way. Once you get down to the river you can hike along the Linville Gorge Trail that meanders alongside the river.
This trail is considered strenuous because of the elevation gain coming out. Going down the canyon isn't so bad, but coming back up is a doozy.
Watch for snakes on the trail in the summer and wear good hiking shoes. There aren't any amenities near the trailhead, so pack in what you need for the day and pack everything out of course.
Nearby Hikes
You could spend a week in this area and not be able to hike all the trails nearby. If you spend a weekend in Linville Falls then be sure to hike the Plunge Basin Trail, Erwins View, and Chimney View.
These are the most popular hikes in the area but if you drive a bit further there's Conley Cove, Tablerock Trail, and Shortoff Mountain.
Where to Stay
There is dispersed camping along Old NC 105 but it is first-come-first-serve. You can also stay in a cute little hotel just down the road from the Forest Service parking lot called Linville Falls Lodge & Cottages.
Other Things to do in the Area
If you have more time in the area check out Linville Falls Winery and Linville Caverns!
From Anna of Stuck On The Go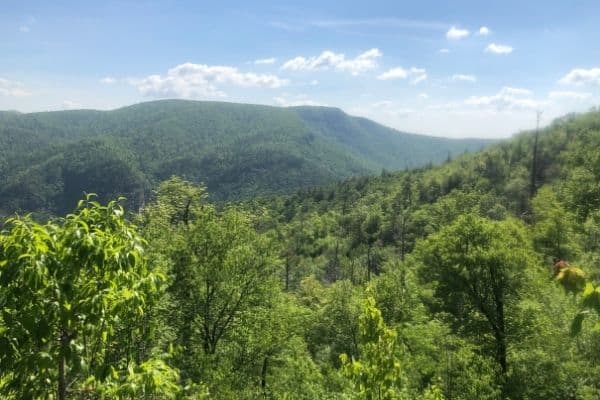 Lighthouse Trail, Palo Duro Canyon State Park, Texas
Did you know that Texas is home to the 2nd largest canyon in the United States? Do not let all the flat ground and miles of fields fool you! As you arrive in Palo Duro Canyon State Park, you will definitely think you have been transported to a different state…or planet!
Tucked away in West Texas near Amarillo, Palo Duro State Park is home to 30 miles of hiking, biking, and equestrian trails. Topping the hiking list is the Lighthouse Trail. After driving into the canyon, you can take off on this 5.8-mile hike in search of this amazing natural wonder.
The majority of the trail is flat and easy, but it gets steeper if you want to climb up to the Lighthouse. Once at the top, you can marvel at the Texas sky, the red rocks, and the amazing views!
Be sure to bring plenty of water as the Texas sun is hot no matter the time of year! It will be easy to see why The Lighthouse Trail is one of the best hikes in the United States.
Where to Stay
After your hike, you can camp, glamp, or stay in the cabins right in the state park.
Other Things to do in the Area
If you have more time, make sure to check out the zip line in the park and stop at the unique Cadillac Ranch attraction in Amarillo. Caprock Canyons State Park is also only 40 minutes away with more great hikes!
From Jordan of The Homebody Tourist
Angels Landing Trail, Zion National Park, Utah
One of the best places for hiking in the US is at Zion National Park in Utah. With over 45 difficult trails to hike, it's hard to choose just one. However, for those that like a challenge and fantastic views of the valley, there is one main hike for you: Angels Landing. It's a 1.1-mile difficult in-and-out hike.
Angels Landing is not a long hike. However, it's classed as one of the hardest due to the steepness of the climb and sheer drops up to 1,500 feet to the valley bottom.
The climb starts with an easy flat route steadily going up. The second half is like rock climbing where you have to pull yourself up with ropes and chains cared into the rough rock edges.
Once at the top, the view is truly amazing and well worth the challenge. On a clear day, you can see all the way into the valley with 360-degree views from the peak! Make some time to sit and relax at the top, where you will also see chipmunks and local little birds.
Make sure to wear suitable shoes for climbing up, and bring plenty of water and snacks for a rest stop. Only hike this route with good weather as you don't want to climb in inclement weather.
Where to Stay
There are a lot of options for places to stay in the park, in nearby Kanab, or Springdale. The Fairfield Inn & Suites Zion National Park or Holiday Inn Express in Springdale are high-rated options.
From Zoe of Together in Transit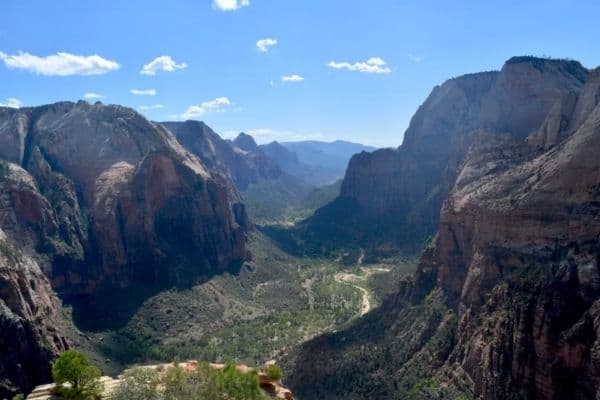 Devils Garden Trail, Arches National Park, Utah
One of the best hikes in the USA is the Devils Garden Trail, located in Arches National Park. This hike is probably one of the best ones to do in the park. It's 7.8 miles, 1,131 ft. elevation gain, and is listed as difficult.
Do not let that deter you, though, as this trail has an area for everyone. You can go as far as you want, depending on how difficult you want to make it. The farther you go, the harder it is, but you will get to view all of the seven impressive arches.
To make the trail even more strenuous, hike the whole loop. This is for more advanced hikers as the trail is not well marked, and some of the rock scramblings can be pretty sketchy.
Bring a good pair of hiking boots if you are attempting the whole loop. There are moments when you have to depend on your boot's grip not to fall. Also, if it is raining or if there is any snow, it is almost impassable.
But if you can do the whole loop, it is one of the most epic hikes in the Moab area.
Nearby Hikes
For an easy trail, hike up to Landscape Arch. This is great for families or for people that don't want to do anything too difficult.
For a moderate hike, go up to the Double O Arch. This is a fun area as you have to scramble and get on top of rocks and boulders to get to Double O Arch. You can also add Navajo Arch and Partition Arch into the mix if you want to make it a bit longer.
Where to Stay
Stay at Devils Garden Campground or Red Cliffs Lodge.
From Michelle of The Wandering Queen
Hickman Bridge Trail, Capitol Reef National Park, Utah
Capitol Reef National Park is the least visited national park in Utah. Many people end up driving through the park without spending enough time to explore it, and they are missing out! You should plan to spend two to four days in this park.
Meanwhile, Capitol Reef National Park is home to many cool hikes. While some hikes are more challenging than others, there are plenty of easy trails that are surrounded by stunning scenery. One of them is the trail that leads to Hickman Bridge.
The trailhead begins just two miles away from the Capitol Reef visitor center, and after a somewhat steeper ascent turns into a relatively flat hike in the middle of Utah red canyon country. It culminates with a cool natural arch with a large enough area underneath where you can sit down and relax in the shadow.
This is a relatively easy, 2-mile round-trip hike. For the best experience, hike to Hickman Bridge early in the morning or late in the afternoon when crowds dissipate.
Nearby Hikes
If you are looking for a more challenging hike with fewer people, consider hiking to Rim Overlook. This nearby 1.9-mile hike is relatively undiscovered and it leads to one of the most stunning overlooks in Capitol Reef National Park.
Where to Stay

After a day of hiking and exploring Capitol Reef National Park, head to Torrey. It's a small town at the west entrance of the park where you can find hotels, accommodations, and campgrounds. Check out Capitol Reef Resort in Torrey and Fruita Campground within Capitol Reef.
From Daria of The Discovery Nut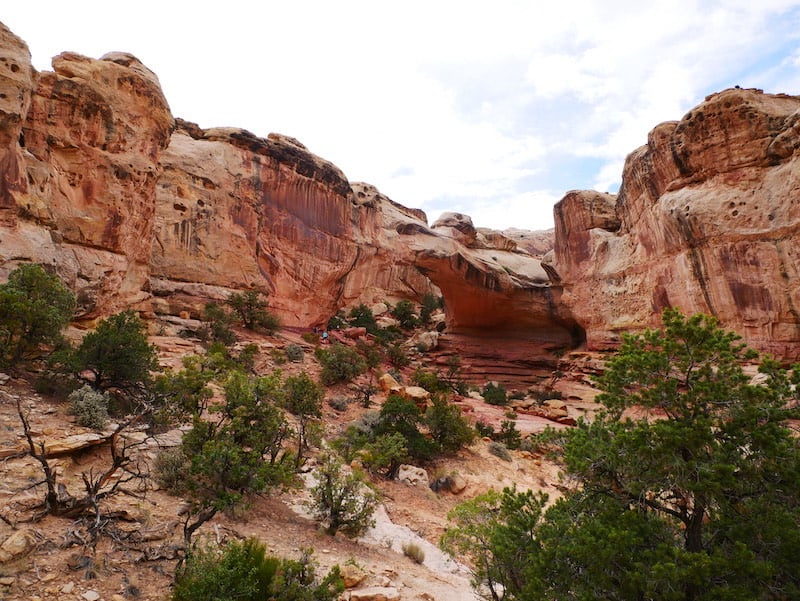 Old Rag Trail, Shenandoah National Park, Virginia

The strenuous 9.8-mile Old Rag hike at Shenandoah National Park in Virginia is a favorite national park hike. Users of the AllTrails trail-finder guide even ranked Old Rag as the most popular hike in Virginia, giving the hike an average of 4.8 out of 5 stars.
This hike is not for everyone, however. Given the elevation gain is 2,608 feet—a challenge for many hikers—it's wise to make good decisions and know your limitations. Proper footwear, a flashlight, a first-aid kit, and plenty of water are critical.
A mile of this hike is a rock scramble that requires hikers to strategize rocky passages, slide down granite surfaces and navigate tight spaces. You will, thankfully, be rewarded with spectacular 360-degree vistas when you reach the summit of Old Rag.
While most hiking trails at Shenandoah National Park are accessible from Skyline Drive, the 105-mile scenic byway that spans the length of the park, Old Rag is not one of them. This hike begins at a parking area just outside of Sperryville, leading hikers into the park from the eastern boundary.
Post-hike, grab a bite or a milkshake at Burgers N Things in Sperryville. Or, settle in with a house salad or grilled cheese sandwich on the front porch at Sperryville Trading Market & Cafe.
Nearby Hikes
The Robertson Mountain and Catlett Mountain hiking loops can also be accessed from the Old Rag parking area.
Where to Stay
For an overnight stay, Graves Mountain Farm & Lodges in Syria is a 20-minute drive (lodge, cabins, campground). Or, stay in the park at Skyland, which has rustic cabins and modern guest rooms, as well as horseback riding and rock climbing adventures.
Other Things to Do in the Area
This is such a beautiful area and there are many ways to appreciate it. Go horseback riding, enjoy scenic drives, or go kayaking. If you're feeling adventurous, you can also go rock climbing.
From Erin Gifford of Go Hike Virginia
Skyline Trail, Mount Ranier National Park, Washington
Mount Rainier National Park is an extraordinary place for hiking in the US. It's the country's 5th designated national park and covers more than 240,000 acres of forest. At its center is a snowy volcano standing 14,411 feet above sea level, which you can see looming in the distance from hours away.
There are 5 areas of Mt. Rainier National Park to visit, but Paradise and Sunrise are the most popular. Paradise got its name when pioneer James Longmire's daughter-in-law reached the flower-studded valley in the late 1800s and exclaimed, "Oh, what a paradise!" Even to this day, it's considered the most beautiful area of the park, so it should be your destination.
Paradise has a ton of hikes to choose from, but the best one is Skyline Trail. It's 5.5 miles roundtrip and gains 1,450 feet in elevation. It's considered moderate, but it has a steep 0.4-mile ascent from the parking lot of the Henry M. Jackson Visitor Center where it starts. Luckily, it flattens out and opens up to a valley with breathtaking views of the snow-capped glacier and ridges as far as the eye can see.
Nearby Hikes
Besides memory-making views, Skyline is one of the best hikes at Mount Rainier National Park because it's the main artery for many other trails. If you have time, check out:
To make the most of your trip, make sure to bring a lot of water, a hat, and sunscreen, as there is barely any tree cover on this trail. Luckily there are restrooms in the parking lot.
You'll have the best time on this hike if you get there early to avoid the crowds.
Where to Stay
To make it easier, stay at the Paradise Inn that you can see from the trail entrance. It's historic and minimalist, so if you want amenities like the internet check out the more luxurious Stormking Cabins & Spa 40 minutes away.
From Adria of The Emerald Palate
Eagle Trail, Peninsula State Park, Wisconsin
Visiting Door County is a treat for hiking. Its beauty shines on the foot. Hiking there can be adventurous and challenging. Taking a trip to Door County is experiencing the best hiking in Wisconsin. There are many state parks in Wisconsin but there are about 5 state parks around Door County to offer the best hiking trails.
One of the most popular ones is the Eagle Trail in Door County. It is the king among hundreds of hiking trails like 5 state parks, Ice Age National Trail, Toft's point, and other natural scenes. The trail is situated at Peninsula State Park in Fish Creek, Door County.
The best place for fall colors in Wisconsin with scenic views makes this trail a great place to hike. It is a 2.5-mile-long hike and is moderately difficult because there are uneven surfaces throughout the hike.
Eagle Trail is heavily traveled during the peak season as it is one of the most popular trails in WI. Plus it may be too congested for trail running. Therefore, try to visit during the off-season in the winter.
Other things to explore around include lighthouses, Belgian Chapels, cherries, wine, and scenic attractions.
Nearby Hikes
Other recommended hiking trails around are Red Trail, Thordarson Loop, Europe Bay Trail, and Tower Trail.
Where to Stay
Travelers can stay in Sturgeon Bay at Beach Harbour Resort for a delightful experience.
From Paulina of Paulina on the Road
Delta Lake Hike, Grand Teton National Park, Wyoming
It should come as no surprise that one of the best places to hike in the United States is the beloved Grand Teton National Park. It's in Jackson, Wyoming, with some absolutely stellar trails, like the Delta Lake hike. It's one of the most beautiful hikes in the US.
The hike, along a partially unmaintained trail, traverses fields of wildflowers, overlooks a deep blue lake. After a tough scramble up a mountainside, it leads you to a stunning Robin's egg blue alpine lake, set at the base of a craggy mountain.
You'll see absolutely epic views along the 8.1-mile out-and-back trail, but rest assured, you'll have to work for it! The hike is tough. Given that part of it is along an unmaintained trail, you'll need to have some basic trail-finding skills (i.e., following cairns across boulder fields) and hike your way up an incredibly steep gulch.
It isn't recommended to hike this trail if it's snowy or icy or if you're afraid of heights- remember, it's always more challenging to come down than up!
Nearby Hikes
If you've somehow got a couple of miles left in you after your climb to Delta Lake, consider hiking the nearby Bradley Lake Trail (that deep blue lake you passed). It's a 5.1-mile moderate hike. Or check out the String Lake Hike, a 4.4-mile hike around a crystal-clear green lake. (On a hot day, there's nothing better than jumping in the cool waters!)
Where to Stay
While you're visiting Grand Teton, consider staying in the charming town of Jackson. The Cowboy Village Resort is a great option.
From Jessica Schmit of Uprooted Traveler
Which Of The Best Hikes in the US Will You Choose?
Hopefully, this didn't make it too challenging for you to find the perfect hike for you with so many options! Every state has amazing options to enjoy its natural beauty. It'll be tough to choose from the best hiking places in the USA.
Which will you decide for your first hike? Are any already your favorites?
You Might Also Like
Like it? Pin it!