Rome in a Weekend—How to See All of the Top Sites
If you want to see the top highlights of Rome in a weekend, it's going to be a jam-packed weekend. Plan to do a lot of walking on this tour! You'll be rewarded with an itinerary that checks off the boxes of the top highlights in this historic and beautiful city.
Even with a city as large as Rome and with so many amazing things to do, it's very possible to see the very best this incredible city has to offer in just a weekend. Here's how in this detailed two-day Rome itinerary.
This post may contain affiliate links, which means I'll receive a commission if you purchase through my links, at no extra cost to you. Please read full disclosure for more information.
2-Day Rome in a Weekend Itinerary
If you're going to see Rome in a weekend, you need to make your time count. There's a lot of amazing things to do in the Eternal City. This 2-day Rome itinerary is a "best of" list of the top attractions.
If you somehow find yourself with extra time and energy, there are some other places in the area worth seeing. Those will be included at the end of day two as extras. (Hint: click this link to jump down to this section to see what's included.)
You can swap out sites that are more interesting to you, fit more in, or ideally, add a day! You can easily fill it, creating an incredible long weekend in Rome.
If you're trying to maximize two days in Rome, here's how to do it.
Day 1
St. Peter's Basilica
Vatican Museum
Piazza Navonna
Spanish Steps
Trevi Fountain
Day 2
Colosseum
Roman Forum
Jewish Ghetto
Trastevere
Day 1: Vatican and Nearby Highlights
On your first day in Rome, you'll visit the famed Vatican City. Though it's often considered part of Rome (and geographically, it is), it's actually a separate city-state ruled by the Holy See.
It's a highlight of day 1 in Rome, but not the only amazing thing you'll see.
St. Peter's Basilica (Basilica Papale di San Pietro in Vaticano)
The magnificent dome of St. Peter's Basilica towers over Rome and is a highlight of any visit. St. Peter's Basilica is a Baroque church built during much of the 1500s and completed in 1626. It's the largest church in the world.
This is actually the second church built on this site. The first was built by Constantine in the 4th century over the site of St. Peter's tomb, one of Jesus' apostles.
It's considered one of the holiest Catholic shrines and is viewed as "the greatest of all churches of Christendom." At the entrance, you will see the apostles Paul and Peter depicted with a sword and keys respectively. Jesus is positioned above the door in the center, blessing all who enter.
The construction of this building includes stones from ancient Roman buildings (like the Colosseum). Look for the Jubilee Door, which is only opened every 25 years. Notice the brightly garbed Swiss Guard, that protects the Pope. This is a special place you won't want to miss.
St. Peter's Basilica Artworks
There is a magnificent gate where you enter, with one of the images representing St. Peter handing over the keys to the Pope. There are many magnificent artworks inside, and even the walls and floors are magnificent works of art.
Michelangelo's "La Pietà," which he did at only 23 years of age, represents accepting the will of God. The Papal Altar, designed by Bernini, and the accents above it, designed for Francesco Borromini, is a central point in the church. And there are many magnificent paintings and sculptures around this massive hall.
You'll also see a large statue of St. Peter by artist Arnolfo di Cambio, built over 800 years ago. One of his feet is shiny and word down by visitors touching it offering prayers and asking for blessings from St. Peter.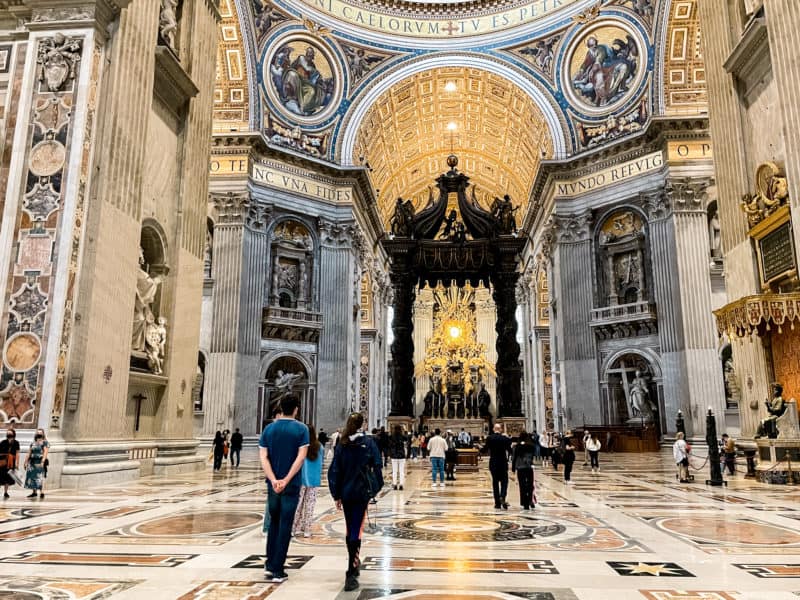 St. Peter's Square
Many people head directly to the Vatican Museum, and skipping St. Peter's Basilica and Square would be a mistake. Take time to wander around the square to take in the incredible views. The 284 travertine columns and statues perched above are striking. They form a perfect ellipse around the square.
In the center of the square is a 3,000-year-old obelisk, one of the oldest items in Rome from Egypt. On top, the triumph of Christianity over history is depicted.
There's a large, dark statue near one set of columns called "Angels Unaware," by Canadian artist Timothy P. Schmarz. This monument was commissioned by Pope Francis. It depicts migrants fleeing situations like the Syrian civil war and Nazi Germany.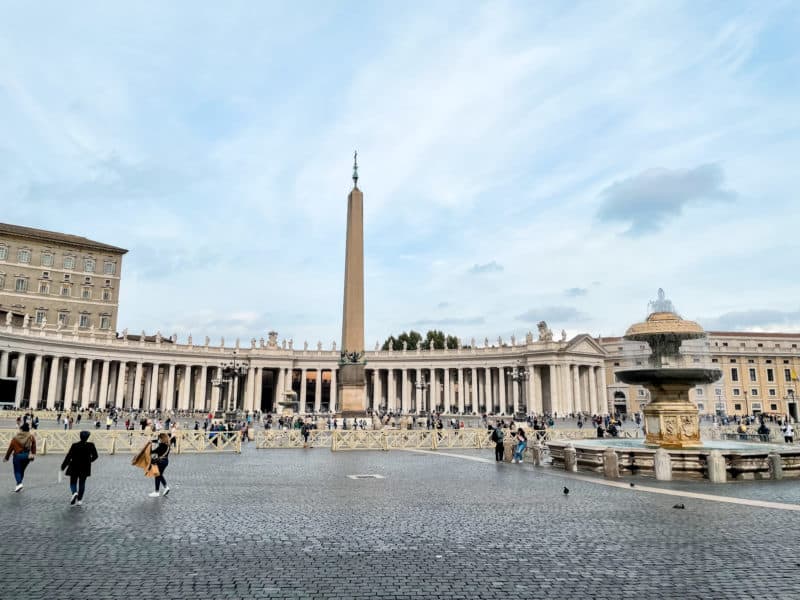 Vatican Museums (Musei Vaticani)
Take a short 10-minute walk to the Vatican Museum, which is actually a group of museums. They hold an extensive collection of art gathered by Popes over the centuries.
There are some incredible works of art housed in these museums. Some of the most amazing sculptures you'll see are in the Palace of the Belvedere.
You'll find some incredible sculptures like Perseus holding the head of Medusa and the Apollo of Belvedere statue. One of the most magnificent is of Laocoön and His Sons. He was a Trojan priest being attacked by sea serpents after attempting to expose the lie of the Trojan Horse.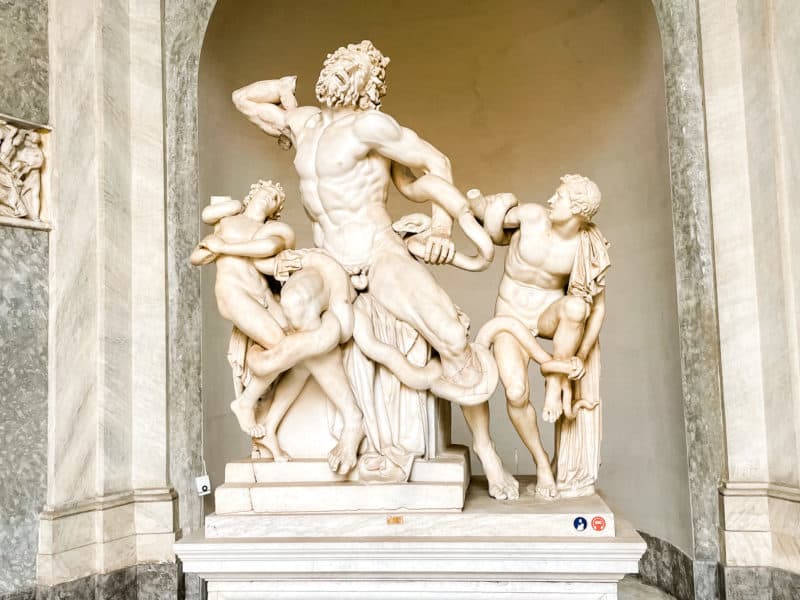 There is a magnificent map room filled with painted maps of what the world was believed to look like at the time. And there's a tapestry room with exquisite hangings depicting scenes from the Bible and history. Look for the tapestry where Jesus' eyes seem to follow you as you walk, shifting in both directions.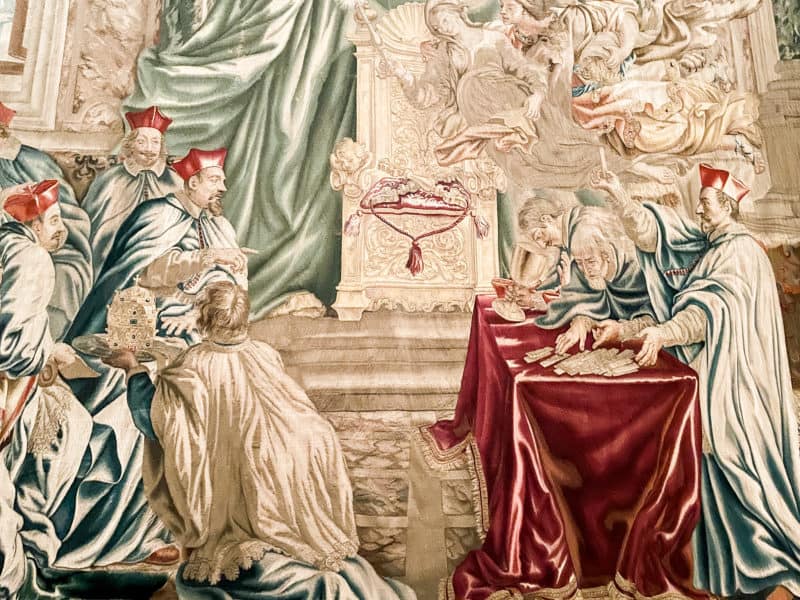 You'll see a magnificent statue of Hercules and some incredible objects from around Rome. You'll also see items from Egypt including statues and a sarcophagus. And look up, as many of the hallways have incredibly ornate ceilings. Before you leave, check out the Momo Staircase.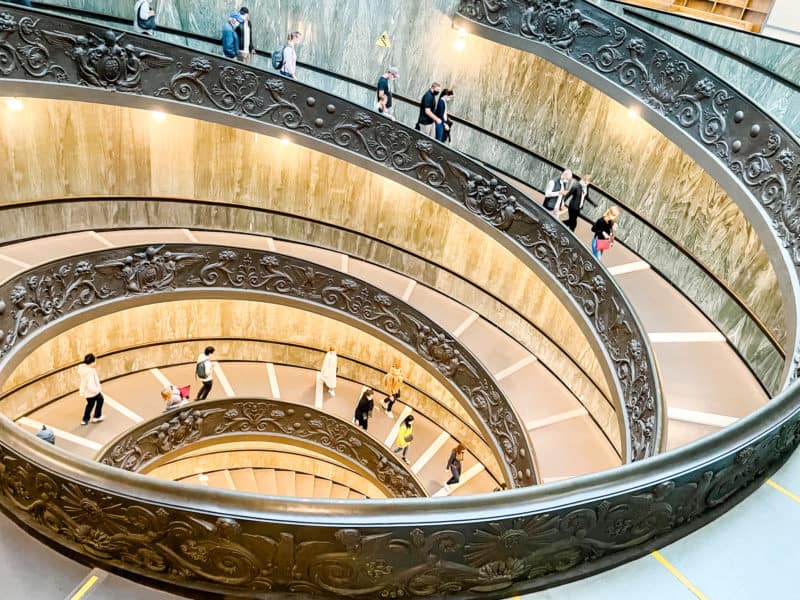 But, the highlight, and what you will not want to miss is the incredible Sistine Chapel.
Sistine Chapel (Cappella Sistina)
Named after Pope Sisto, the Sistine Chapel was actually built to be a private chapel for the Popes of Rome. It was never intended for the people. Famed artist Michelangelo painted the ceiling in his mid-30s at the request of Pope Julius, from 1508 to 1512. As the story goes, he didn't want to take this project, but how do you say no to a Pope?
There are 300 figures painted on the ceiling. They look like they are fighting for space and almost appear three-dimensional. The images were intended to capture the inner restlessness of creation, and that's the impression you get while viewing it. There are many biblical characters from the old testament as well as the new.
This magnificent ceiling was painted from 1508 to 1512. Unfortunately, pictures and video are not allowed in the Sistine Chapel, and it's thoroughly policed.
The walls are covered with Renaissance art from Sandro Botticelli and others. Botticelli contributed 3 large frescoes, including the life of Moses and Jesus. There are also portraits of some of the Popes on the walls, which were done before the ceiling.
Raphael Rooms (Stanze di Raffaelo)
Another popular place to visit is the four Raphael Rooms, a suite of rooms with frescoes painted by the artist, Rafael. The rooms, also called Stanze, were originally designed as a suite of apartments for Pope Julius II.
Only two rooms were completed when Pope Julius died. But his successor, Pope Leo X, continued with the construction. Rafael actually died before they were completed, and his assistants completed the work.
These rooms are stunning and well worth seeing. However, it does take around 45 minutes. I saw these on a previous visit and chose to skip them on my limited weekend in Rome.
If you'd rather tour on your own, consider skip-the-line tickets for quicker access. You'll be grateful you did!
The Vatican Museums are located at 00120 Città del Vaticano. It costs 17 Euros to visit (around $19.25 USD). There is often a free day to visit on the last Sunday of every month. the Vatican Museums are open from 8:30 to 6:30 Monday to Thursday and from 8:30 to 10:30 on Friday and Saturday.
Piazza Navona
Cross the Tiber River to see the next spot on this tour. Piazza Navona is a large square in Rome and a popular visit for a number of reasons. You'll notice it's built in an elongated oval and it's the shape of an Olympic stadium.
In fact, it was an Olympic stadium, and the only one by the Romans called the Stadium of Domitian, built in the 1st century AD. You can actually see a piece of the original wall remaining.
What this square is probably best known for are the stunning fountains designed. Gian Lorenzo Bernini designed the Fountain of Four Rivers (Fontana dei Quattro Fiumi), which stands in the center of the piazza. It's topped by the Obelisk of Domitian, which consists of materials from Egypt. However, it was not made there.
Our guide told us an interesting story about the rivalry of Bernini and Francesco Borromini, who designed the church, Sant'Agnese in Agone, facing this fountain. If you look at the fountain, you'll see a man raising his hand at the church—perhaps portraying what Bernini thought of his rival. (On the right of the image below).
There are also other fountains including the Fontana del Moro by Giacomo della Porta. The Fountain of Neptune was also created by della Porta.
Piazza Navona is located here on a map.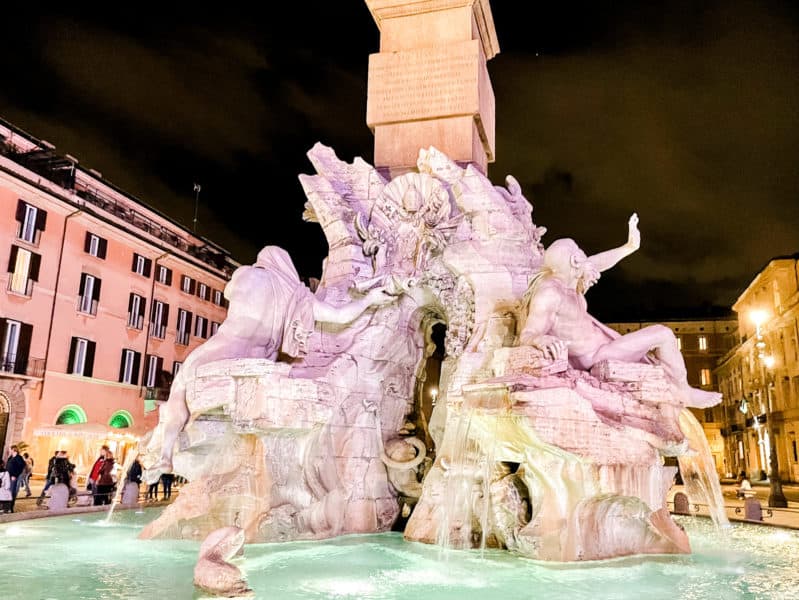 Pantheon
The Pantheon is one of the iconic Roman buildings on most must-see lists. It's one of the best-preserved of all ancient Roman buildings and worth visiting. It is popular, and if you want to go inside, plan to wait in line for quite a while, even with an online booking. Even the outside is worth seeing, though.
It was first built in 27 BC by Agrippa and it was later rebuilt in 125 AD by Hadrian after it burned down. You can see the dedication to Agrippa at the top. It was originally dedicated to the "pagan gods" and was rededicated and transformed into a church.
An interesting fact about the Pantheon is that there's a hole in the top to let rain through. The rain then drains through the 22 holes in the floor.
In the square in front of the Pantheon is an obelisk from Egypt. Another point of interest on a wall just outside the Pantheon is that it marks the flood level from 1870. The Tiber River occasionally flooded and would drain into this area, leaving several meters of water (10+ feet).
If you have the time to spend, check out this Pantheon tour.
The Pantheon is located at Piazza della Rotonda, 00186 Roma RM, Italy. It's open from 9 to 7, though the last admittance is at 6:30.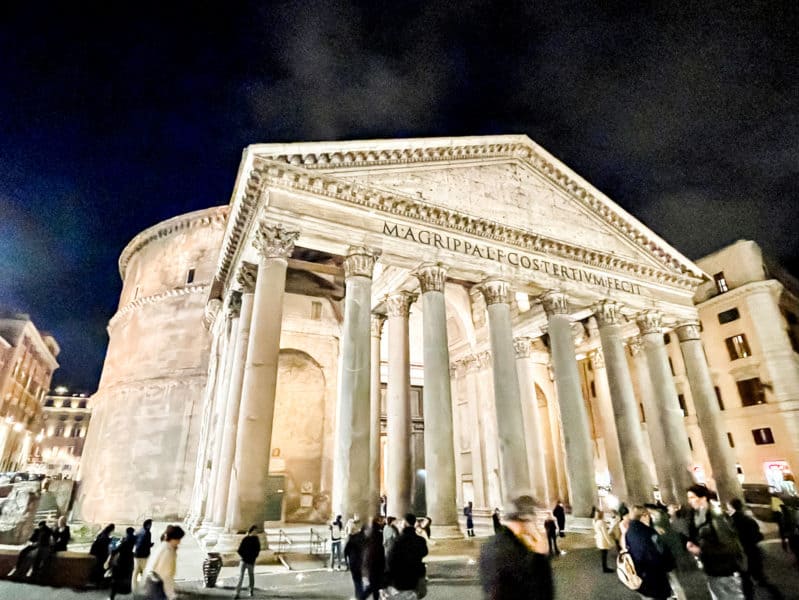 Spanish Steps (Piazza di Spagna)
The Spanish Steps, and the Trinità dei Monti Church at the top of the steps, are another popular place to visit. In truth, I'm honestly not sure why this is a top spot, though it's very close to many of the other must-see attractions so it's worth a quick stop.
There are 135 steps to the top. It's a popular spot for tourists to congregate and some locals as well. At the base of the steps, you'll find the Fountain of the Longboat. It's attributed to Pietro Bernini, the father of famed Gian Lorenzo Bernini. Though, they may have collaborated.
The Spanish Steps are located here on a map.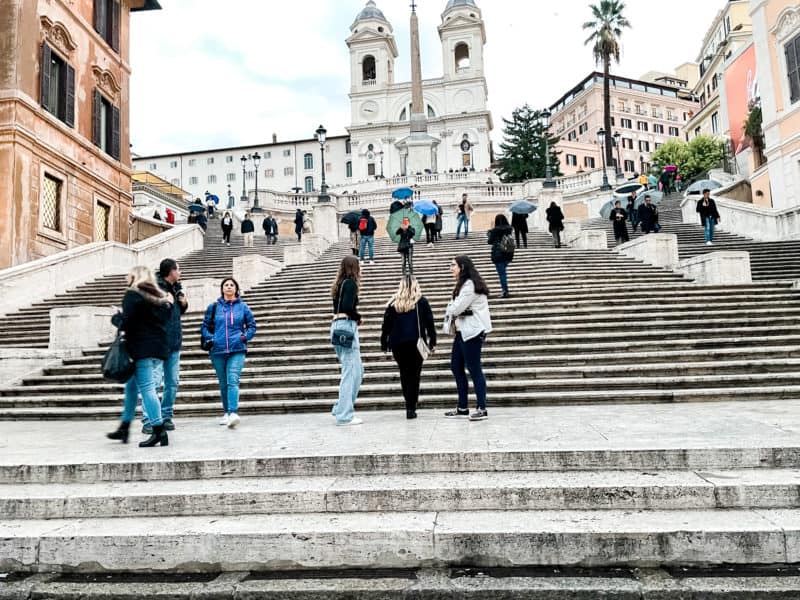 Trevi Fountain (Antica Fontana di Trevi)
One of the most famous, and certainly the most beautiful, places to visit in all of Rome is the Trevi Fountain. Designed by Nicola Salvi, this is the largest Baroque fountain in the city and one of the most famous in the entire world. You cannot do Rome in a weekend and skip this magnificent place.
The fountain of the Aqueduct of the Virgin, as it's sometimes known, is located at the junction of three roads (tre vie). It was the location of one of the ancient Roman aqueducts that supplied water to the city.
The central figure is the divinity of water, Oceanus, riding a chariot. It's not Poseidon, the god of water, as it's sometimes believed.
As tradition goes, if you throw a coin in the fountain, you'll return to Rome someday. But, there's a proper way to do it. With your back to the fountain, take the coin in your right hand and toss it over your left shoulder. Perhaps I'm living proof that this works? 🙂
Though this is a touristy area, there are a lot of great restaurants. My favorite gelato shop, Il Gelato di San Crispino, is just a couple of blocks away. I remembered their signature flavor from my last trip over a decade ago, and sure enough, it's still amazing. (I believe it's called San Crispino and it's honey-flavored.)
The Trevi Fountain is located in Piazza Trevi.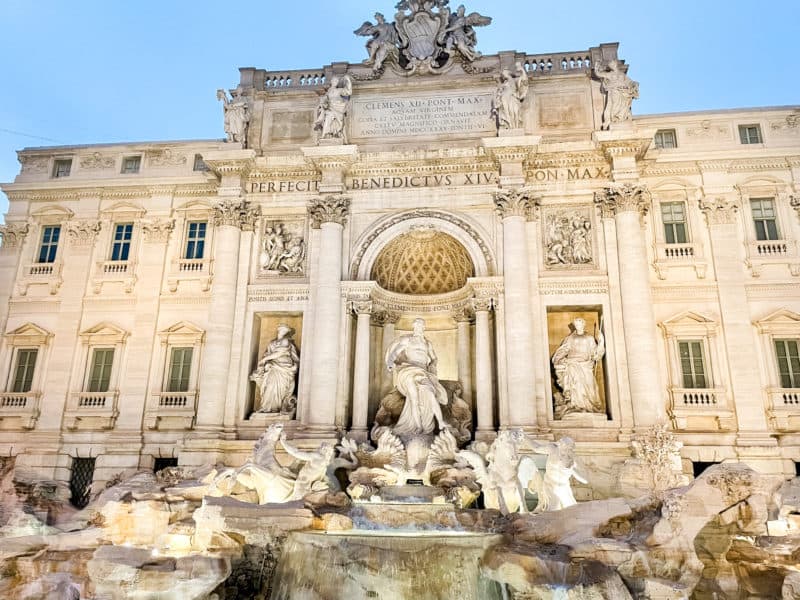 Day 2: Colosseum, Forum, Jewish Ghetto, & Trastevere
If you think nothing could possibly outshine the itinerary from day one, you may just be surprised. Day two certainly won't be lacking when it comes to the top things to do in Rome in a weekend. Day two starts strong and continues strong all day long.
Colosseum
Possibly the most iconic and recognizable structure in all of Rome is the Colosseum. It's a UNESCO World Heritage site and the largest standing amphitheater in the world. If you only have time for one thing in Rome, this should be it!
The Colosseum got its name from the Colossus of Nero, a statue housed inside. Though there are many amphitheaters, there is only one Colosseum.
It was built in the 1st century AD, started by Emporer Vespasian, and completed by Titus. The Colosseum was built to show benevolence after Nero and the "terrible years." Somewhat of an irony, as it was initially used for animal hunts, public executions, and gladiatorial contests.
It was constructed from travertine limestone, brick-faced concrete, and volcanic rock. There is also marble in some areas including the "expensive" seats where the wealthy lived. The Colosseum was massive and could hold up to 80,000 spectators.
There were 60 elevators that led to the arena using a pulley system. They were used for animals and gladiators.
Gladiators were a mix of slaves, prisoners of war, and some freed men who pursued this to make money. They fought 3 to 5 times a year ad could buy their freedom from their winnings—if they made it far enough.
In 523 AD, the "games" were abolished by the Christians. The Colosseum then was used to shelter the homeless and animals. It fell into ruin and was pilfered for its stone for other building projects, like St. Peter's Basilica.
Take a tour to learn about the history of this magnificent structure. And make sure you visit the Underground, which was opened in 2020 after years of excavation.
The Colosseum is located at Piazza del Colosseo, 1, 00184 Roma RM, Italy. It's open daily from 9 to 4:30.
Ticket Purchase Tip
Be very careful to read the fine print when purchasing your ticket to the Colosseum. This is true whether you purchase directly from the Colosseum, or a tour.
If your ticket doesn't mention the Arena or the Underground, they likely aren't included with your ticket. You may want to see both, and I do recommend the full ticket. Here is a small group tour that includes the Arena and the Underground.
If you want to save cost and don't care, you can do so by just purchasing a ticket to the Colosseum that does not include these areas.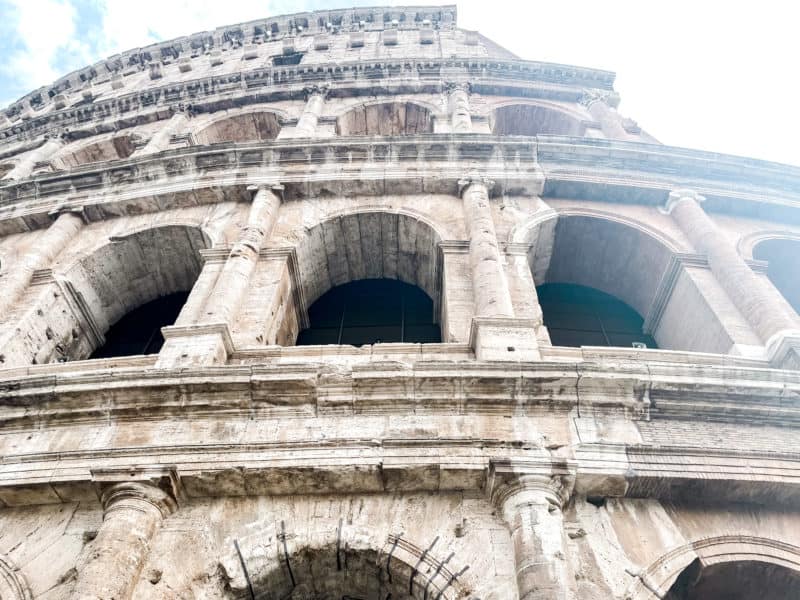 Roman Forum (Fori Romani)
Head through the arch of Constantine to the Roman Forum. It was built 250 years after the Colosseum in around 320 AD to commemorate a military victory of sorts. (This was for the destruction of the temple in Jerusalem, which pre-dated the arch).
There are some interesting historical carvings on the inside of the arch worth seeing. There is a parade led through the arch on the anniversary. The arch is the main entrance to the forum. Upon the hill to the left is Palatine Hill, the site of the Emporer's Palace of Caligula. If you have time, this is also worth seeing.
Follow the "Sacred Way," the main Roman road to enter the main squares of the ancient city. It was the area where people gathered. There are many different temples, government buildings, and public squares.
It was largely buried by mud by the 1500s and became a swamp, later used as a cow pasture as the city moved towards the area with the Pantheon. When it was later excavated, they found the majesty of this area and it's now a beloved treasure.
It's worth getting a guide to visit the Forum if you can. I visited a decade ago and, though it's impressive, it's not as amazing when you don't know what you're looking at!
Structures in the Forum
There are a number of temples including the Temple of Romulus with its stunning green bronze gate and the Temple of Antonino and Faustina. The Vesta Temple is here as well, where the Vestal Virgins lived as priestesses.
Towards the back of the forum, you'll see a large piazza which is now a grassy space. There are remnants of a stage near the Senate, where Senators vied for power. And behind, is Capitaline Bill, one of the great hills of Rome.
Cesar was not actually killed on the steps of the Senate, as the story is told, but by the Theater of Pompeii. There's an area remaining where his body was laid in state after nor far from the Senate.
The Roman Forum is located here on a map. It's open from 9 to 4:30 daily.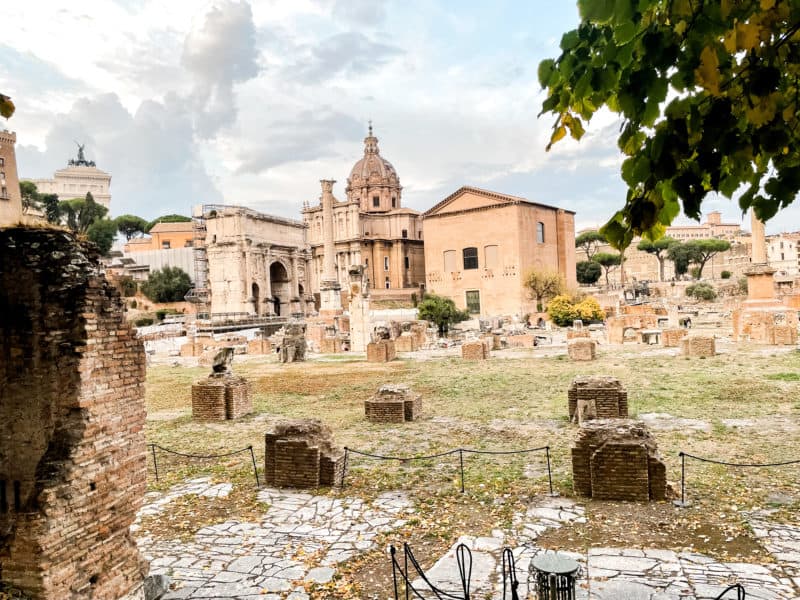 Jewish Ghetto
Go out the back way of the Forum through the gate (to the left of the Senate) and cross the street. Pass by the Theater of Marcellus, a smaller amphitheater that pre-dates the Colosseum. Head past the Portico of Octavia, named after Julius Cesar's sister, into the area of the Jewish Ghetto.
Most of the ghetto is gone, but the area still remembers. Though this isn't one of the most heavily touristed areas of Rome, it's important historically to remember. And, you're passing through to get to the next stop so take a few minutes here to learn.
Jewish Ghetto History
The first Jews entered Rome in the 2nd century BC. They were protected by the Pope at that time. In 1555, they were confined to a small area by the Tiber. This lasted until 1870, though many stayed.
Much of the area was destroyed and rebuilt, so most of the buildings there now were not there at the time of the Ghetto. You can still walk down two narrow alleyways that once were part of the original.
The Auschwitz Deportation was on October 16, 1943, just after the Germans took control of the city. You'll see several plaques on the buildings commemorating this date. There's also a project to remember the victims with a gold block on the path in front of the doorway where they once lived with their name and information.
You'll see one Jewish temple still standing in this area, the Great Synagogue of Rome. There is still a thriving Jewish population in this area and it's an active temple. If you're looking for a great place to eat, there are many fantastic options.
The Jewish Ghetto is located here on a map.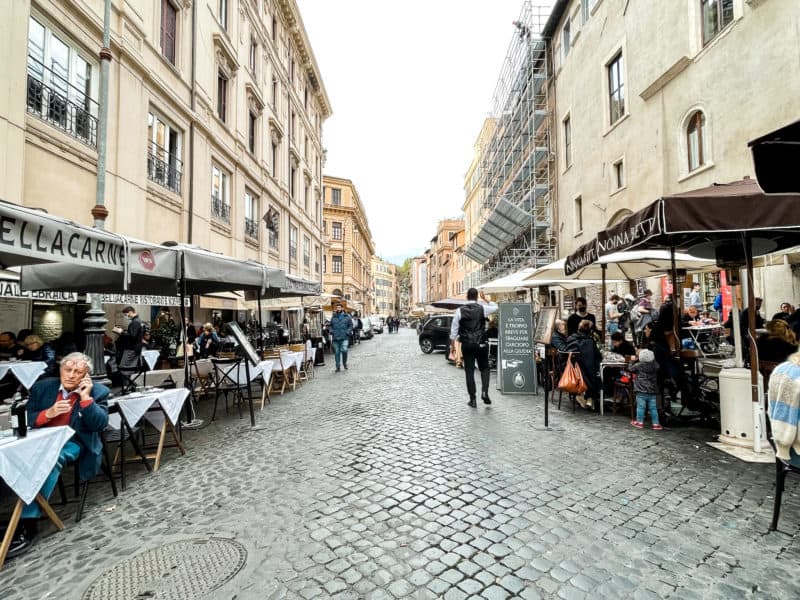 Trastevere
Cross over the Tiber River and Tiber Island (Isola Tiberina) to Trastevere. You'll cross over the oldest bridge in Rome, Ponte Fabricio, built around 62 BC.
On the left not far after you cross the bridge, you'll see the Church of St. Bartholomew. This saint is depicted on the Sistene Chapel ceiling after meeting a horrific fate. (For those curious, he was skinned alive). Then, cross over another ancient (and reconstructed bridge) to Trastevere.
Trastevere means "Beyond the Tiber." Our guide shared that this is also translated as "the other side of the tracks." The Trasteverini don't consider themselves Roman, and through much of history, this is the area where the immigrants settled. It was a Jewish area and also where Christianity started in Rome.
The heart of the area and the oldest part is Piazza Santa Maria. It has a striking church, inside and outside, that was originally built in the 4th century and rebuilt in the 1100s. The floor is made of marble and mosaics and there's a stunning stone from as far as Egypt.
Trastevere is a quaint and beautiful historic area of Rome, popular with locals and tourists. You'll find some great small shops and lots of great bars and restaurants.
Trastevere is located here on a map.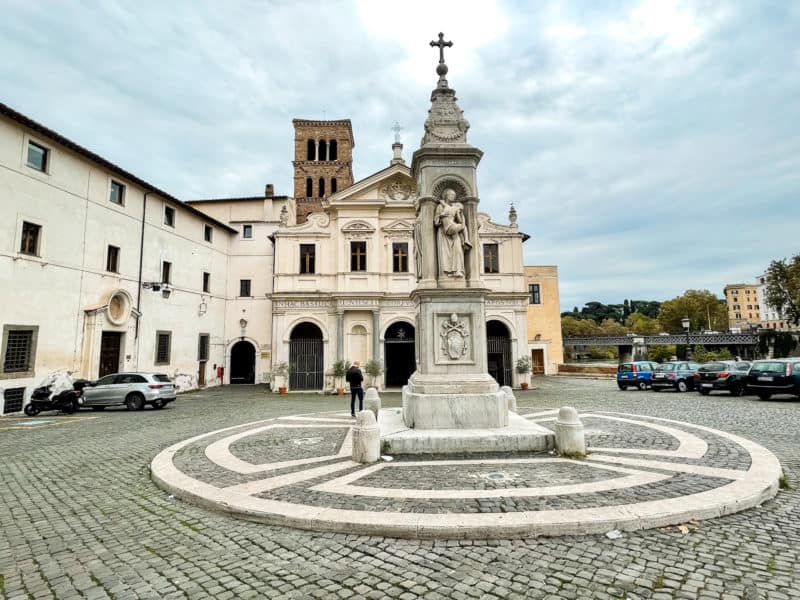 Other Nearby Places to Visit
If you have time and still have the energy, there are a number of other places to check out in the area. They are very close to your day one visits and would be easy to add in if time allows. They also aren't too far from where you'll be on day 2 (within a 30-minute walk). So, you have the option to add them in on day two if possible. Or even better, plan them for a day three!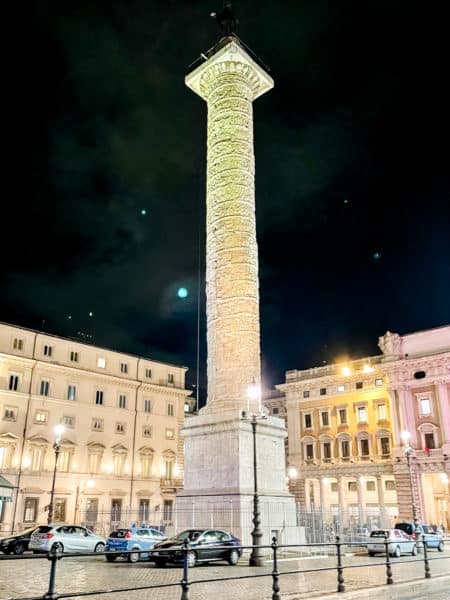 If You Have Time for Longer Visits
Doing Rome in a weekend is tough as there's so much to see! If you have a little more time, even an extra day, there are a few other places in this area worth checking out.
Villa Borghese—Villa Borghese was once the private home of the wealthy and influential Borghese family. It houses the Galleria Borghese, and another draw to visit is the stunning Borghese Garden. This one's a bit further off and you'd need a few hours, so it would be great if you have an extra day.
Castel Sant' Angelo—If you have time after visiting the Vatican, this museum is worth seeing before you cross the river. The Mausoleum of Hadrian was built in the 2nd century AD and is a striking round building with an interesting history. At a minimum, it makes a great photo op.
Rome Tour Guide Recommendation
I have mentioned a few times that it's a great idea to have a guide to see some of the most important places in Rome. We hired a guide for a couple of hours on day one, to visit the Vatican.
On day two, we were back with her to see the Forum, Jewish Ghetto, and Trastevere. We did do small group guided tours of the Colosseum and some of the other sites.
Hiring a guide for a private tour can be costly. But if you have even a small group, it can be quite reasonable. And there's no better way to get a personalized tour that will cover what you are most interested in.
The guide we used was Carla Zaia. We found her in the Rick Steeves guidebook and she was incredible. She customized the tours to our interests and patiently answered our questions.
Carla also gave us great restaurant recommendations and city recommendations. When she wasn't able to get Colosseum tickets with the Underground, she recommended a small group tour (not affiliated with her). We were really impressed that she would do that.
Carla is one of the best guides I've had. I haven't often done private tours and perhaps there isn't a good comparison with a group tour. But, she is responsive, incredibly knowledgeable, personable, flexible, and interesting. We couldn't have asked for more.
Reach out to Carla at [email protected]. You won't be disappointed.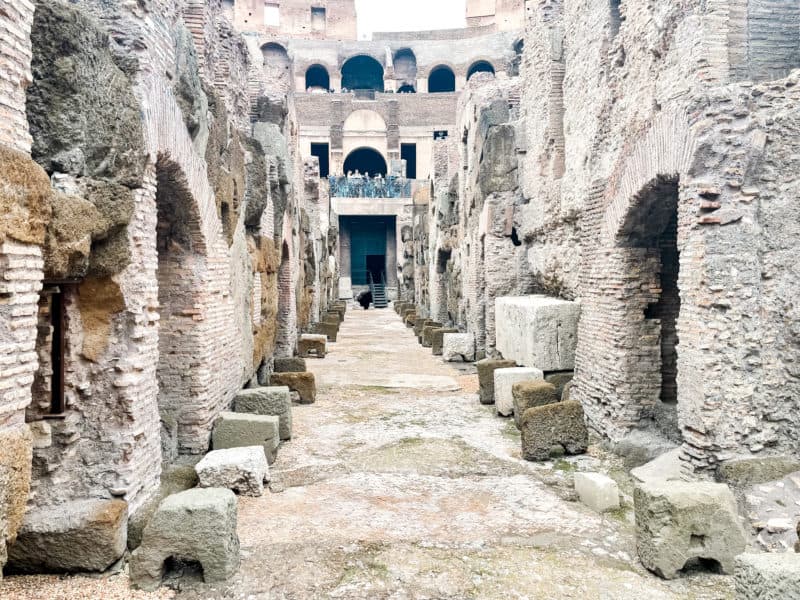 How Much Time Do I Need in Rome?
If you're asking how many days in Rome you need to see the city, the answer really is: the more the better. There's a lot to see and do in Rome. You could easily fill a week or more—I did just that on my first trip to Rome!
But if you want to see the highlights and the top spots, you can see them in a weekend. It'll be a busy weekend where you'll see a lot and will cover a lot of ground. And, you can't really go deep and spend hours in any of the places you'll see.
So, can you see Rome in a weekend? Absolutely with some trade-offs. If you use this itinerary for Rome, you can maximize your time.
How to Get to Rome
There are two airports near Rome. The Rome-Ciampino Airport (CIA) is the closest to the city. However, it's small and flights are limited. Many of the low-cost European airlines fly to this airport.
Most people fly into the large, international airport, Leonardo da Vinci-Fiumicino Airport (FCO). There are a lot of flight options and the major, larger carriers fly here.
The Fiumicino airport is well connected to the city with the Leonardo Express Train. It runs very frequently during the day, often twice or more an hour, depending on the time. It takes 30-45 minutes, depending on where in Rome you're going. There are a number of stops, including Trastevere and the main Termini train station in the historic center.
Rome is also on the train route and the main Termini station sees trains from all around Europe and Italy. It's a large station centrally located in the city center and within a 30-minute walk of most of the major sites.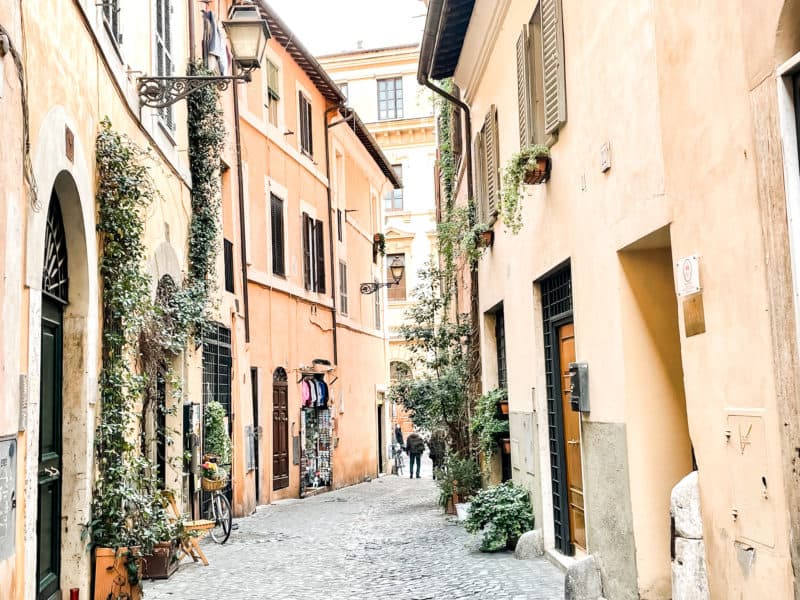 How to Get Around Rome
Rome is a great walking city and in fact, it's the best way to get around. You'll find many of the top attractions are clustered, making it really easy to walk for this itinerary. It's such a beautiful and historic city as well. So, walking will give you the opportunity to find those quieter neighborhoods to explore if you have the time.
There is public transportation in Rome, for those who want it. You can get tickets for buses, trams, the metro, and urban trains by the trip, for a day, three days, and a week.
Taxis are prevalent as well, however, they are expensive. And make sure they will run the meter or get a price quote before getting in. And there is also one of those hop-on-hop-off buses to get you around the main sites.
Another great way to get around is by purchasing the Rome All-Access Pass. It covers public transportation as well as timed access to the top sites. This includes the Colosseum, Forum, Vatican Museum, and more.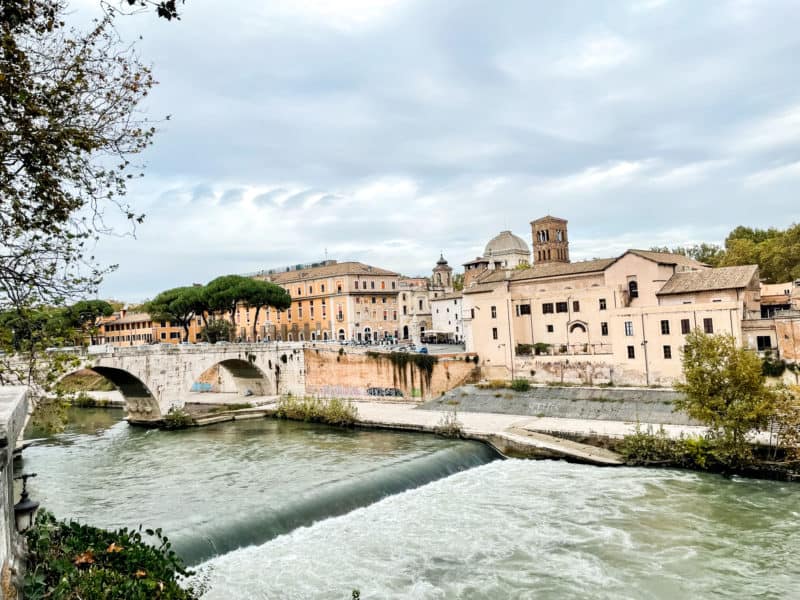 When to Visit Rome
Rome is a very heavily touristed city. Large as it is, it can get quite crowded in the summertime around the most popular tourist attractions.
The spring and fall are the best times to visit Rome to take advantage of great weather with fewer crowds. Even visiting Rome in the winter is great. You'll need a warm coat, but crowds are at their lowest and the weather doesn't usually dip below freezing. Room rates often tend to drop in the winter months as well.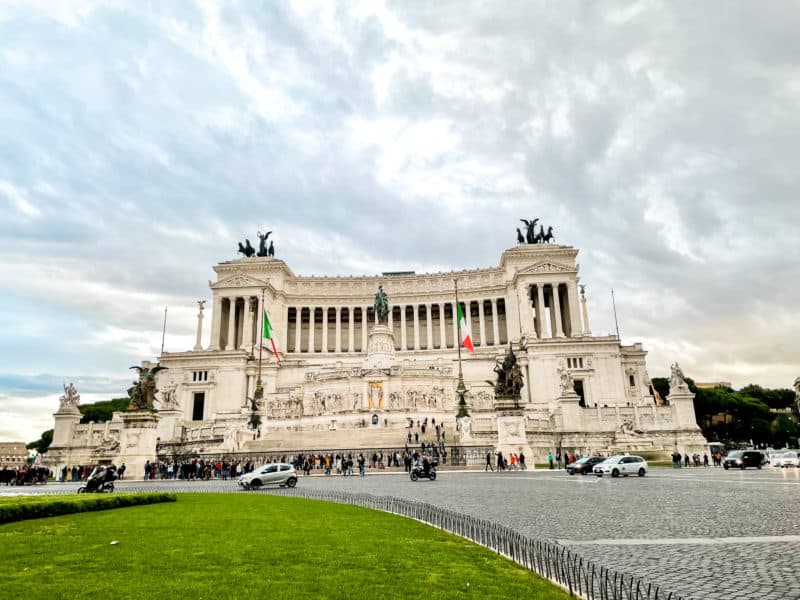 Where to Stay in Rome
As you might expect from a city as large as Rome, there are lots of options for accommodations. If you're trying to do Rome in a weekend, you'll want to stay in the city center to maximize your time.
Budget: For a budget stay in the city center, look no further than The Republic Hotel. It's only an 8 minute walk from a metro station and just over a mile (2 km) to the Colosseum and Trevi Fountain. Go for a basic room or an upgraded room for an extra bed and a sitting room. Wi-Fi and breakfast are included.
Mid-Range: Hotel Accademia is only a 2 minute walk to the Trevi fountain and a 9 minute walk to the Pantheon Church. A metro station is only 6 minutes away on foot. All the rooms offer free Wi-Fi, Bluetooth sound systems, whirlpool tubs, and minibars.
Luxury: For a luxury stay in the middle of Rome, Palazzo Dama is a great hotel with dining options, a nightclub, and a pool right on the premises. The rooms are elegant with high ceilings and marble bathrooms. Take advantage of the free hot breakfast equpped with Italian and American classics.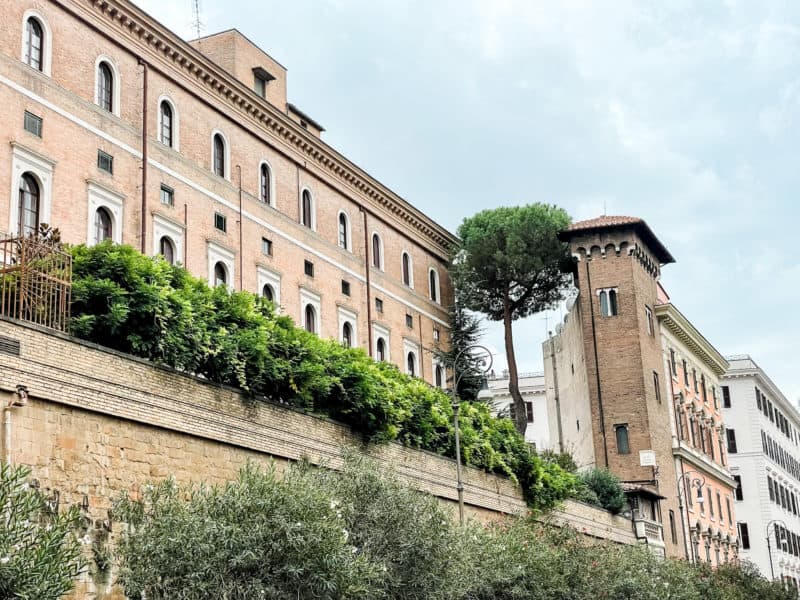 Where to Eat in Rome
Rome is a foodies' paradise. There are some of the most incredible places to eat in Rome offering what many would consider "traditional" Italian food. There are a lot of amazing places to eat your way through Rome in a weekend. Here are some of the top spots in my book!
Ambrosia Rooftop Restaurant and Bar– A high-end luxurious place to eat if you feel like being fancy for a meal or two. The best part of the restaurant is the large terrace where you can get breathtaking views of the city. They also have some of the best cocktails in the city.
Jewish Ghetto and Trastevere
La Taverna del Ghetto—This incredible place in the Jewish Ghetto was the first Kosher restaurant in Rome. It features Judeo-Roman dishes. Do not visit without trying their Jewish artichokes (tip: order two!). Their carbonara was lick-your-plate-clean worthy.
Nonna Betta—Another great place in the Jewish ghetto, this family-run restaurant has been an institution for generations. Frescoes depict life inside the ghetto and the food is incredible.
Essenza Wine Bar Trastevere– Has a laid back and industrial vibe. They have a huge menu full of cocktails, wine, and handcrafted Italian beer. They also feature classic Italian eats including large meat and cheese boards.
Pastries and Sweets
Bars
Bar San Calisto—Stanley Tucci visited in his series so, of course, I had to go. It's in Trastevere and it's a hopping spot. I went for breakfast, and had a croissant and coffee. It's a great spot for people-watching with the locals. It's also a popular spot for drinks and food as well. Nothing fancy, but good.
Argot Mixology Bar– This is a unique experience in Campo de Fiori. They have all different kinds of crafted cocktails and speciality drinks. They also have live music almost every night, so sit back and relax with your drink right in the center of Rome.
La Botticella- This a classic Italian pub. They have 8 Italian craft beers on tap, amazing cocktails, and traditional Italian wine. They also have extremely rare and hard to find liquor. It's a perfect place to end the night or catch a sports game or two.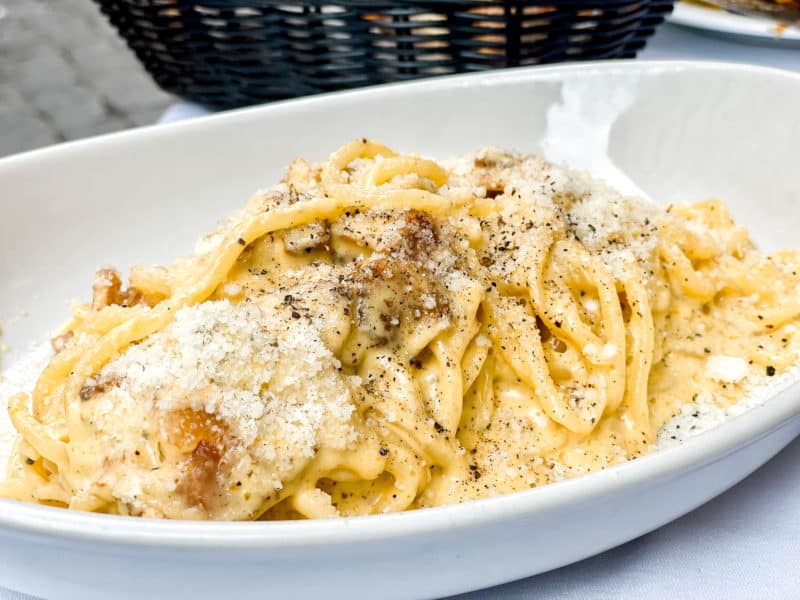 Now You're Ready to See the Best of Rome in a Weekend
You can see a lot of the top spots in Rome in a weekend. It's a busy weekend, but what else would you expect from a city like Rome? From incredible historic structures dating back thousands of years to iconic religious spots, Rome truly has it all.
So, what are you waiting for?
You Might Also Like
Like it? Pin it!