11 Best Things to Do in Capri for a Perfect Day
Looking for the top things to do in Capri for a day?
Are you heading to the southern coast of Italy and looking to explore? If you're headed to Naples, Sorrento, and the Amalfi Coast region of Italy, a visit to Capri is a must.
Though the island may conjure images of high-end shopping, there's a lot more to the island than its exclusive stores. From breathtaking views to incredible gardens, perfumeries, and historic villas, here are the best things to do in Capri for an incredible day (or more!)
This post may contain affiliate links, which means I'll receive a commission if you purchase through my links at no extra cost to you. Please read the full disclosure for more information.
How to Create a Capri One-Day Itinerary
With so much to do in Capri, creating an itinerary will very much depend on your interests. If you're willing to do some hiking, more is available for you to see and do.
If you want to maximize your time for one day in Capri, take the earliest ferry you can. Then, here's what I recommend:
Take a boat tour—Start your day by taking a boat tour of the island for a couple of hours, including the Blue Grotto. (Note: seeing the Blue Grotto depends on the weather).
Explore La Piazzetta—Grab a coffee or drink and explore the square. If time allows, wander down some of the back areas or meander through the high-end shopping areas.
Visit the Gardens of Augustus—Not only do you get a gorgeous garden, but spectacular views as well.
Head to Anacapri—Wander this quaint town, and don't skip a visit to Chiesa di San Michele Arcangelo. Then, choose between Mount Solaro and Villa San Michelle.
If time allows, head to Villa Jova, spend some time on the beach (depending on how crowded it is), or spend more time exploring Capri Town.
What You Need to Know About Capri
Capri is pronounced "CAH-pri" by the locals, with the stress on the first syllable.
It's an island located in the southern region of Italy called Campania. Capri is surrounded by the stunning blue waters of the Tyrrhenian Sea in the Bay of Naples. It's actually closer to Sorrento, though it's easy to get to from either Naples or Sorrento.
And, while Capri is a playground for the rich and famous, that's not all who go. Sure, there are exclusive stores and palatial villas overlooking the cliffs, but there's a lot more to this island paradise.
Capri offers a lot to see and do besides just shopping. A great thing, as I'm not all that interested in shopping! There are also some incredible landscapes with stunning natural beauty. And, some small back roads and winding little pathways that are fun to explore, too.
11 Top Things to Do in Capri, Italy
Many people visit Capri for a day trip, and that's what I did. It was a really special day as I visited on my birthday and a big "-0" birthday at that. Yes, Capri is that special.
Some people visit for the world-class shopping—and there's plenty of that in Capri Town (also known as simply "Capri"). For a small island, there's a surprising amount of fun things to do in Capri.
It's an easy enough day trip, but you may find, as I did, that you wish you had more time. It's easy to soak in the incredible landscape and learn that hours have passed in this stunning oasis.
The natural beauty of the island alone is a powerful draw, and there are some truly jaw-dropping views. It's easy to get around the island to see a good bit of it, but take the time to wander. Soak in the views and wander through the back streets of the towns to see the charming side of Capri.
Some of these things to do in Capri are best during good weather. In fact, some can only be done when the weather is good! So, keep that in mind and plan accordingly.
1. Visit the Famous Grottos
One of the top things to do in Capri is to take a boat to see the incredible Blue Grotto. There are actually three famous grottos here. However, the Blue Grotto is the only one you can enter.
The Blue Grotto (Grotta Azzura)
The Blue Grotto is the most famous grotto on the island of Capri. Once believed by the Romans to be a home for sea nymphs, this stunning natural wonder has grown quite a fan club.
Most tours will slowly pass it so you can peer inside. However, if you do want to enter, you need to purchase a ticket in advance.
Tip: It's a good idea to get Blue Grotto tickets and go on a boat tour right when you arrive on the island if you're interested.
The opening is quite narrow, so you'll be transferred to a smaller boat that can fit to enter. As a result of the tight squeeze, they only allow people to enter when the water is "clear like glass."
The Green Grotto (Grotta Verde)
Though you can't enter the Green Grotto by boat, you can get incredible views from the outside. Boat tours will often back into the mouth of the cave to provide a view of the incredible emerald-colored water. During some times of day, it reflects off the walls for an incredible view. If time permits, you might even be able to swim inside.
The White Grotto (Grotta Bianca)
Visitors aren't allowed inside the White Grotto, but that won't stop you from enjoying the beautiful views. On sunny days, the white limestone poses perfectly against the turquoise blue waters for an incredible effect. You'll see stalactites on the ceiling of the grotto and stalagmites coming up from the floor. One even looks like a statue of the Madonna.
2. Take a Boat Tour
The grottoes aren't the only game in town. There are so many things to see in Capri from the water. The grottoes are popular, but there is more worth seeing.
You have options to take a small group tour, a private tour, or even captain a boat yourself if you're so inclined. They leave from Marina Grande, where you come in on the ferry from the mainland.
Head to the southern shoreline to the Faraglioni rock formations. Check out the arches including the Natural Arch, or pass through the Arch of Love, part of the Faraglioni rocks.
There are few places more amazing than seeing the picturesque lighthouse at Punta Carena from the water.
Of course, this activity is best to do when the weather is good. If the water is choppy, you might want to pick another day to be out on the water. It's a good excuse to stay for more than one day!
3. Enjoy the Photo Op of Marina Grande
When you arrive in Capri, you'll quickly look up and will forget all about the marina. And that's ok, as you'll be heading back at the end of the day! It's a great place to explore.
There are coffee shops and some small shops including a little artist studio showcasing local art. (Head left with your back to the water and take the first right onto Via Truglio. It's a few buildings down on the right).
And don't miss the picturesque beauty of the marina. You'll see the tour and fishing boats lined up along the water along with some private yachts and boats. It's postcard pretty and worth a stroll.
Chances are, you'll be waiting in the marina for a bit to pick up your ferry. This is the perfect time to take in the views and wander here.
4. Wander Around the Garden of Augustus (Giardini di Augusto)
A stunning spot on Capri with incredible views is the Garden of Augustus. This botanical garden is striking, with gorgeous blooms and some sculptures. It's located near Carthusia, the famous Capri perfumerie.
The garden is quite small and you could easily walk through it in a matter of minutes, but don't. Take your time to wander, enjoy the gorgeous flower perfume, and take in the sights.
If you walk to the top of the garden, there are several terraces with exquisite views. On one side, you can see the Faraglioni Rocks and gorgeous cliffside views. On the other side, you can see the winding Via Krupp and Marina Piccola Bay.
You'll also find some of the best shopping in Capri in this area.
5. Navigate Via Krupp to Marina Piccola
When you're at the back side of the Garden of Augustus, you'll see Via Krupp snaking down the sheer face of the mountain in tight switchback turns. It's an incredible sight.
If you're able to, head down the 1.6 km road (1 mile) down to Marina Piccola. It may only be a mile, but your legs will be screaming. Unfortunately, this road is often closed due to falling rocks, so you may not be able to do more than enjoy the views from the top.
Via Krupp was named for German industrialist, Friedrich Alfred Krupp, who commissioned the work. There is still a hotel with his name next to the garden.
Near the bottom of Via Krupp, head to the steps leading to the beach. Here, you'll see Sirens' Rock. This is where the Sirens tried to seduce Ulysses, according to a Greek myth.
6. Relax on the Best Capri Beaches
If you're unable to go down Via Krupp, you can still get to Marina Piccola by bus or taxi. Here, you'll find some of the most popular beaches on the island.
Marina di Pennauro and Marina di Mulo
These are two of the most popular beaches on the island, and for good reason! They are convenient to get to (when Via Krupp is open, especially). Make sure to get there early to get a good place on the free beach.
If you head to Marina di Pennauro, you'll enjoy an incredible view of the Faraglioni Rocks. You also have the option to rent loungers in one area and can order food and drinks as well.
Marina Grande Beach (Spiaggia Libera Marina Grande)
The largest public beach in Capri is close to the marina where you arrive on Capri island. Like with the other beaches on the island, it's a good idea to get there early to stake a prime spot, especially during the high season.
You can also visit the private section of the beach offering loungers and food and drinks.
Ride the Chairlift to Monte Solaro
If you're on a quest for the best view, you'll want to take the lift to Monte Solaro. It's the highest point on the island, rising almost 2,000 feet (589 meters).
It's easy to get there, and the bus from Capri Town has a stop right next to the chairlift entrance. The chairlift is located in Piazza della Vittoria in Anacapri.
The chairlift takes 12 minutes, offering incredible views of the island from the top. You also have the option to hike, though be prepared! It will take you close to an hour and a half to hike this summit for the same views.
The chairlift doesn't run when it's windy, as we sadly learned. So, take a look at the weather before heading to Capri to see if you'll be able to do the things you most want to when you're there.
The chairlift to Monte Solaro is located on Via Caposcuro, 10, 80071 Anacapri NA, Italy.
7. Explore the History of Villa Jovis
If you're up for a hike and love history, Villa Jovis is a place worth seeing. It'll take you around an hour to get there, depending on your pace. It is uphill though the path is flat and gradual, so it's not too bad if you take your time.
The villa was completed in 27 AD. It's now mostly ruins, though part of it has been excavated. Appreciate the incredible views—it's easy to see why Villa Jova is located in this spot.
You'll find artifacts from the original villa as well as the Chiesa di Santa Maria del Soccorso. This small church has a tall bronze statue of the Madonna, which is quite impressive.
Villa Jovis History
It was once owned by the Emporer Tiberius and then his nephew and successor, Caligula. It's a massive villa covering 1.73 acres (7k square meters) on Mount Tiberius. He ruled from here for the last ten years of his life, and it was his favorite place.
Stories abound about Villa Jova and what it was like in Tiberius' day. Was it a den of excess? Did he really throw people off the cliff that displeased him? We'll never know if these stories are true or not, but it's an interesting aspect.
Villa Jovis is located at Via Tiberio, 80073 Capri NA, Italy. To get there, it's around a 45-minute hike from La Piazzetta in Capri Town. It's open from 10 to 4 from Thursday to Sunday. It costs 6 Euros (around $6.75 USD) to visit.
8. Stroll Around Anacapri
Capri Town is the largest town in Capri, located at the top of the funicular above Marina Grande. If you want to see the charming and much more local side of Capri, add Anacapri to your list.
Take a bus up the narrow and winding road heading up Mount Solaro to Anacapri. You'll find smaller boutique shops without the hefty price tags. It's a quaint area that feels much more local and approachable.
One interesting place to check out is the Red House (Museo Casa Rossa di Anacapri). It was built in the late 1800s by wealthy and eccentric Colonel John Clay MacKowen from Jackson, Louisiana.
It has an interesting arrangement and structure of rooms inside. You'll find things from his travels as well as Villa Jovis.
Casa Rossa is located at Via Giuseppe Orlandi, 78, 80071 Anacapri NA, Italy. It costs 3,50 Euros to visit. It's open from 10 to 1:30 and 4:30 to 8 every day except for Monday.
Anacapri Churches
There are two small churches worth seeing. The Church of Saint Sophia (Chiesa di Santa Sofia) is a lovely church. And if you're looking for an incredible place for lunch or dinner, check out L'Angelo Del Gusto.
It's on the square right next to the Church of Saint Sophia (Chiesa di Santa Sofia). Sit outside and enjoy the view of the church as you enjoy the incredible food!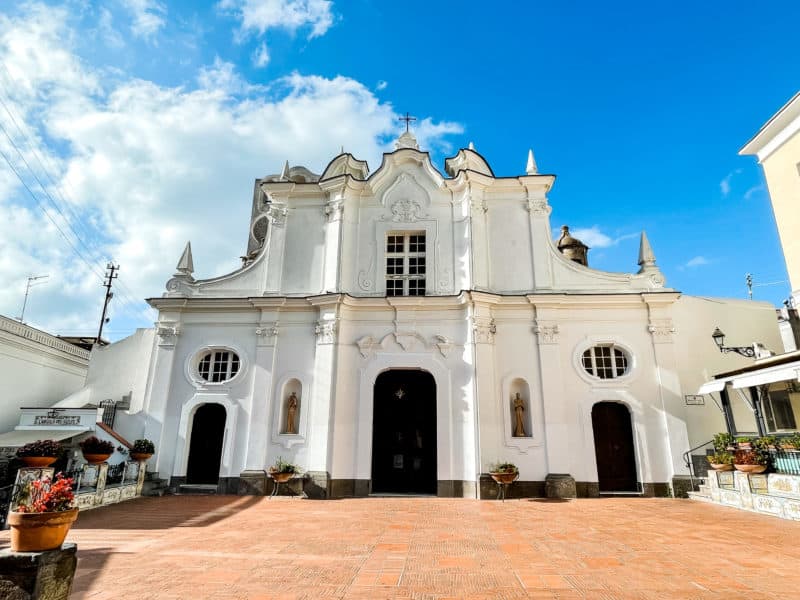 The other church is one of the most spectacular I've seen. Chiesa di San Michele Arcangelo is a church built in 1719. It's nice enough on the outside, but absolutely exquisite on the inside, with a majolica floor mosaic. You navigate around the church on a wooden deck.
The floor dates back to 1761, and Leonardo Chiaiese created it. Go upstairs via the winding staircase for the best views of the church.
An angel with a flaming sword drives Adam and Eve from the Garden of Eden in the center. And of course, the devil makes his presence known, wrapped around the trunk of the Tree of the Knowledge of Good and Evil in the form of a serpent.
There are many other animals depicted in this magnificent piece of art.
Chiesa di Santa Sofia is located at Piazza Diaz, 1, 80071 Anacapri NA, Italy. Chiesa di San Michele Arcangelo is located at Piazza S. Nicola, 1, 80071 Anacapri NA, Italy. It costs 2 Euros to visit.
Anacapri is located here on a map.
9. Visit Villa San Michele
To visit a beautiful villa on Capri that's not in ruins, check out Villa Michele. It was built on the site of an old ruined chapel. Swedish doctor Alex Munthe bought the property after falling in love with Capri and building the home.
He designed a beautiful garden filled with flowers local to the region. The home has become a museum of sorts, filled with interesting collectibles.
Tip: Don't rely on Google Maps for navigation, particularly if it sends you down the long, narrow, winding road you came up to get to Villa San Michele. Unfortunately, you can't cut through the cliff it may send you to.
On a positive note, if you do walk this slightly terrifying road, you'll find steps to a tunnel to this interesting little chapel with some extraordinary views of Capri and Sorrento in the distance.
Villa San Michele is located at Viale Axel Munthe, 34, 80071 Anacapri NA, Italy. It's open from 9 to 3:30 daily and costs 8 Euros (around $9 USD) to visit.

10. Wander around Capri Town
Even if you're not a shopper—and especially if you are—Capri Town is where it's at. When you arrive in the town at the top of the funicular, you'll be in the Piazetta.
The best shopping in Capri is in this area. You'll find a lot of really high-end shops. But, you'll also find some smaller and seemingly locally-owned shops to explore as well.
Take in the gorgeous island and water views, then begin your exploration. It's officially called Piazza Umberto I, though it's commonly referred to as the Piazetta.
Take a quick stroll around Piazzetta di Capri. Check out the church, Chiesa di Santo Stefano and the clock tower looming over the square.
This is a popular area with tourists, jet-setters, and the famous. You might even have a celebrity sighting, especially if you stop for an apperitivo in Bar Piccolo.
Wander the area and be sure to go down some of the small roads and alleyways a little off the square. It's a quaint side of Capri Town many never see.
Visit the Famed Carthusia
If you do want to shop, you'll have a lot of options to choose from. A locally special item is perfume at Carthusia Perfumerie (you'll find several locations on Capri).
Or, consider some handmade sandals made from Italian leather. They'll customize them to your needs while you wait. Lemoncello is popular here as well. So, if you're not going to Sorrento, pick up some after a tasting.
Capri Town is located here on a map.
11. See the Charterhouse of St. Giacomo (La Certosa Di San Giacomo)
A short walk from the Gardens of August is La Certosa Di San Giacomo. It was originally a Carthusian monastery built in the 14th century. San Giacomo was abandoned in the early 19th century after being sacked and burned and later rebuilt in the 16th century. It once had a position of dominance over Capri.
Today, it is used for two purposes. The old convent in this building is the Karl Wilhelm Diefenbach Museum (Museo Diefenbach). It houses a collection of works by the German painter who lived here in the early 1900s.
You can often find events and concerts offered here. the other area of the building is used as a high school currently.
The Charterhouse of St. Giacomo is located at Via Certosa, 10, 80076 Capri NA, Italy. It costs 6 Euros (around $6.75 USD) to visit and it's open from 10 to 2:30.
How to Get to Capri
There is no airport in Capri, and the only way to get there is by ferry. The closest airport is in Naples, Capodichino Airport. It's an international airport so there's a good range of flights. Otherwise, Rome is only a little over an hour from Naples via high-speed train.
For tour options from Naples with and without the Blue Grotto:
From Capodichino Airport, it's a 15-minute drive by taxi to get to the Molo Beverello port to get a ferry. Ferries run to Capri from the mainland all year from Naples and Sorrento. You'll also find ferries from Salerno, Ischia, Positano, and Amalfi (on the Amalfi Coast) in the summertime.
Here are some tour options from Sorrento and Positano with and without the Blue Grotto:
The Sorrento to Capri ferry takes around 30 minutes. It's a short ride but it can be quite bumpy on rainy and windy days. So, if you're taking the ferry from Sorrento to Capri, keep the weather in mind.
If you're traveling from Naples, it takes just under an hour. Either way you go, it's an easy day trip to Capri. And once you get to Capri, simply take the funicular up to Capri Town.
How to Get Around Capri
It's easy to navigate Capri. The bus system is quite effective and takes you to many of the popular places. It's inexpensive and makes quite a few stops on the way from Capri Town to Anacapri as well.
Taxis are available, and you do have the option to take a car over the ferry. Parking can be a challenge and costly, so I don't recommend it. And you really don't need it.
There are some places in Capri that you navigate by foot, like Villa Jova. So, you may not get to see certain parts of the island if you're not up for the hike. If you do have physical limitations, you'll want to take a look at the various things to do in Capri to make sure you can access them.
When to Visit Capri
The best times to visit Capri if you're trying to balance Capri weather with the tourist season are in May or September and October. Crowds are thinner than in June through August and the weather is usually in the 60s (around 18°C). Prices are also a bit lower than during peak season as well.
When you visit in the offseason, you run the risk of places being closed. Also, some of the top attractions don't run in inclement weather, like the Monte Solaro chairlift and tours to the Blue Grotto. Also, the funicular doesn't run in January and February, something else to keep in mind.
The offseason may be slower for tourists, but the weather doesn't always cooperate. (Dang November birthday!) And the ferry doesn't run in poor weather either. The day we went, it was windy and the ferry ride was really bumpy on the way there. Do yourself a favor and bring Dramamine. You'll pity the people who didn't.
Whenever you do decide to go, check the weather and plan accordingly. There is still plenty to do on Capri, even when the weather isn't perfect.
Is it worth visiting Capri? Yes!
How Long Should I Spend on Capri?
Capri is a fairly small island, so you can see the top highlights on a day trip. However, there is a lot to see, and some of the natural beautify is off the beaten path where you need to hike or boat to it. So, you could easily spend 2-3 days in Capri.
Ultimately, it's up to you and how much time you have. A day will give you a great taste of what the island offers, tempting you to return for more. Your toughest decision will be what to do in Capri!
Best Places to Stay in Capri
There are a lot of hotel options for an island as small as Capri. You'll find a wide range from high-end exclusive and luxurious accommodations to budget places and everything in between.
Budget— Capri Love: This basic hotel is just a few minutes' drive from the Blue Grotto and Villa San Michele. The double and twin rooms offer stunning views of the sea, or you can go for a quadruple room if you're traveling as a large group. Breakfast is free, and there is nightly coffee and cakes in the lobby.
Mid-range—Hotel Gatto Bianco: This choice is on the high end of the budget range, but it's in a great location, right in the middle of Capri. It's close to the Piazzetta and Via Camerelle shops. This hotel has a lovely garden terrace, private balconies, lots of public spaces to gather, and a 24-hour front desk.
Luxury—Hotel La Minerva: This hotel has comfortable and well-appointed guest rooms. The staff is wonderful, and the breakfast buffet is top-notch. It's located close to the Piazzetta but far enough away for a quiet night's sleep.
Best Restaurants in Capri
In a place like Capri, you can hardly go wrong anywhere you eat. There are a lot of options to choose from.
Don't miss the Limoncello di Capri for an after-dinner (or lunch) appertivo! Or, if you'd like a pastry, check out Bar Fiorentino.
Check Off Your Bucket List With the Top Things to Do in Capri for a Day
A visit to Naples or Sorrento wouldn't be complete without visiting Capri. There are so many incredible things to do in Capri that you won't want to miss.
It's an exquisite island that has captured the attention of everyone from the rich and famous to the average tourist.
Is it worth visiting Capri for a day? Yes! Don't miss it.
You Might Also Like
Like it? Pin it!