What to See When You Visit Pompeii Archaeological Park
If you're planning a visit to Pompeii Archaeological Park, this article will provide everything you need to plan your trip.
A visit to Pompeii is a must-see when in Naples, Sorrento, or the Amalfi Coast. You can also visit Pompeii from Rome as there's a high-speed train to Naples, making it easier than ever.
Pompeii Archaeological Park is surrounded by mystique—where else can you go back through time to a prosperous city that came to such a dramatic end?
As you walk down the ancient Roman roads, you can't help but think about the people who once lived there. This thriving city was frozen in time, and when you visit, you can be a part of it.
It's an incredible place to see and a worthy spot on your bucket list. Here's what to expect when you visit Pompeii, what you need to know, and the top spots to see when you're there.
Some links in this article may be affiliate links, which means that if you purchase through them, I receive a small commission. This will never cost you extra. Please read the disclosures to learn more.
Pompeii Tickets and Visit Information—Top Spots to See
If you want to buy tickets in advance, and I do recommend it, here is the official Pompeii ticket site. You book a ticket for a date and time, and I was told that they would honor the time for around 15 minutes. (So don't be late!)
The cost is 16 Euros (around $18.25 USD), including a 1.50 Euro booking fee per ticket.
Alternatively, you can take a small group guided tour which includes the ticket cost as well if you're interested. It's a great idea to take a guided tour to help you better know what you're looking at. A small group guided tour is a great, budget-conscious way to go.
Pompeii is open from 9 to 7, though the last entrance is at 5:30 p.m. It's closed to the public on Mondays.
The top places to visit are detailed below, as well as some additional suggestions if you have the time. Here's a quick list if you're short on time!
The Forum
Forum Granary
Sanctuary of Apollo
Basilica
Temple of Jupiter
Grand Theater
Forum Baths
Private homes, including Casa Degli Amanti (House of the Lovers), House of the Grand Fountain (Casa della Fontana Grande), House of the Tragic Poet
Lupanar of Pompeii (Brothel)
Amphitheater
The Story of Pompeii
Pompeii was a thriving and prosperous commercial city in the ancient Roman Empire. At its height at the time of its destruction, there were over 10,000 people living there.
The first settlements in the area date back to the 8th century BC. The area was conquered by the Greeks, Etruscans, and other people before being folded into the Roman Empire. The location was ideal given its strategic location near a chain of mountains offering protection.
The area became prosperous under Roman rule due to the rich land for agriculture and the location near the Bay of Naples. Pompeii was a passageway for goods arriving by sea heading to Rome or the Appian Way.
It became increasingly wealthy as a commercial city and large trade center. In the 1st century BC, many public buildings were built or refurbished including the Amphitheatre, the forum Baths, and more. Pompeii even had running water fed by an aqueduct.
Mount Vesuvius Eruption
There were many warnings that the sleeping giant near the city of Pompeii was not a mountain but an active volcano. Minor earthquakes were reported for a number of years.
In 62 AD, a significant earthquake occurred that caused some destruction to the city and the nearby area, including the city of Herculaneum. The city was rebuilt, sacrifices were made to appease the gods, and life went on.
In 79 AD, nearby Mount Vesuvius erupted. The first explosion was cataclysmic—almost like an atomic bomb going off. The eruption lasted for days. On the first day, pumice rain fell, enabling most of the inhabitants to flee the city.
On the following day, pyroclastic flows of dense hot ash clouds sped down the volcano, decimating the city. What remained was enshrouded in 8 to 10 feet (2 to 3 meters) of the flow. Anyone remaining in the city was suffocated and enclosed in the material.
By the end of the eruption a couple of days later, all that remained was a thick haze floating over where the city of Pompeii once thrived.
Discovery and Excavation of Pompeii
Unlike Herculaneum, which was buried and forgotten, Pompeii had visitors. The city wasn't completely buried so robbers took many of the valuables they could access, like marble statues and other artwork.
Excavations at Pompeii officially began in 1748. Unfortunately, many of the early excavations destroyed sections of the ancient city. More recent archaeological digs focus on maintaining the integrity of the city.
Over 1,000 bodies have been found. Archaeologists determined that gaps in the ash layer were actually human remains and injected plaster in them to create forms of the victims. It's haunting and sobering to see them on display. Many were found with valuables, presumably trying to flee the city, but it was too late.
Close to two-thirds of the city has now been excavated. Included in the excavations are many of the public areas and buildings like the Forum, amphitheater, temples, baths, and more. There are many different private homes and shops, ranging from modest to the very wealthiest of the day, which have been excavated.
Many of the treasures found remaining in the city have been moved to an onsite museum. The majority are located at the National Archaeological Museum in Naples, along with treasures from Herculaneum.
UNESCO World Heritage Site
Pompeii is a UNESCO World Heritage Site recognized as a unique snapshot of ancient Roman life, frozen in time at the moment it was buried by the eruption of Mount Vesuvius. It was inscribed on the World Heritage List in 1997, along with nearby Herculaneum and Torre Annunziata.
Pompeii is one of the most popular tourist attractions in all of Italy and one of the best known. Around 2.5 million people visit Pompeii annually. With UNESCO protection, Pompeii will remain a beloved tourist attraction for generations to come.
Pompeii is the only archaeological site in the world that shows a complete picture of an ancient Roman City. Herculaneum is better preserved, however, much of the public buildings of the city remain unexcavated.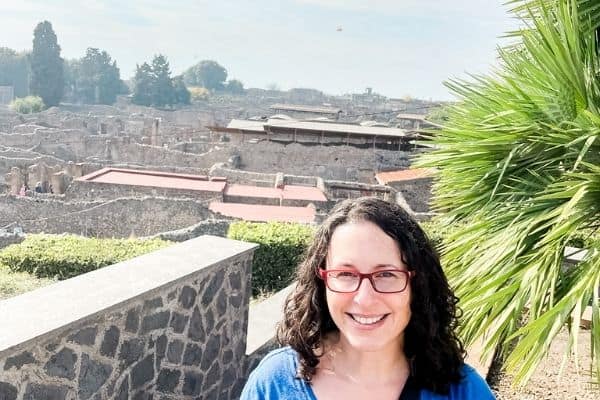 Where to Start When You Visit—Pompeii Entrances
There are three entrances to the Pompeii Archaeological Park. The main gate and the one you'll enter from the Circumvesuviana train is called Porta Marina (Villa dei Misteri). It's on the southwest side of the site, and it's by far the busiest. However, it's closest to the most popular sites and has the best options for snacks and cafes.
Adjacent to Porta Marina is the Piazza Esedra entrance (Piazza Porta Marina Inferiore). If you take a rental car here, which I don't recommend as the trains are so easy to use, this is a great option as there are private paid parking lots just outside.
The last is at Piazza Anfiteatro (Piazza Immacolada). It's quieter, and the lines are shorter. If you're staying in Pompeii (the new city), this would be a great entrance to go to. If you are continuing on after Pompeii to visit Mount Vesuvius, you will take the EAV bus from here if you don't go on a group tour.
Top Places to Visit in Pompeii Archaeological Park
There are a lot of places to visit in Pompeii. With over 100 places to choose from, you'll need to prioritize your time based on what you're most interested in seeing. Here are some of the most popular places to visit, along with a few of my personal favorites.
Forum
The forum was the central focal point of the city of Pompeii and where people went to socialize. It was a large open rectangular area flocked by the Sanctuary of Apollo and the Temple of Jupiter.
Many of the public buildings for city administration and justice were located alongside the forum.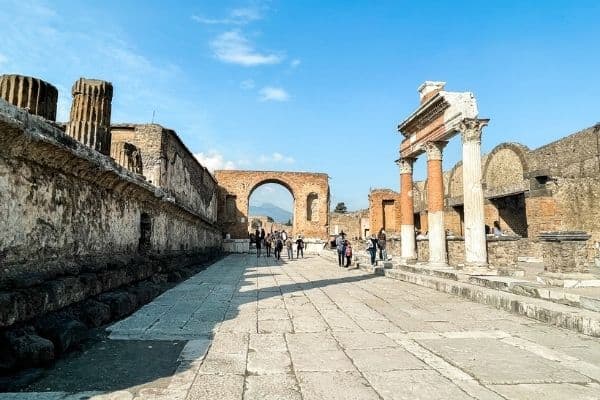 Santuario de Apollo (Sanctuary of Apollo)
This religious temple is one of the oldest places of worship in Pompeii. It was strategically placed along the path to the main gate of the city.
The sanctuary has a number of statues of the Ancient Roman gods including Apollo god of the sun and Diana, goddess of the hunt. These statues are actually replicas of the original bronze statues. The originals are in the National Archaeological Museum in Naples.
Forum Granary
This area located on the western side of the Forum, had a number of large openings to enter. It was believed to once have been a fruit and vegetable market.
Now, you'll see it stacked full of everyday items like terracotta pots, jars, and crockery used to hold and transport oil, wine, and other food items. It's an extensive collection of items.
There are also some marble tables and fountains that once were located in the entryway of the homes of the wealthiest inhabitants of the city. You can see some casts of victims of the Vesuvius eruption.
Basilica
The basilica was once one of the largest and most sumptuous buildings on the Forum. It was used for business and the administration of justice for the city, essentially serving as a courthouse. It's one of the oldest basilicas in the ancient Roman world.
Temple of Jupiter
This temple is located in a prominent position on the north side of the Forum. It has the looming presence of Mount Vesuvius in the background.
Grand Theater
Not to be confused with the Anfiteatro (amphitheater) where the Gladiators fought, this theater served as a playhouse. Comedies and tragedies in Roman and Greek styles were performed here for thousands.
The Grand Theatre was the first large public building that was completely excavated at Pompeii, many centuries after the eruption. The auditorium of the theatre was made from the natural slope of a hill.
Forum Baths
The Forum Baths are located behind the Temple of Jupiter. As was the tradition in the day, there were separate women's and men's quarters with separate entrances.
The men's section had a dressing room (apodyterium), a calidarium for hot baths, a tepidarium for medium-temperature baths, and a frigidarium for cold baths. The women's baths, which were smaller, did not have a frigidarium as it was believed a cold bath could negatively impact fertility.
Private Homes
There are many large private homes of the wealthy of Pompeii that you can tour. I have a lot of pictures of homes, and unfortunately, ruin fatigue took over, and I didn't document all of them. Here are a few of the private homes where I did note the names, as well as some images from others that I enjoyed seeing.
Casa Degli Amanti (House of the Lovers)
This home was named from a verse found in a small painting on the wall. It's impressive with its mostly-preserved second floor, a rarity in Pompeii. There is also a gorgeous garden area inside the home.
House of the Grand Fountain (Casa della Fontana Grande)
This private home has a large fountain near the back wall of the small garden. It's decorated with small intricate mosaic tiles and is quite beautiful up close.
House of the Tragic Poet
Visitors were once greeted by a mosaic at the entryway of this house with the message "cave canem" or beware of the dog. Now, people walk in through a side entrance that leads to the central room of the house.
This house was once beautifully decorated with a number of fine mosaics. Paintings lined the living room with scenes from the Iliad.
House & Thermopilium of Vetutius Placidus (Casa e Thermopilium di Vetutius Placidus)
A thermopilium was a restaurant or a modern equivalent of a snack bar. There were large vats of hot food set into ornately decorated marble counters. They were set at the front of homes on the street level. People could stop by to get a hot meal.
Lupanar of Pompeii
The lupanar was the brothel area of Pompeii. You can see a large penis carving at the corner of the street serving as an ancient sign providing directions to the building. The prostitutes were mostly slaves paid for their services.
There are small paintings on the walls in the central area with a menu of sorts showing images of different sexual acts patrons could order. Many of the rooms have a similar image above them, indicating what could be requested.
Rooms had a stone bed with padding on top and were closed with a curtain.
House of the Oven
This structure was once a large bakery. You can still see the red brick ovens where the baked goods were made.
You can also see smaller structures where grain was ground to flour. These milling machines were operated by slaves or donkeys who pushed wood beams inserted in the ancient machine.
Anfiteatro (Amphitheatre of Pompeii)
Built in 70 BC, around the time the Roman settlement of Pompeii was founded, this is the oldest among all amphitheaters known in Ancient Rome. It's massive for the area and was built to hold up to 20,000 people.
Similar to the Colosseum in Rome, it was covered. There were marble seats near the stage where the wealthy sat. They are long gone, having been stolen by people for their value.
Frescoes of gladiators lined the main entrance, where the visitors walked through to take their seats.
Other Structures Worth Visiting
Some other structures worth visiting if you have the time:
House of the Menander—High-ranking family home believed to be relatives of Nero's second wife.
Garden of the Fugitives—Area of a vineyard where 13 victims including adults and children were found together.
House of Venus in the Shell—A wall in this home is covered by a fresco with Venus.
Praedia of Giulia Felice—Compex of properties with a large garden.
Large Palaestra—Open-air square intended for physical and intellectual training of young people.
House of Marco Lucretius Frontone—One of the most elegant homes in Pompeii.
House of the Faun—One of the larger homes in Pompeii with a statue of a Faun, or a dancing satyr.
Pompeii Museum & Artifacts
There's a small museum on-site at the Pompeii ruins with some pretty incredible Pompeii artifacts. You'll see statues, paintings, jewelry, and more here. You'll also see several somber casts of the victims including a dog and a horse.
The majority of the artifacts removed from Pompeii are on display at the National Archaeological Museum in Naples, but it's still worth visiting. Especially when you consider this a glimpse of the grandeur of this ancient city.
Tips for Visiting Pompeii
Buy tickets in advance. Don't assume you'll be able to purchase them at the gate or you may be disappointed.
Go as early as possible to beat the crowds.
Bring a water bottle to fill as you're exploring.
Bring a snack. There is only one cafeteria inside the ruin, which gets quite busy.
Consider a private guide or a small group tour.
Wear comfortable shoes as you'll be doing a lot of walking.
Pick up a map near the ticket counter.
Consider purchasing an audioguide or bringing a detailed guide to the site.
Don't forget bug spray and sunscreen.
Hike nearby Mount Vesuvius to give you perspective and consider a visit to Herculaneum as well.
How Long Should You Spend in Pompeii?
How long you'll want to spend at Pompeii is entirely up to you. You could easily spend a full day or more exploring this archaeological site. There are nine areas with nearly 100 sites and structures to see. And it's a bit spread out so it will take you a while to walk all around.
It all depends on your level of interest and how much time you're up for exploring. I wouldn't recommend any less than two hours. I'd recommend a minimum of four hours to see the most popular sites in Pompeii.
If you're really interested in the city, you can easily spend eight hours or more there. To decide how much time you want to spend, determine if you're going to get a guide and for how long, and think about how long you'll be comfortable walking on the uneven grounds.
Should You Go on a Pompeii Guided Tour?
I would highly recommend getting a guide in Pompeii or going on a small group tour. We went on a private guided tour for two hours, which was a fantastic orientation to the city. We learned the history, how to navigate, and learned about some of the most famous structures.
Were I to do it again, I'd also get an audio guide to learn more about other places in the site as well. Many of the places are named, but there's no information available beyond that. It would have been helpful to have something to read or listen to as we wandered. After a while, many of the ruined structures start to look the same!
Pompeii Tour Guide Options
The guide we used was Antonio Somma. He was recommended by Rick Steeves, so we reached out to him. The price he offered was competitive (120 Euros for 2 hours). With more than 40 years of experience guiding tours of Pompeii, we figured we couldn't go wrong.
Tony was very helpful with planning our trip and referred us to a guide for Herculaneum as well. He was interesting and knowledgeable. My only complaint was that he was a little impatient with my questions and speed (as I was trying to document what I saw for this blog)! For most, I think he would be a great recommendation.
Contact Tony at [email protected] or on What app at +39-3398919489.
Another great option is a tour with an archaeologist. You can go on a private tour with an archaeologist, or a more budget-friendly small group tour with an archaeologist. This small-group guided tour with an archaeologist is three hours, so a great deal!
If you'd like some virtual inspiration, check out this Pompeii virtual tour.
How to Get to Pompeii
You can easily do a Pompeii day trip from Naples or Sorrento.
To get to Pompeii from Naples or Sorrento, the best way to travel is by the local train called the Circumvesuviana. The train costs a few euros (2.80 Euros, or around $3.20 USD from Naples, and 3.90 Euros from Sorrento, or around $4.50 USD).
The train runs frequently from both directions and takes around 45 minutes from Sorrento and 20 minutes or so from Naples. However, be aware that there are often delays so leave plenty of extra time if you're meeting a guide!
This local train line gets quite crowded and beware of pickpockets. Keep a firm hand on your belongings at all times and you'll be fine. We did find it a little confusing to figure out the schedule but you don't buy a ticket for a specific train. Head to the track and hop on the next train. They all stop for Pompeii.
From Naples, you'll pick up the train from either the main station, Napoli Garibaldi, or Porta Nolana. The train you'll take will be headed to Sorrento. From Sorrento, you'll do the opposite.
You'll get off at the Pompei Scavi – Villa Dei Misteri train station. From the stop, it's only a five-minute walk to get to Porta Marina, the main entrance to the ruins.
Alternatively, you can take the Campania Express, which only stops at popular tourist areas like Naples, Pompeii, Herculaneum, and Sorrento. The cost is significantly more but you do get air conditioning, guaranteed seats, and space for luggage.
Pompeii From the Naples Cruise Port (Stazione Marittima)
If you're in Naples arriving from a cruise ship, you'll dock in Stazione Marittima. You can either walk to Porta Nolana Station, around 1.2 miles, or take a bus there that goes to the main station, Napoli Centrale. Then, head downstairs to the Circumvesuviana station, Napoli Garibaldi.
Pompeii From Naples Airport (Capodichino – NAP)
From the airport, you can take a bus to the main train station, Napoli Centrale. Then head downstairs to Napoli Garibaldi, the Circumvesuviana station. Or, take a taxi.
One thing to note is that you're not allowed to bring large bags into the ruins. There are some luggage lockers at the entrance, however, the quantity may be limited if you arrive later in the day. It's best to leave it at your accommodation if possible.
Pompeii from Rome
You can visit from Rome, though it will be a long Pompeii day trip. There are high-speed trains from Rome to the main train station in Naples. Then, go downstairs to the Napoli Garibaldi Station where the Circumvesuviana station is as noted above.
There are also small group tours from Rome you can take for the convenience of not navigating on your own if you prefer.
Visit Pompeii and Mount Vesuvius from Rome with no worries about transportation at all. Or, combine a visit from Rome to Pompeii with the Amalfi Coast for an incredible day!
When to Visit Pompeii
There really isn't a bad time to visit Pompeii. It does get quite crowded and hot in the summer, though. From November to March is off-season and fairly temperate weather, so it's a good time to go.
Head to Pompeii when it opens to get an early start before the crowds settle in. The site can get quite busy as it's a popular place to go for locals and tourists alike.
Where to Eat at Pompeii
There are a number of small outdoor restaurants by the main gate at Porta Marina. You can get a coffee, food, a snack, or a delicious orange or lemon drink made of local oranges and lemons. Try the mixed drink for something refreshing and interesting.
You'll find water spigots (taps) along the main road through Pompeii where you can fill a bottle with drinking water at no cost. Many are in the ancient Roman troughs they used when Pompeii was an active city, so it's fun to use them.
There is a cafeteria not far from the Forum in the ruin where you can get good pastries, snacks, sandwiches, and pizza. It's an affordable option and the sandwiches are quite good! If you need to use the facilities, there are toilets upstairs.
You might also want to bring a snack or grab something at the cafeteria to take with you for later. The ruins are quite large and the lines can get long at the cafeteria.
The Ruined City Nearby: Herculaneum
Herculaneum was a wealthy city that was once directly on the Bay of Naples. It's where many of the wealthiest in this region lived. Where Pompeii was a large commercial center, Herculaneum was more of a small luxurious resort town for the wealthy.
You May Also Like Why You Should Visit the Herculaneum Ruins
It's only located around 8 miles from Pompeii. At the time of its demise from the eruption of Mount Vesuvius, there were around 5,000 residents.
Herculaneum vs. Pompeii: What are the Differences?
Only around a quarter of Herculaneum has been excavated. This is largely due to the fact that the city was completely obscured by the debris and pyroclastic flow from the eruption, and the city of Ercolano was built over much of it.
Though less of Herculaneum is visible, it is much better preserved than Pompeii. The materials covering Pompeii were softer so easier to dig in. And since some of Pompeii was exposed, this left it susceptible to robbery. Herculaneum is largely pristine.
The structures remaining in the Herculaneum archaeological site are much better preserved. You can see mosaics on the floors and frescoes on the walls.
The means of destruction was different as well. Herculaneum was buried in the hot pyroclastic flow which turned to hard rock. As a result, archaeologists found skeletons of victims and not gaps in the debris.
And there is a number of well-preserved samples of carbonized wood, preserved by the high heat.
The size of Herculaneum is much smaller, and most of what has been excavated are private buildings and homes. Very few public buildings have been found, unlike at Pompeii.
Should You Choose Pompeii or Herculaneum?
Visiting Pompeii and Herculaneum is a once-in-a-lifetime experience. If you have the opportunity to do so, you should see both.
Though both are ancient Roman cities, they give you very different glimpses into everyday life at the time. I wouldn't recommend seeing both in one day as I think that would be a lot. But I would absolutely recommend not skipping either site.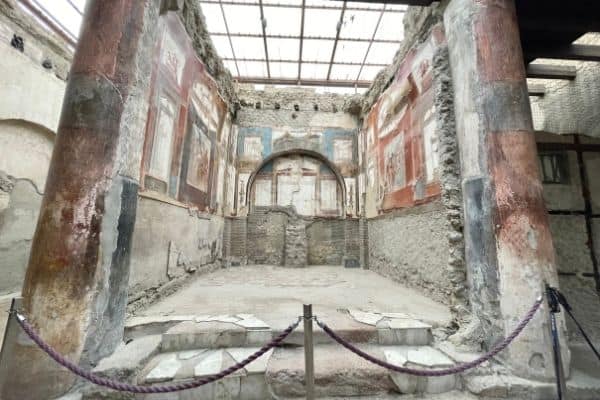 Can You See Pompeii and Herculaneum in One Day?
You could certainly visit Pompeii and Herculaneum in one day as they are fairly close together. However, I wouldn't recommend it.
There's a lot to see in both sites and it's worth giving both dedicated attention. Pompeii is quite large and can be a little overwhelming due to its size. In a few hours, you'll only see a small portion of the excavation.
And I found after a few hours, I was just seeing crumbly buildings and not appreciating the site! So, take the time to dedicate to each separately if you have the time.
If you're looking for something else to do in your remaining time in the day, consider visiting Mount Vesuvius—the volcano that will forever be linked with these two ancient cities.
Hiking Mount Vesuvius & Vesuvius Tickets
Vesuvius is actually closer to Herculaneum and Ercolano, but you can easily visit and hike the volcano from either site. Though this is still an active volcano, it has been largely dormant since its last eruption in 1944.
Transporation to Mount Vesuvius
There is a public EAV bus that generally runs hourly from Pompeii. However, it can be challenging to find this bus. A more popular option is the Pompeii Vesuvio bus, which costs 3.10 Euros (around $3.50 USD). You purchase one-way tickets on the bus from the driver and it's cash only.
The buses take around 40 minutes to get to Vesuvius. They do pick up from a location near the Pompeii Scavi train stop (where the Circumvesuviana train is located) so it's an option to go there as well. However, it leaves from Piazza Anfiteatro (Piazza Immacolada), so you run the risk of not having room on the bus, requiring that you wait for the next one.
You also have the option of taking a taxi, a private shuttle to Vesuvius, or a small group tour that includes Pompeii and Vesuvius. If you take a taxi, be sure to negotiate the round-trip cost as well as the wait time so you can climb.
Visit Mount Vesuvius
It takes around 2 hours to see Mount Vesuvius. This includes a climb for around 45 minutes, 30 minutes at the top, and around 30 minutes climbing down. Tickets cost 10 Euros (around $11.40 USD).
You should buy Vesuvius tickets in advance to be sure they are available on this official page. Don't make the mistake of not doing this as I did! I was unable to purchase tickets on the day I wanted to go. We figured it was off-season and didn't realize it would still be challenging to get tickets.
Also, we were told that they do not allow people to climb when it's raining. I have read conflicting reports if they refund your money if you're unable to visit on account of rain, so keep that in mind when booking.
Visiting Pompeii and Herculaneum without climbing Mount Vesuvius was very unrewarding for me. It's part of the bucket-list adventure seeing these ruins was for me. So, I plan to remedy this miss in the future and will update this post with my personal experience.
From what I have read, the climb is moderate and not as challenging as you might expect. It's quite dusty so wear comfortable and supportive shoes. Here's an option for a small group guided tour for Pompeii and Vesuvius.
Is a Visit to Pompeii Worth the Hype?
The short answer is yes, it's definitely worth visiting Pompeii. It's absolutely massive and incredible to see what this ancient Roman city was once like. If you have an interest in history and enjoy learning more about places through experiences, you should definitely visit Pompeii.
You Might Also Like
Like it? Pin it!